Best iPhone lenses 2022: transform your smartphone photos
Find the best lens attachment for your budget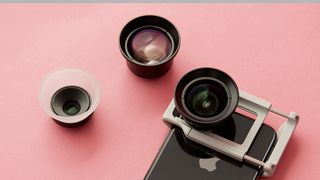 Looking for the best iPhone camera lens attachment? From telephoto to wide-angle add-ons, the best iPhone lenses can enhance your smartphone photography and unlock new creative potential.
While the latest iPhone models – such as the iPhone 12 Pro Max – feature multiple cameras to help you capture outstanding images in a range of scenarios, the best lens accessories still add useful photographic flexibility for less versatile devices. Usually attaching over your phone's existing lens, they use real glass to alter the field of view without affecting image quality.
The best iPhone lens accessories come in a range of shapes and sizes. Some are small but powerful attachments which simply clip over the top of your handset, while others – like Moment Anamorphic Lens – feature more substantial mounting systems, like a dedicated case. Even the bulkiest, though, should still be compact enough to use without compromising your iPhone's easy portability.
Which iPhone lens is right for you will depend on how and what you want to shoot, as well as your budget and iPhone model. Our overall favorite iPhone lens solution is currently the Moment Wide Lens. Well-built, easy to use and available for a range of iPhone iterations (and other devices), it offers a simple, stylish way to enhance images through its 18mm optic.
But that doesn't mean it's necessarily the best iPhone lens for you. If you want a budget-friendly variety of attachments, for example, then the Xenvo Pro Lens Kit might be a better, more affordable fit for your needs.
The buying guide below features our pick of the very best iPhone lenses you can buy, whatever your photography style.
These are products that we haven't had in our test labs, but based on our experts' opinion and knowledge of the most reputable brands around, we think these are worth looking at.
Our selections, ranked with newer additions at the top, take into account online reviews, brand reputation, product capability or unique features to help you pick through the maze of choices available to you.
The best iPhone lenses in 2022:
Why you can trust TechRadar We spend hours testing every product or service we review, so you can be sure you're buying the best. Find out more about how we test.

1. Moment Wide Lens
The best overall iPhone lens
Specifications
Compatibility :
iPhone 6 or later (as well as Samsung Galaxy S8 or later, Samsung Galaxy Note 8 or later, Google Pixel 1 or later)
Reasons to buy
+
High quality
+
Attractive design
Reasons to avoid
-
Requires compatible phone case
-
Expensive
With the Moment Wide Lens, there's a big elephant in the room: it requires a Moment M-Series case to function. Yes, that's an added cost and yes, there are other lenses out there that don't require the extra effort, but this 18mm optic delivers such impressive edge-to-edge clarity and quality that it's as good as any option you'll find for everyday filmmaking and photography. According to Moment, the Wide Lens is also made with the same high-grade polished glass used in 4K film lenses – and its design is all the prettier for it.

2. Xenvo Pro Lens Kit
The best budget lens kit
Reasons to buy
+
High degree of compatibility
+
Carrying case included
Reasons to avoid
-
Slightly soft wide-angle lens
-
Clip prone to bumping
The two-in-one lens kit from Xenvo is an excellent starting point for those looking for a universal set of competent image enhancers. The kit combines a Super Wide lens and a 15X Macro lens, and attaches to your camera using a universal clip, which can be used on any number of smartphones. Naturally, image quality won't rival the likes of Moment and more expensive alternatives, but an included LED light adds further versatility to close-up camerawork, and both lenses are encased in a substantial aluminum housing. For such a low price, the Xenvo Pro Lens Kit is an excellent, risk-free entry-level option.

3. Moment Anamorphic Lens
The best lens for cinematic video
Specifications
Compatibility:
iPhone 7 onwards (as well as select Androids using universal adapter)
Reasons to buy
+
Secure fit
+
Impressive quality
Reasons to avoid
-
Requires compatible phone case
-
More expensive than competitors
For the budding smartphone filmmaker, look no further than the Moment Anamorphic Lens. As with its wide angle sibling, this one requires a price-hiking compatible case, but such is the quality of its cinematic image-making that we'd recommend this 1.33x lens over others of its kind. It can be oriented so you can hold your phone in either landscape or portrait mode, and, because it's locked in place, can't easily be jarred out of place.

4. Apexel 36x Telephoto
The best lens for reach
Specifications
Compatibility:
Most iPhones
Reasons to buy
+
Huge reach
+
Mini-tripod included
+
Great value
Reasons to avoid
-
Relatively ineffective remote
-
Occasional vignetting reported
The Apexel 36x telephoto is a beast. Not only in the way it looks, mind, but in its ability to transform your phone into a powerful long-distance shooter. It also comes with a super useful mini-tripod to keep shots stable, and a (albeit temperamental) remote shutter to help capture images at a distance. Some users have reported occasional vignetting in images, but for such a low price, the Apexel 36x telephoto is hard to beat.

5. Olloclip iPhone 11 Pro ElitePack
High quality exclusivity
Specifications
Lens:
2X telephoto Lens, macro lens, 15X fisheye lens
Compatibility:
iPhone 11 Pro
Reasons to buy
+
Excellent image quality
+
Caseless
Reasons to avoid
-
Very limited compatibility
Admittedly, this one is for a niche audience, but the Olloclip iPhone 11 Pro ElitePack offers some of the most impressive camera tech for, you guessed it, the iPhone 11 Pro. The kit contains a 2x telephoto lens to give you more reach, as well as another lens that's actually two lenses in one: a 180-degree fisheye and a 15x Macro. It's expensive, sure, but Olloclip's lenses are market-leading glass tech, and this is definitely an investment worth making if you're looking to take advantage of the iPhone 11 Pro's already-impressive camera capabilities.
Sign up to receive daily breaking news, reviews, opinion, analysis, deals and more from the world of tech.
Phil Hall is an experienced writer and editor having worked on some of the largest photography magazines in the UK, and now edit the photography channel of TechRadar, the UK's biggest tech website and one of the largest in the world. He has also worked on numerous commercial projects, including working with manufacturers like Nikon and Fujifilm on bespoke printed and online camera guides, as well as writing technique blogs and copy for the John Lewis Technology guide.