7 cosas que te puedes haber perdido del evento Apple "Peek Performance"
Los detalles semi-ocultos del show de Tim Cook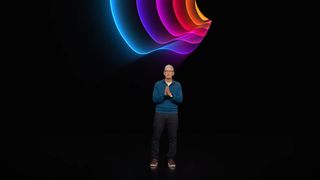 (Image credit: Apple)
El evento de primavera de Apple — titulado "Peek Performance" — incluyó el iPhone SE 2022, el iPad Air 2022, el chip M1 Ultra, el nuevo Mac Studio y el nuevo Studio Display.
Pero aparte de los grandes anuncios, hubo varios detalles que puedes haberte perdido.
1. El anuncio del Mac Pro sin el Mac Pro
"Eso será para otro día". Eso es todo lo que Apple dijo sobre su nuevo Mac Pro. Lo mencionó en el evento del 8 de marzo — diciendo que es la última máquina que necesita actualizarse a Apple Silicon — pero no lo mostró para centrarse en el Mac Studio.

Dado que el Mac Studio supera el rendimiento de los Mac Pro de Apple de manera espectacular — según Apple — no nos queremos ni imaginar cómo será el próximo Mac Pro. Ni cuánto va a costar. Mejor empieza a ahorrar.
2. El Studio Display no tiene Face ID
La cámara del nuevo Studio Display es lo suficientemente buena para Center Stage — que aparece en el Mac por primera vez — pero no tiene los sensores para Face ID así que seguirás usando el Touch ID del teclado.
3. El iPhone más barato de Apple es ahora más caro
Los rumores de que el actual iPhone SE tendría un recorte de precio y el iPhone SE 2022 sería más barato que el de 2020 se han quedado en nada.

De hecho, Apple añadió treinta dólares al precio de su último iPhone. Sabíamos que era probable que el rumor fuera más un deseo que información real, pero no nos habría molestado haber estado equivocados.
4. EL Mac Studio no viene con teclado ni ratón
Ni teclado ni ratón ni trackpad. Un computador con un precio así debería incluir estos periféricos de serie.

Y sí, el Mac mini original no lo traía, pero eso fue para mantener un precio muy bajo. El Mac Studio cuesta bastante más. Apostamos a que cuando saquen el Apple Car las ruedas serán un extra.
5. El "vidrio más duro" no es lo más duro que tiene Apple
Según Apple, el iPhone SE 2022 tiene "el vidrio más resistente de cualquier teléfono inteligente" pero la realidad es que el iPhone 12 y 13 técnicamente no tienen vidrio normal: tienen Ceramic Shield, que es aún más resistente que el vidrio del que habla Apple.
6. Un guiño al día internacional de la mujer
El evento de Apple coincidió con el Día Internacional de la Mujer, así que Apple lo marcó de una manera sutil y elegante al dar a las mujeres la voz cantante durante la mayor parte de su presentación.

HFrancesca Sweet presentó el iPhone, Angelina Kyazike presentó el iPad, Colleen Novielli hizo lo mismo con el Mac Studio y Nicole Kordes se encargó del Studio Display. Todos los desarrolladores que aparecieron durante el segmento sobre M1 Ultra también eran mujeres.
7. Tim Cook 'llevaba puesta' la bandera de Ucrania
Algo que quizás os perdierais: Tim Cook llevaba un jersey azul y un Apple Watch de correa amarilla. Aunque Apple no lo ha confirmado, claramente es una representación de la bandera de Ucrania, país que está bajo el ataque imperialista de Vladimir Putin y su ejército ruso.
Fue la única "mención" a la situación, quizás para evitar parecer falso si hacía mención a un tema tan peliagudo y cambiante (también hay que recordar que la presentación está grabada con antelación).
Apple anunció hace unos días que se sumaba al boycott a Rusia y que no enviaría nuevos productos a este país.
Sign up to receive daily breaking news, reviews, opinion, analysis, deals and more from the world of tech.
Contributor
Writer, broadcaster, musician and kitchen gadget obsessive Carrie Marshall (Twitter) has been writing about tech since 1998, contributing sage advice and odd opinions to all kinds of magazines and websites as well as writing more than a dozen books. Her memoir, Carrie Kills A Man, is on sale now. She is the singer in Glaswegian rock band HAVR.