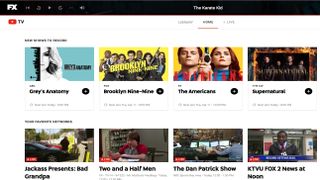 YouTube TV, the new live TV streaming service from one of the biggest video sites on the planet has now officially arrived. Well, it has in five US cities at least.
And while there are any number of reasons to skeptical of the live TV service from a company that once claimed it would kill live TV, it's actually pretty enjoyable to use.
That being said, you don't need to be a resident of New York, Los Angeles, the Bay Area, Chicago or Philadelphia to get a first look at it – we've binge-watched enough shows and movies to be your TV guides to the new service.
Living here in the Bay Area and being known as somewhat of a cable alternative connoisseur we decided to sacrifice (read: squander) one of our precious (read: not-all-that-precious) days taking YouTube TV for a spin. It was a long, grueling and definitely not-fun-in-any-way binge-watching session but, along the way, we found five reasons that you should check out YouTube TV as soon as possible.
Reason 1. Channels you'll actually want to watch
One of the biggest problems that Sling TV had at launch was too many uninteresting channels. Sure, it had ESPN, but by and large, it was easy to scan through the measly channel guide, not find anything to watch, and move on with our day. Open YouTube TV for the first time and you'll immediately find something to watch.
Tastes in TV shows vary greatly, obviously, but we were elated to find live airings of Premier League soccer matches, How I Met Your Mother and a replay of last night's Golden State Warriors game within the first minute of subscribing to the service.
What else is there to watch? Well, all the local channels are on-board: NBC, ABC, CBS and FOX. That means every NFL game up to and including the Super Bowl, are yours to watch every Sunday. Then, beyond the local stuff, you've got all the channels that fall under the umbrella of those companies – i.e. ESPN, CSN, FOX Sports, USA, FX, Disney, E!, Bravo, SyFy, FXX, National Geographic, MSNBC, FOX News, CNBC and more.
And that's just the tip of the iceberg. YouTube already has deals in the works with additional channels like AMC, which means you'll soon start seeing The Walking Dead, Preacher and Into the Borderlands pop up on the service, too.
Reason 2. Cloud DVR means you'll have something to watch later
Like the standard cable package you know and hate, however, sometimes there's just nothing good to watch on live TV. To solve that problem, YouTube TV has something called Cloud DVR – it's basically TiVo, but way, way better.
It's better because it not only automatically records shows as they air on TV, but it will store as many of them for you as you'd like online for free.
An infinite, free DVR that manages shows for us? Yes, please.
Reason 3. On-demand movies mean no more rental fees
While the always-on DVR should catch the majority of great, new shows for you, at some point you'll run out of live and recorded TV to watch. (Trust us, if you spend a whole day binging, it's going to happen.) And while you might be tempted at this point to return to Netflix's sweet, warm embrace, YouTube TV has an on-demand aspect that lets you pull up a dozen movies whenever you'd like. On the service right now you'll find Prometheus, The Amazing Spider-Man 2, The Transformers movies, American Hustle and many more.
Reason 4. YT TV is like if Hulu met cable met Netflix
Let's make one thing abundantly clear: YouTube TV isn't here to replace Hulu or AMC or Netflix, because a.) Netflix is still the golden standard of online video streaming and b.) no, that's not going to change anytime soon. But hear us out.
YouTube TV is rather like a combination of your standard cable provider, Hulu and, yes, Netflix. It's cable to get your live TV fix, Netflix to get your on-demand movies and TV shows, and Hulu because of the sheer amount of content in the works. The fact that you can already go on to YouTube TV and watch previous seasons of great TV shows like The Simpsons means that it could one day rival Hulu, and then surpass it thanks to the Cloud DVR and live TV aspects.
Reason 5. There's a free one-month trial
Probably the best, most worthwhile reason to check out YouTube TV is the one-month free trial. We could talk at lengths why we think the service might be the next big thing for cord-cutters but the best thing for you to do is check it out for yourself.
Sign up to receive daily breaking news, reviews, opinion, analysis, deals and more from the world of tech.
Nick Pino is Managing Editor, TV and AV for TechRadar's sister site, Tom's Guide. Previously, he was the Senior Editor of Home Entertainment at TechRadar, covering TVs, headphones, speakers, video games, VR and streaming devices. He's also written for GamesRadar+, Official Xbox Magazine, PC Gamer and other outlets over the last decade, and he has a degree in computer science he's not using if anyone wants it.