Long-term photography projects
40. The 365 project
A classic photo project - shoot a photo a day for a year. There are two paths to follow with this one. Either restrict yourself to a single frame (tip: shoot in raw so you can make adjustments later) or choose one photo from a series you manage to squeeze out each day. Can't face a photo-a-day project? Try a '52' project, and shoot one picture worth shooting each week.

41. The 50 strangers project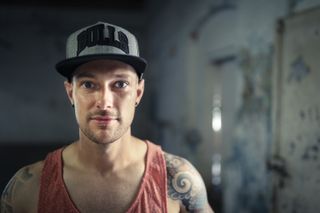 Another classic project, although this one demands some guts. The idea here is to 'simply' talk to and then photograph 50 strangers in the street. There is a variation on the theme: the 100 strangers project, but this comes with an obvious increase in pressure. Having said that, drumming up the courage to approach your first portrait sitter is the biggest challenge.

42. The 50 x 50 x 50 project
Take 50 pictures in 50 days using nothing more than a 50mm lens. A simple project idea that really helps to develop your photographic eye.

43. Creative self-portraits
Obviously you can tackle a series of self-portraits indoors, but why not challenge yourself to shoot outdoors instead? See the work of celebrated street photographer Vivian Maier for ways in which you can include yourself as part of a wider scene using your reflection or shadow. Choosing a theme can help to give focus to your self-portrait project - something that Alex Bamford has done brilliantly with his 'Sleepwalking' project.

44. The world at your feet
At the same time every day, take a picture of what you see at your feet. Choose a time during the lunch hour, as this gives you a great excuse to head out and find a new location. Use a wide-angle lens and include your legs and feet in the frame.

45. faceless portraits
Take a portrait of a different person every week without including their face in the frame. How can you reveal aspects of their personality without the aid of eye contact and expression? Use the environment, the lighting, colours, props other parts of their body - particularly their hands - to reveal character instead.

46. Scavenger hunt
Ask someone to write down a list of 30 things on a set of cards - there should be a different, easily accessible subject on each one, while you write down 30 photographic treatments on another set (such as 'black and white', 'long exposure', '50mm' and 'zoom burst'). Pick a card at random from each pile and 'fulfil the brief'.

47. A month of mono
The title of this project says it all. Challenge yourself to shoot nothing but black and white photographs. Learning to see in black and white and spot subjects and scenes with the most potential is half the battle when it comes to shooting in mono, and committing a month to it can help to develop your eye. Shoot in raw, but change the Picture Style setting on your camera to Monochrome. This will give you a black and white preview on the rear screen, while still recording a full-colour raw file that you can convert later to mono later in software.

48. Four seasons
Rather than being a photography project where you shoot something every day, this one sees you photographing one subject every three months in order to reveal the changing seasons. Naturally you'll need to spend some time finding the right subject: lone trees work well, although you'll need to anticipate how the scene will look when the foliage is in full growth or when there's none at all.

49. Geocaching challenge
Load a geocaching app onto your smartphone and then head out with a view to taking artistic pictures of every geocache location you end up in. Don't shoot the geocache hiding place itself - you don't want to ruin it for other people - but just the general area.

50. Build a texture library
Adding a texture is a great way to give your photos a distressed look for painterly results. While it's possible to add the effect in-camera using a compatible DSLR's multiple exposure mode, it's easier to use Layers and Photoshop blend modes to add a texture shot to another photograph. While you can easily find free textures online, there's nothing more satisfying than using your own. Wood, old paper and peeling paint all make great textures to add to shots.

51. Pinhole photography
Use some basic DIY skills to turn a DSLR body cap into a pinhole camera lens, then explore the world of low-fi photography with your expensive digital camera!

52. Self-publish a photo book
Take one of the other photo projects you've been working on over the year and use the results to make a photography book. Consider ways in which you can link your pictures, such as through an obvious narrative, colour themes, juxtaposition or more abstract and unexpected ways.