Cheese on toast is so comforting and filling but making it just right is an art form. The bread can't be soggy. Each slice needs to have the right distribution of cheese, and it should be melted enough to ooze, but not be too chewy or dry.
It's something I'm very particular about so when I saw an air fryer cheese on toast recipe for on TikTok, I was both intrigued and sceptical. The recipe is one of the TikTokers' most popular and having followed it numerous times now, it's clear that the best air fryers can match up to the cheese on toast we love so much under the grill.
Below, I guide you through how to make air fryer cheese on toast recipe and suggest how you can put your own spin on this comforting cheesy treat.
Best air fryer deals
If you're yet to take the plunge and buy yourself an air fryer, or are looking to upgrade, check out our top-rated air fryers below, all available to buy now for the best prices.
Air fryer cheese on toast recipe
Going by the username @traveleatrepeatuk, Khadija, has gained almost a quarter of a million followers due to their quick and easy air fryer recipe ideas.
In this video, grated mozzarella is used which, in my experience, creates the ooziest, tastiest cheese on toast. However, any creamy cheese, especially if it has high fat and high moisture content, will work well.
Air fryer cheese on toast ingredients
The ingredients listed below make two slices of air fryer cheese on toast. If you want just one slice, halve the amount. If you like your cheese on toast to be extra cheesy, add more cheese or even a combination of cheese types.
You can also experiment with different herbs and even spices. In the original video, Khadija used parsley but I prefer it with chives. The butter is optional – it tastes just as good with or without it in my opinion.
2 eggs (beaten)
7oz (200g) grated mozzarella
2 slices of bread
1 tsp of chives
Pinch of chili flakes
Salt and pepper
Although this recipe isn't suitable for vegans, you could replace the mozzarella with a vegan cheese substitute, and replace the chicken eggs with flaxseed eggs (flaxseeds mixed with water).
Air fryer cheese on toast method
I used the Tower T17099 Vortx Eco Dual Basket Air Fryer, set at 350°F / 180°C for 11 minutes. I put the bread in the air fryer for one minute before adding the toppings and cooking for a further 10 minutes.
Step 1: Beat the eggs in a bowl.
Step 2: Add the grated cheese to the beaten eggs and mix.
Step 3: Create a small well in each slice of bread by pressing the bottom of the glass into the bread.
Step 4: Spread a thin layer of butter across each slice of bread. This step is optional.
Step 5: Set the air fryer to 350°F (180°C) and place the buttered slices into the air fryer and one minute.
Step 6: Open the air fryer and pour the egg and cheese mixture over each slice of bread. Use a fork to distribute the cheese evenly, paying particular attention to the corners and the crusts.
Step 7: Sprinkle over your preferred herb and spice toppings, plus a pinch of salt and pepper, and leave to cook for 10 minutes.
Step 8: Remove the slices from the air fryer and serve.
Air fryer cheese on toast recipe verdict
As a self-professed cheese-on-toast connoisseur, I'm usually reluctant to ditch my tried-and-tested method, yet, in this instance I'll make an exception.
In Khadija's original video, she placed the ingredients straight onto the bread but I found if you toast the bread for a minute in the fryer before adding the topping, it creates a sturdier, less soggy base.
This recipe also works best with grated cheese. I've tried it with slices and it just creates a scrambled, cheesy mess.
The addition of the egg makes a big difference to just how oozy and melt-in-the-mouth this cheese on toast is. The air fryer cooks the cheese more evenly, and it's easier to add the toppings due to the self-contained nature of the air fryer basket, versus the open grill or oven.
This also makes it less messy and requires minimal washing up in comparison. I've since ditched the use of butter, and have started mixing a spoonful of Marmite into the egg and cheese mixture instead. This adds a meaty, salty flavor and means I don't have to add extra salt.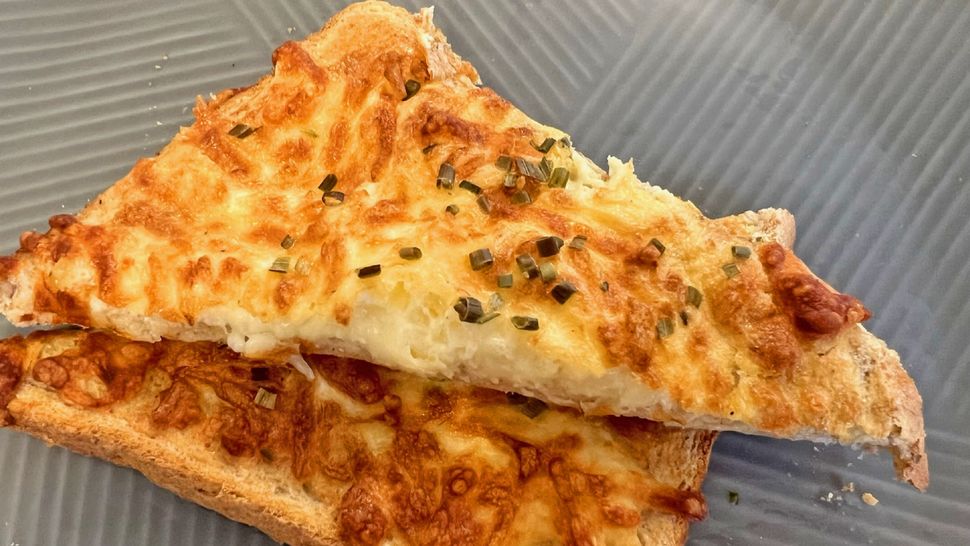 If you're a big fan of cheesy snacks, I can also highly recommend this air fryer mozzarella stick recipe.
And if you're still sitting on the fence and wondering whether to buy an air fryer, you may want to read our article to decide whether air fryers are worth it?