No-frills mobile network Smarty has just dropped one of the best value SIM-only deals available right now. It's a great buy for those who want a good chunk of 5G data for a small monthly cost, as you can now get a Smarty SIM with 60GB data for just £10 on a rolling one-month contract.
What seals this as such a good deal, though, is that it's double the amount of data you'd usually get at this monthly fee from the network. It's also the cheapest price available right now for this amount of data among all the low-cost networks. ID Mobile does match it, but others such as Voxi are £5 more expensive per month, while Giffgaff only offers 20GB of data for the same fee.
As an added bonus, Smarty is also one of the few UK networks that still include EU roaming at no extra cost so you can continue to use your data across Europe. There is a cap of 12GB per month, but this is a more than reasonable allowance for most users.
Today's best SIM-only deal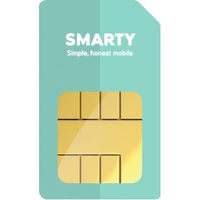 Smarty 60GB SIM: £10 per month at Smarty
Data: 30GB 60GB
Mins/Texts: Unlimited
EU Roaming: Yes (up to 12GB per month)
Smarty's latest SIM-only deal is fantastic value for money as you get a healthy 60GB of 5G data for only £10 per month. It's the lowest price for this amount of data right now across all low-cost networks, which will easily cover your social media, music streaming and video streaming each month. Unlimited minutes and texts are also included, as is EU roaming at no extra cost – a somewhat rare find these days. And there's no long-term contract as you pay on a rolling one-month basis for added flexibility.
How good is this Smarty SIM-only deal?
We'd fully recommend this SIM-only deal if you want a cheap and flexible mobile plan that gives you a lot of data. 60GB is more than enough even for the most aggressive users and you would need to make a serious effort to use it all each month even with lots of HD streaming, large downloads, home working and social media use.
If you do discover you need more or actually want less, you can always switch up or down after your first month given all Smarty plans are on a rolling 30-day basis. That's definitely one of the major benefits of going with them, on top of useful extras such as EU roaming - a feature that's often charged at a premium these days.
As for Smarty, it runs on the Three network, which guarantees 99.5% coverage while outdoors across the UK and a fast 5G connection on compatible smartphones. You also get WiFi-calling and unlimited tethering included at no extra cost. This is particularly is useful if you're out and about in a no-signal area or are working where there's no WiFi and need to share your data with your laptop or other devices.
If you want to read more, you can check out our full Smarty Mobile guide, which includes more information on the network. You can also do a full comparison with many of the other SIM-only deals available right now just below to see how good value this 60GB for £10 per month truly is.