Smarty Mobile: what is it and how good are its deals?
Cheap and flexible prices from this MVNO SIM provider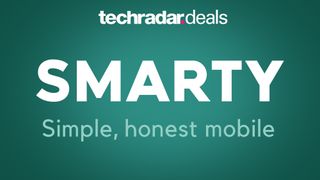 (Image credit: Future)
Smarty Mobile is quickly becoming a household name, offering flexible and affordable SIM plans ranging from cheap with low data through to some bargains with big data plans.
Powered by mobile network Three, one of the UK's leading mobile networks, Smarty Mobile is offering SIM only deals that are packed with data, affordable and flexible in contract lengths.
Smarty has already attracted a lot of attention thanks to its affordable SIM plans, and it has a unique selling point that no other network has yet been able to match. On select plans, it will buy back any data you don't use, so you're not paying for a service you haven't accessed.
The other major selling-point Smarty pushes is its flexibility. All of its plans come on 1-month rolling contracts. That means you can stay for as long (or little as you want) making it the perfect stop-over option in-between contracts.

What is Smarty Mobile?
Smarty Mobile is an MVNO operating under the speeds and connectivity of Three. It offers a wide-range of cheap SIM only deals on flexible 1-month rolling contracts and the promise of money-back on its cheapest plans.

Smarty mobile: frequently asked questions
Does Smarty mobile do cheap SIM only plans?
It does, very. Smarty is laser-focused on affordability, so while it only offers a small selection of products – you won't find subsidised iPhones, laptop dongles or home broadband here – its products have been pared down to the bare necessities to make them as cheap as possible.
That means Smarty can offer some of the cheapest prices around on big data and if you go for the cheapest plans around, there's even money back available (more on that below).
How does Smarty's credit back offer work?
If you don't use all your data in one monthly period, then you get a discount on the next. That's currently £1.25 per GB, so if you end up with 3GB of unused data at month end then your next month will be £3.75 cheaper. Plus, it's calculated per megabyte, not rounded down to the nearest gigabyte.
Other networks have data rollover, but Smarty is the first we've seen that actually gives you money back. However, this credit back doesn't work on all Smarty plans so check the one you're interested in.
Smarty is an MVNO...what does that mean?
Smarty is what the phone trade calls an MVNO - a mobile virtual network operator.
The brand is Smarty, but the network it uses is Three – in exactly the same way Giffgaff is powered by O2 and Voxi by Vodafone. They're no-frills versions of their more famous stablemates, and that means their SIMO deals are often much more affordable.
How wide is Smarty's coverage?
As you'd probably expect, Smarty's coverage is as good as Three's. It uses the same network and covers 93% of the UK population. You can find full coverage details on Smarty's coverage checker, which shows 3G and 4G coverage.
A word of warning though: Smarty isn't compatible with 2G handsets, tin cans connected by string, or smoke signals!
And what about 5G? Smarty has simply stated...it's coming.
Is data roaming available with Smarty?
Yes you can roam merrily around the EU without worrying about roaming charges. If you're travelling further afield or want to call international number, you'll need to top up your balance first.
Of course with the topic of Brexit just around the corner, the future of roaming is ambiguous. Currently, both Three and Smarty have stated that they will not be reintroducing roaming charges so it seems like you should be safe.
Can I use my phone as a hotspot with Smarty?
Yep, Smarty Mobile allows you to tether on all of its plans. While this wouldn't be advised on the lower data plans, quickly using up all of your balance, it will be a great option on its unlimited data option and higher data plans.
Will Smarty let me keep my old mobile number?
Yes. Once you've activated your Smarty SIM it's just a matter of calling your existing network to get what's called a PAC code (it stands for Porting Authorisation Code, so that extra code is redundant like 'number' after 'PIN'). Or making use of text to switch services to do this even more simply.
Porting your number is free and shouldn't take more than one working day.
Will my speeds get capped with Smarty?
You're all good here! Smarty doesn't cap your speeds, no matter how much data you use. Even if you tether multiple devices, stream for hours and push the boundaries of your data cap, your speeds will remain the same.
While this is the same with the majority of SIM plans out there, a few providers will leave you with limited speeds at certain times of the day, when you cross a certain amount of data or just when your contract states.
Get daily insight, inspiration and deals in your inbox
Get the hottest deals available in your inbox plus news, reviews, opinion, analysis and more from the TechRadar team.
Alex is a journalist who has written extensively about all things broadband, SIMs and phone contracts, as well as scouring the internet to land you the best prices on the very latest in gadgets and tech. Whether that be with the latest iPhones and Android handsets, breaking down how broadband works or revealing the cheapest SIM plans, he's in the know, and will help you land a bargain.