The best Black Friday Dyson V15 deals
Given the popularity of Dyson's newest vacuum, Dyson V15 Black Friday deals were exceptionally hard to come by last year, and the situation wasn't helped by supply chain issues that meant major retailers couldn't replenish already limited stock.
This year, though, the picture is a little different. Black Friday deals are appearing in abundance, and Dyson's best cordless vacuum is much easier to get your hands on. We're tracking the best Black Friday vacuum cleaner deals on a separate page, but here, we'll be focusing Black Friday Dyson V15 Detect deals, specifically.
Before you read on, it's worth remembering that Dyson model names vary slightly between regions. In the US, you'll want to be looking out for either the Dyson V15 Detect or Dyson V15 Detect Plus (as opposed to the Absolute, Animal, and Complete models, which are exclusive to the UK).
Dyson V15 Black Friday deals (US): quick links
Dyson V15 Black Friday deals have been switched on and off again over the past couple of weeks, with some discounts proving so popular that stock has sold out immediately. Our advice is this: if you see a Dyson V15 on sale this Black Friday weekend, snatch it up before others beat you to it.
Best Dyson V15 Black Friday deals in the US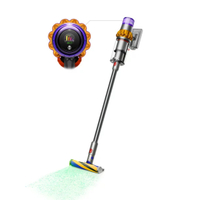 (opens in new tab)
Dyson V15 Detect: was $749.99 now $649.99 at Dyson (opens in new tab)
Dyson claims that the V15 Detect is 'the most awarded vacuum cleaner' in its lineup, and our five star review and 'Best in Class' badge recommendation make it hard to disagree with that statement. This Walmart deal will save you a whopping $100, which is equivalent to Amazon's Dyson V15 offer (opens in new tab) (though stock on latter deal is severely limited right now, hence our preference for Walmart in this instance).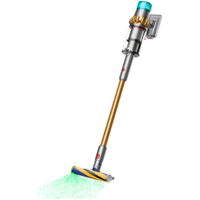 (opens in new tab)
Dyson V15 Detect : was $799.99 now $649.99 at Dyson (opens in new tab)
This deal, from Dyson itself, will save you $150 on the V15 Detect. You can save an additional $100 on a Dyson Floor Dok, too, when adding this accessory to your basket in the same purchase (oh, and you'll also get $80-worth of included tools). In other words, this is a better value-for-money proposition than Walmart's deal (above).
Dyson V15 Black Friday deals (UK): quick links
Dyson V15 stock is selling out all over the place in the UK, but John Lewis, Very, Appliances Direct and Dyson itself are still offering some stellar Dyson V15 Black Friday deals. We've highlighted them below.
Best Dyson V15 Black Friday deals in the UK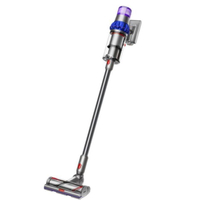 (opens in new tab)
Dyson V15 Detect Animal cordless vacuum: was £629 now £499 at John Lewis (opens in new tab)
The Dyson V15 Detect is the crème de la crème of cordless vacuums, and John Lewis is offering it for £130 less than usual right now. In testing, we found its standout feature to be a built-in laser that shines a green laser on microscopic dust, which, quite frankly, says something about the level of tech bundled into this cleaning machine. If stock runs low at John Lewis, you can currently find the same deal at Very (opens in new tab) and Appliances Direct (opens in new tab).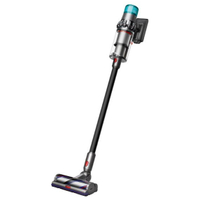 (opens in new tab)
Dyson V15 Detect Plus: was £629 now £449 at Dyson (opens in new tab)
We gave this Dyson the full five stars when it was full price, and this Black Friday deal makes it even more attractive. Not only does it bring the vacuum's price to below £450, it includes a genuinely useful accessory kit worth £65. The V15 Detect is Dyson's most powerful and most intelligent cleaner yet – and you can only get this iron/black colourway at Dyson itself.
---
3 Dyson V15 models to watch out for
In the UK, the Dyson V15 Detect Absolute is the standard variant of the vacuum cleaner and the brand's most powerful model to date, sucking up dust and debris with ease. The laser highlights dust on hard floors that the human eye can't see, and it'll even count the dust particles, displaying the information on-screen for those who want evidence.
Read our full Dyson V15 Detect Absolute review
The Dyson V15 Detect is engineered to reveal hidden dust and comes equipped with an acoustic piezo sensor to give you scientific proof that your space has been properly cleaned of everything up to 10 microns. Thanks to its Dyson Hyperdymium motor which generates up to 230 air watts of suction, it manages to capture 99.99% of dust particles down to 0.3 microns.
Finally, the UK-exclusive Dyson V15 Detect Animal (gold) offers the same suction hardware as the Detect Absolute (and therefore Complete) but lacks its laser-fitted cleaning head and quick release soft dusting brush. The laser head is used for hard floors, so this option is best suited to those who only have carpets in their homes.
More Black Friday deals in the US
More Black Friday deals in the UK