Dyson vacuums are some of the best vacuum cleaners we've tested, but they come at a price. So we've all been hoping for some great Black Friday and Cyber Monday deals so we can snap up a bargain.
Sadly, the deals this year have been fairly few and far between. The best ones you can find today are savings on only Dyson's oldest available vacuums; its newer appliances are still at their usual prices. The only savings we've seen newer devices are on refurbished tech rather than a brand new Dyson V15.
Nevertheless, any saving is better than none. So below, we've rounded up the best Dyson vacuum cleaner deals we can find in the UK and US, including early Dyson Cyber Monday deals. We're also live-blogging the brand's latest deals, too.
Today's best Black Friday Dyson vacuum deals (US)
Dyson Outsize Total Clean: $849 $649 at Best Buy
Save $200 - This vacuum from Dyson is the best you can find a deal on this Black Friday - its bin is 150% bigger than the V11 and it has a runtime of up to two hours giving you everything you need to complete a through clean of your home
Dyson V8 Fluffy: $399 $299 at Walmart
Save $100 - To save even more you'll have to take another step down in performance to the Dyson V8. It's still a decent vacuum and at this price, you might not find too many reasons to complain especially with the fluffy head attachment designed to pick up extra dust than the regular one.
Today's best Black Friday Dyson vacuum deals (UK)
Dyson V10 Animal Extra: £449 £299 at Argos
Save £150 - Dyson's V10 vacuums might have been usurped by its more powerful V11 and V15 lines, but if you're after a cheap Dyson vacuum this is the lowest priced one we can find in the UK right now. With a 60-minute runtime and a design suited to tackling pet hair you could definitely do worse.
Dyson V11 Absolute: £599 £439 at Currys
Save £160 - The Dyson V11 Absolute is a fantastic cordless cleaner that can tackle both hard floors and carpets with ease – its Eco Mode offers powerful suction, and the LCD screen is perfect for alerting you to blockages remaining run-time. £160 is a big saving, and this particular deal may run out soon so be sure to grab it while you can.
Other Dyson vacuum Black Friday deals
Black Friday Dyson Deals: Our predictions
When will the best Dyson vacuum Black Friday deals start in 2021?
We expected Dyson's sales to launch about a week in advance (around November 19) though we've been a little disappointed to see very few deals crop up - perhaps we'll see some more drop as we head into Cyber Monday though, we should probably settle for what we've already got so far this year.

How to get the best Dyson vacuum Black Friday deals
Dyson Black Friday deals are always a favorite during the November holiday, with several online retailers as well as Dyson itself offering impressive discounts.

If you're after vacuums, then you'll have plenty of Black Friday offers to choose from, with US retailers like Amazon, Best Buy, and Target all offering record-low prices on older and new model upright and cordless vacuums. Dyson itself also offers discounts on its vacuums during Black Friday, but typically Amazon will price match or offer a lower price. Discounts on newer model vacuums tend to sell out quickly, though, so make sure to keep an eye on Black Friday Ads and this guide, of course, so that you can stay on top of all the latest sales.
Tips for buying a Dyson devices online
Dyson vacuum cleaners: what you need to know
Dyson vacuum cleaners have become some of the most highly sought after household items thanks to their excellent build quality, suction power, and eye-catching design.
It's a strong brand for vacuums, with highly sophisticated suction technology and a gradual embrace of cordless connection ensuring powerful but flexible cleaning capabilities.
Dyson's cordless vacuum cleaners with a pole attachment are the most popular options nowadays, and all of the V-series models can be used in handheld mode by removing the pole.
There are also traditional upright Dysons if you prefer the raw power and always-ready options provided by being able to plug-in directly to the mains at home.
Unfortunately, Dyson vacuums don't come cheap – which is why Black Friday and Cyber Monday is the best time to buy, with retailers in the US and the UK slashing prices throughout the sales season.
Best Dyson vacuums to look out for
Dyson's latest cordless vacuum cleaner definitely is its most impressive. The V15 is more powerful than what's come before, offering a better clean on all surfaces, yet still lasts up to 60 minutes between charges (making it more than suitable for cleaning your whole house in one go).
However, the vacuum really stands out thanks to a built-in laser that shines a light on microscopic dust that's not visible to the human eye. It also comes with an LCD screen that lets you know how much charge it has left, and when used on auto mode the Dyson V15 conserves its battery by adjusting the suction power to suit the floor type and the amount of dust it detects automatically.
Sure, the V15 Detect Absolute is noisy when used on full power, has an average-sized dust canister, and is certainly pricey, but with some Black Friday deals sure to help solve that last issue we can't think of any reasons you'd want to complain.
Read our full review: Dyson V15 Detect Absolute
If you've got a bigger home, a larger dust canister is a necessity to ensure your floor cleaning session isn't interrupted, and thankfully the Dyson V11 outsize offers just this. At 1.9-liters it can hold 150% more debris than the Dyson V15 Detect Absolute (above), and the wider-than-usual cleaning head, means you'll be able to vacuum your floors quicker than ever too.
On test, it offered powerful suction that whipped away discarded biscuit crumbs, ground-in dirt, and even cereal and cat biscuits, almost instantly. However, we found the larger size made the vacuum cumbersome to use in handheld mode.
It's the most expensive vacuum cleaner we've tested but during the Black Friday2021 deals period you might be able to find a lucky bargain that makes it a much more reasonable price for your budegt.
Read our full review: Dyson V11 Outsize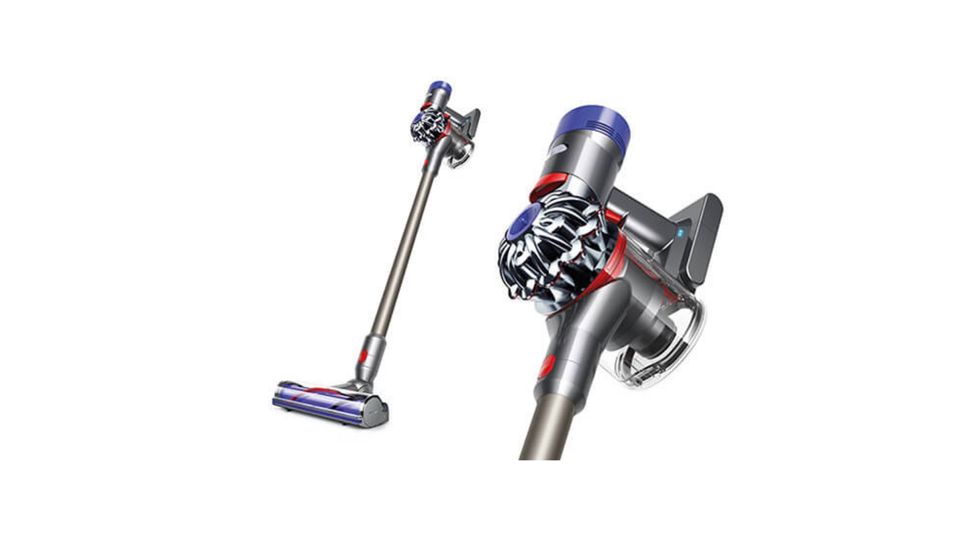 Just a few short years ago, the V8 was the ultimate version of Dyson's cordless rechargeable vacuum cleaners. Nowadays that means you'll be able to save at least £100 / $100 on the latest V8 models compared to later versions.
The V8 Animal vacuum cleaner from Dyson is perfect for pet owners as it's designed to pick up dirt and pet hair with ease. It can do that while still being a lightweight, cordless vacuum cleaner that's still very capable despite its lower power.
It won't have all the bells and whistles of the new Dyson V15 but if you're after a bargain this November be sure to look out for V8 Animal deals. You might also want to look out for the V8 Absolute - which includes a brush head to better pick up fine dirt but isn't so suitable for pet hair.
Read our full review: Dyson V8