Best Netflix horror movies: the best scary films you can stream right now
Best
Contributions from
published
Prepare for frights with the best Netflix horror movies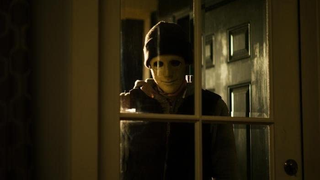 (Image credit: Netflix)
The best Netflix horror movies are a smorgasbord of scares. As is always the case with the best horror, they might not always be the ones you expect. Non scary movie fans are always surprised by the breadth of the genre. Sure there are slasher villains - more than one below in fact - but there are also slow burn psychological horrors and dread-filled folk nightmares too. The horror genre is expansive and all the more terrifying for it. Whatever you're looking for, we've got it below in our choice of the best Netflix horror movies.
We've endured all manner of hauntings and jump scares to bring you the ultimate list of the best Netflix Horror movies. They aren't all brand new so there's a chance to find a hidden gem or two lurking on the streaming service just waiting to fuel your nightmares or just sate your lust for gore. And in case you're looking for even more frights, check out our best Shudder movies for the ultimate scary movies to watch on the horror specific streamer.
We'll update this list regularly, with a mix of Netflix's own original movies and some from other studios. So, let's break down the best Netflix horror movies you can watch right now.
Piranha
Remember that time New French Extremity director Alexandre Aja made a Piranha movie starring Christopher Lloyd and Kelly Brook? Oh you don't? Well you better fix that ASAP. This tooth-fest is just as schlocky as it should be and there's plenty of evidence of its 3D origins as hungry fish hurtle towards the screen, burping up chewed genitalia. The whole movie is an absolute riot but it's worth a watch alone for the Spring Break sequence where the filmmakers allegedly emptied more than 75 thousand gallons of biodegradable fake blood into a lake. The squeamish need not apply.
The Texas Chainsaw Massacre
Let's get one thing straight. The 2022 Netflix Texas Chainsaw Massacre is nothing like the evil masterpiece that is the original. While we do have the return of OG Final Girl Sally Hardesty - played by Olwen Fouéré - and some nods to some classic shots, this is a far simpler slasher with literal buckets of blood. Mimicking the innocence of youth entering the wilderness in Tobe Hooper's 1974 classic, this time around we join a hapless Gen Z crew trying to create a brunch-filled utopia. Unsurprisingly, it doesn't go well because Leatherface happens to live in the ghost town they've bought. Oops. It's big, silly, and violent and sometimes that's exactly what you need from a scary movie.
The Ritual
Imagine a gender switched The Descent as a group of men enter the Swedish woods and you're absolutely on the right scary track with David Bruckner's The Ritual. This is a real rollercoaster with some incredible drama as well as downright terrifying moments with an inspired monster design that's absolutely going to haunt your nightmares. There's a real sense of dread at work here and an especially excellent performance from Rafe Spall. If you go down to the woods today, you really are in for a big surprise.
Incantation
Incantation is a pure hit of found footage horror straight from Taiwan. It's slightly too long but there's enough creepy imagery to keep things moving along as a woman makes a video diary documenting a curse that's following her and her daughter. There's a real mix of creepy supernatural hauntings in an ordinary home as well as some night vision horror as we discover the cause of the curse from an incident six years before. It turns out that if you're making a YouTube video about rituals, you shouldn't go into sacred tiny tunnels where horrors might lurk. Who knew?
Apostle
When he isn't creating carnage with martial arts masterpieces The Raid and its sequel, British director Gareth Evans is creating carnage of a different kind with this dark horror. Starring Dan Stevens, Lucy Boynton and Michael Sheen, Apostle is set in 1905 and follows Stevens' Thomas Richardson, who travels to a remote Welsh island to rescue his sister, Jennifer, who has been kidnapped and held for ransom by a mysterious cult.
Determined to free his sister, Richardson comes into conflict with Sheen's Malcolm Howe, the leader of the cult. As his journey goes on, things get murkier and murkier, and, bloodier and bloodier...It's a film that wears its influences, namely The Wicker Man, on its sleeves. But it's stylish and pacy, and if you fell in love with Midsommar, you'll find a lot here too.
Cadaver
This Norwegian horror is a stylish, gruesome, gorefest. Set in the aftermath of a nuclear disaster, a family of three are happy to find themselves invited charitable event at a hotel, which takes a dark turn when other invitees start to disappear. You can guess why...Not for the faint of heart, or the weak of stomach, but, if you're neither of those things, this is another entry in a fine horror tradition.
His House
Horror has long been a perfect way to process the true horrors of the challenges we face in society. Whether it's Dawn of the Dead's approach to consumerism or The Babadook's stark grief parable, the monsters at work are usually us. His House is the story of Bol and Rial, a refugee couple from South Sudan who have been given a council house in a small English town.
What they find waiting in the walls is intense and horrifying but director Remi Weekes perfectly balances this with the challenges of acclimatisation to a new culture and the dehumanising nature of the process. It's searing and it's issues are real but that doesn't stop this also from being a terrifying haunted house parable.
Krampus
There are only so many saccharine Christmas movies you can watch without wishing that gingerbread men were attempting to murder all of the characters on screen. No? Just us? Regardless, Michael Dougherty's festive horror is perfect deadly eggnog with Toni Collette in fine form as the matriarch of an ungrateful family who are spectacularly failing to celebrate the season.
Krampus is firmly in comedy horror territory but there are still some exceptionally fun scares as the family is besieged by festive monstrosities. The best holiday horrors are the darkest ones and Krampus is enjoyably vindictive as it does for Christmas what Dougherty's previous Trick R Treat did for Halloween. You'll never see the kids' letters to Santa in the same way again.
Creep
Along with its sequel, the appropriately titled Creep 2, Creep has become a found footage cult classic. It doesn't quite have the commercial appeal of Paranormal Activity or the raw terror of The Blair Witch Project, but as societal awkwardness descending into horror goes, Creep has it nailed. Following an advert on Craigslist, a videographer called Aaron heads to the home of Josef, played by a truly unnerving Mark Duplass. Josef is eccentric but apparently wants someone to record his final days before he loses his life to an inoperable brain tumor. It might be a wholly inappropriate place to say that's where the 'fun' begins but here we are.
Calibre
If you fancy spending the evening pulling at your own face with tension, there's nothing quite as excruciating as Calibre. Two friends going hunting? What's the worst that could happen? Yes, take a swig of your Dr Pepper because this trip to the Scottish Highlands isn't exactly what Nessie's home country would choose to put on its tourist site. The politics of a small village mix perfectly with some Very Bad Decisions to make this a must watch horror thriller. Even if that entails watching through your fingers and from behind a cushion.
Hush
Haunting of Hill House and Bly Manor creator Mike Flanagan has a lot to answer for. Not only has he made two of arguably the most successful horror TV shows of the last few years as well as directed an excellent sequel to The Shining (Doctor Sleep), back in 2015 he quietly directed an intelligent slasher movie. Co-written with his wife and Hush star Kate Siegel, this is the story of Maddie, a deaf horror writer who lives in a remote cottage with only her cat for company. When a masked man arrives and assumes she is easy pickings, her fight to survive is nail-bitingly brilliant stuff.
The Perfection
It's important to enter The Perfection with one thing in mind. This is not a societal commentary to be accompanied by chin scratching like a lot of modern horror. This is a scuzzily violent horror thriller with no rules. It won't be to everyone's taste but Alison Williams' excellent turn as a cellist with a passion for revenge makes for an exceptionally twisted thriller. Perhaps not one to watch with your parents, there's also one of the most realistic recreations of being unwell on public transport of all time. Yes, on this list, that's a selling point…
Under the Shadow
Of all the genres, horror is often one of the bravest to tackle the hardest of topics. On one level Babak Anvari's Persian haunting is a traditional ghost story as a woman is plagued by spirits in her home, on another it's a biting commentary on the oppression facing women in 1980s Tehran. Like the Babadook's manifestation of grief, the monsters here might seem fictional but there's a depressing reality to these specters. Scary and thought provoking, Under the Shadow is a modern classic.
The Platform
Another societal commentary – this time a skewering of capitalist culture from Spain – The Platform is an uncomfortable watch. High concept doesn't come much higher than this. Literally. A luxurious kitchen furnishes a platform with delectable edibles which then descends through hundreds of two person cells. If everyone would just have a few bites then there would be enough for all but of course, that's not how the world works. Following one man on his journey as he wakes up on new levels, The Platform is an unpredictable nightmare.
Sign up for Black Friday email alerts!
Get the hottest deals available in your inbox plus news, reviews, opinion, analysis and more from the TechRadar team.
Louise Blain is a writer and presenter specialising in tech, games, and horror entertainment. Thanks to the latter, she needs to avoid nightmares and regularly reviews the latest sleep tech for BBC Scotland, TechRadar and T3. Her specialist subjects include mattresses, weighted blankets, and sleep aids.