Best Shudder movies: horror films worth streaming right now
From Deadstream to Speak No Evil, there are plenty of great horror movies to watch on Shudder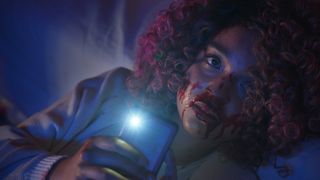 (Image credit: Shudder)
The best horror movies on Shudder are now an incredible smorgasbord of delicious scary movies of all flavours. Whether you want sci-fi nightmares, comedy found footage, or even classic folk horror, the specialist horror streaming service has you fully covered from head to toe in gore.
Shudder has transformed over the past few years into an essential streaming service for genre fans, picking up indie favourites from horror festivals around the world that previously might never have seen the burning light of day. Chances are that if a movie grabbed headlines at SXSW or Fantastic Fest, you'll find it eventually arriving on Shudder.
And it's the mix of sub genres that really matters here too. To say that the horror genre is just gore and jump scares is massively reductive and the best horror movies on Shudder just prove that the genre is actually one of the most progressive and nuanced out there. There are few better ways for society to slay its own demons than in literal form and horror filmmakers constantly have an eye on current events.
And don't worry, this selection of the best Shudder horror movies are available in both the USA and the UK so you can get your fright fix wherever you are. So all that's left for you to do is grab just the right snacks. Perhaps enjoy is the wrong word...
Speak No Evil (2022)
Question. Do you want a horror movie? Or a horror movie? The kind of experience so uncomfortably face grabbing and stressful that you wonder what you possibly could ever have loved about the genre? Well, you're in luck. Speak No Evil is exactly that. A simultaneously magnificent and psychologically gruelling experience that will make you want to never make any new friends again. Speak No Evil follows a Danish family as they travel to meet a Dutch family they met on holiday. And that's all we need to say. Just don't blame us when you're not OK afterwards.
Slash/Back (2022)
Thankfully the best Shudder movies aren't all just exercises in how far you're willing to push your sanity. And Slash/Back in particular is the perfect palate cleanser after an ultra stressful horror. Nyla Innuksuk's debut feature is a joyous kids vs aliens affair as a group of Inuit teen girls battle to save their hamlet from a monstrous invasion. The aliens are scary, the cast are hilarious, and there's a genuine sense of sheer fun throughout the whole movie. It's not flawless but the comedy horror tone here is constantly inventive and you'll never have seen anything quite like it.
Sissy (2022)
The further we progress through the 21st century, the more we realise how not ready for social media we as a species were. There's now no shortage of influencer-based horror but the Australian Sissy stands out from the crowd as young Instagram star Cecilia joins some old friends at a hen weekend. She quickly finds that IRL relationships are significantly harder to navigate and old rivalries suddenly make themselves known. This is a surprisingly brutal Aussie flick with its tongue firmly in #cheek. Try not to read any more before you watch. And maybe grab a cushion. It gets gory.
Deadstream (2022)
And here's one of those other influencer-based horrors. Utterly hateful streamer Shawn has lost all of his sponsors and fans and wants to find a way to win them all back. Does he apologise? Donate money to charity? Errr, no. He heads to a haunted house, sets up cameras in every room, and streams the whole thing to those who want to hate watch his experience. Husband and wife writer director duo Joseph and Vanessa Winter perfectly nail this high concept found footage thrill ride. Evil Dead style comedy grossout moments meet genuine scares as Shawn fights for his survival. Deadstream is a riot.
V/H/S/99 (2022)
The V/H/S found footage anthology series was at risk of falling into iffy sequel territory but the latest thematic outings celebrating specific years have steered it right. V/H/S/99 proudly celebrates the late '90s with send ups of gunge-filled kids TV shows, the antics of American Pie-style bros, and a particularly fun short about poisonous sorority sisters. The first short isn't the strongest but the dropping of a wraparound story to focus on the shorts really keeps things moving and the final handheld entry from Deadstream's Vanessa and Joseph Winters is horror comedy at its absolute ludicrous finest.
The Advent Calendar (2021)
There are few things as satisfying as a truly scary high concept chiller, especially one that manages to hit comedy horror highs too. Here we meet Eva, a dancer who lost the use of her legs in a tragic accident. Her best friend gives her an ornate advent calendar and while it first appears to be a delightfully thoughtful Yuletide gift, it quickly dictates a set of rules that will result in horror should they not be followed. As Eva makes her way through the calendar, it's not spoiling anything to say that Christmas will never be the same again. This is an unmissable French horror that makes a perfect Friday night frightmare all year round.
Mad God (2022)
Phil Tippett's Mad God is.. well… it's a bit of an acquired taste. It's definitely not the movie to convince your other half of the merits of the horror genre but this stop motion nightmare is absolutely one of the best movies on Shudder, even if you probably never want to watch it again. Tippett is best known for his legendary stop motion effects for movies like Star Wars and Jurassic Park but Mad God has been his labour of love for the last 20 years. There's very little story - only a man entering a hell dimension of truly despicable things - but this is horror in the truest sense of the word. Here be monsters. And depravity. And you're not going to be able to look away.
Sea Fever (2020)
Creature features come in all shapes and sizes and Neasa Hardiman's tension-inducing thriller is at the somewhat insidious end of the scale. This isn't Piranha or the Meg with absurd sealife chowing down on entire boats. Instead the drama seeps in gradually as a young university student joins a fishing trawler off Ireland and they make a horrifying discovery about what lurks in the darkness below the tiny boat. Sea Fever is effortlessly unpredictable with a real sense of claustrophobic terror. Even a bigger boat might not save this lot from their potential fate…
The Invitation (2016)
Karyn Kusama's slow burn psychological thriller is a perfect exercise in taut storytelling. It's a very different pace compared to a lot of the other horrors on this list but no less horrifying as a man and his new partner attend a dinner party at the home of his ex-wife. While the rest of us might have just politely declined or even sent an 'Oh God no' text in response, The Invitation means you can't look away at what unfolds around the dinner table. Be warned, you're going to be in a state of anxiety from start to finish but it's absolutely worth it.
Anything For Jackson (2020)
Elderly grandparents tend to be depicted in a specific way. Sweet… doting… on hand day or night to offer a kind word or a cup of tea… Well that's Audrey and Henry too. Although, they're Satanists and so bereft with grief after the death of their grandson Jackson, that they are willing to kidnap a pregnant woman and sacrifice her in the hope of Jackson's return. It's a blackly comic premise, literally executed exceptionally well. Anything For Jackson manages to be hilarious, tense, and often truly terrifying. Oh, and if you don't like tooth-based horror, you're going to have to look away during one particularly grim moment. Shudder truly lives up to its name here.
Jakob's Wife (2021)
It's been a while since we had a solid vampire movie and Jakob's Wife doesn't just tick the gruey monster box but also manages to bite off some societal commentary about suburban life at the same time. The iconic Barbara Crampton is electric as Anne, the wife of a small town minister, who is transformed into a creature of the night. This gives her a fresh perspective on life as well as a hunger for redder meat than she's used to. Or should that be stakes…? Splattery and ludicrous fun, Jakob's Wife is an old school style horror with a gory bleeding heart.
The Mortuary Collection (2019)
Finding a good horror anthology movie always feels like something special. Especially when a film perfectly understands the creepy brief by feeling like a haunted VHS you've just discovered in the attic. And the structure is beautifully simple. When a young woman applies for a job at a suitably menacing-looking mortuary she gets the mortician to tell some of his scariest stories from over the years. One of the short films is a little grim but the others are a perfect blend of hokey, funny, scary and just plain gross. One safe sex allegory is particularly spectacular on that front... Add in a brilliantly atmospheric wrapper around the whole thing and The Mortuary Collection is creeptastic fare.
Caveat (2020)
Sometimes, every so often, a little indie horror movie comes along containing such spectacular scares that we worry what would happen if the director had been given a little more cash. Caveat from Damien McCarthy sees a man journey to an island to look after a disturbed young woman. Honestly, there are more questions than answers here but Caveat is like a haunted house movie where you'll have no idea what will happen next and it's all the better for it. Genuinely swear-inducingly terrifying in its third act, this is a movie that you won't want to watch alone. Oh, and there's a really creepy bunny with a drum that should have its own entire horror movie universe.
Host (2020)
And here you were thinking that the scariest thing about Zoom was the potential announcement of yet another mandatory work pub quiz. Lagging issues and forgetting to turn off mute are the least of this group of friends' worries when they get together for a Zoom seance over lockdown.
It's no surprise that things go rather wrong but the way the action unfolds over a frankly ludicrously economical 56-minute run time makes for a relentlessly terrifying horror movie. Great performances, gloriously innovative uses of modern tech, and nods to found footage classics make Host a horrific lockdown masterpiece.
Impetigore (2019)
Firstly, don't let the title put you off: Joko Anwar's Impetigore isn't wall-to-wall arterial spurts. Instead, this is a beautiful Indonesian folk horror with great characters and some brilliant scares. Following an incredible horror opener, Maya and her best friend Dini head to a remote village to uncover the mysteries of Maya's dark past. Now it wouldn't be on Shudder if she found a long lost family and a happily ever after, would it? It gets a little exposition heavy in the latter half, but there are plenty of thrills here and even some excellent comedy moments.
The Beach House (2019)
When Emily and Randall head to the beach for some much-needed R&R, they're not expecting another couple to arrive at the same holiday house. However, it turns out that's the least of their worries when a bright blue phosphorescence starts lazily floating inland. As cosmic horrors go, The Beach House starts off slow but there are tentacles, slime and body nastiness aplenty here, making it well worth a wince-inducing watch. Prepare for jellyfish on the beach to become even more horrific.
Tigers Are Not Afraid (2017)
Taking a leaf from Guillermo del Toro's book of mixing heartbreak and horror, Issa López's nightmare blends fantasy with the lives of children amidst the Mexican war on drugs. When Estrella's mother goes missing in the chaos in her city, she finds herself with an unlikely gang of orphans. There's a heavy mix of tragedy and monstrous fairytale fantasy that at times feel slightly at odds, but Tigers Are Not Afraid still delivers a fresh story that's a world away from more traditional jump-scare packed horror.
La Llorona (2019)
Not to be confused with the utterly snooze-worthy extension of The Conjuring Universe released last year, this Guatemalan treatment of "The Weeping Woman" is a truly unsettling ghost story. Like Tigers Are Not Afraid, this is the kind of horror happy to wrap its tendrils around very real and human stories. La Llorona centers around the family of a Guatemalan dictator responsible for horrific war crimes and, while director Jayro Bustamante adds in more traditional horror scares, it's the darker side of history that unnerves in this atmospheric nightmare.
Revenge (2017)
Few horror subgenres feel scuzzier or more exploitative than the rape revenge movie, so as feature debuts go, writer and director Coralie Fargeat had quite the challenge on her hands. But in joyous, if gloriously gory news, it turns out that it's entirely possible to wrestle the genre back from years of toxic masculinity. A searingly colourful feast for the eyes, and with a thumping synth soundtrack and tour de force performance from Matilda Lutz, Revenge is a deftly handled horror with a brutal message and relentless violence. Revenge is, after all, deliciously sweet.
The Cleansing Hour (2020)
Sometimes horror movies don't have to be too smart; they just have to be the perfect accompaniment to a pile of sweet-and-salty popped kernels. This possession tale delivers on both schlock and horror, telling the tale of a streamer who performs *ahem* "live exorcisms" and sells religious merchandise receiving a nasty surprise during a live broadcast. The appearance of real demons might be predictable from the outset, but there are plenty of fun surprises and genuinely nasty moments to keep both the frights and comedy rollicking happily along.
Slaxx (2020)
High concept horror movies can go one of two ways. The sadly more common direction is the shallow fin-filled vapidity of 'oh, we'll fix it in post' Sharknado. But then a gory gem like Slaxx comes along about a pair of murderous jeans and you realise that even the silliest of horror ideas can have something valuable to say. Sure, Slaxx makes sure its message is well lubricated with gallons of blood, but as anti-capitalism subtexts go, shop assistants and influencers being picked off by a pair of bloodthirsty trousers is a killer concept with great execution. Belt up for this one.
Violation (2020)
As we said above regarding Revenge, the rape revenge movie is a challenging and controversial genre but that doesn't make it an impossible task. Violation was written and directed by Dusty Mancinelli and Madeleine Sims-Fewer and stars Sims-Fewer as Miriam, a woman who is raped by her sister's husband. Sims Fewer's performance is exceptional and the fragmented dissection of her subsequent actions is a masterful depiction of trauma. As you'd expect, it's not an easy watch, but Violation is a terrifyingly human experience. Maybe watch Revenge as a palate cleanser afterwards…
Lucky (2020)
Some horror movies feel so relevant that they feel like they've been pulled - obviously screaming and covered in gore - from current public consciousness. Natasha Kermani's Lucky, starring and with a script from Brea Grant, is a stinging commentary on violence against women. Initially the movie feels like a mere slasher as author May is terrorised on a nightly basis by an ultra-creepy masked stalker, but Lucky only gets smarter as it goes along. If you're hunting for a traditional horror experience you won't find it here but go along for the ride and this will be an unexpected #hardrelate for a lot of people.
The Power (2021)
Whenever we're afraid of the dark, all we need to do, even if it feels irrationally far, is reach for the bedside lamp. But what if a flick of that switch did nothing at all? Set amidst the miners' strikes of 1974 as Britain's electricity just stopped overnight, Corinna Faith's The Power drips with atmosphere as a young nurse takes on night shifts in an old hospital. The subtext isn't quite as clever as you might like it to be but for sheer feeling alone, The Power is worth the 90 minute run time.
Witchfinder General (1968)
It's time for some folk horror homework. The so-called Unholy Trinity of the genre is made up of The Wicker Man (no, not the one with Nicholas Cage), The Blood on Satan's Claw, and the infamous Witchfinder General from Michael Reeves. The latter two films are on Shudder and we advise watching both but as sheer horror goes, Witchfinder General should be first on your list. There's nothing going bump in the night, meaning that the real terror comes from the evils of humanity, all the more shocking amidst a peaceful rural setting.
Butcher, Baker, Nightmare Maker (1982)
If you want to treat Shudder as a source of movies you would have accidentally recorded overnight on a long play VHS, Butcher, Baker, Nightmare Maker is the ultimate slasher discovery. Also known as Night Warning, this bold 80s nightmare stars the incredible Susan Tyrrell chewing up the scenery as a loving aunt who adopts her nephew when his parents die in a tragic accident. Given that you probably heard the italics of that last word, you might think you know what to expect but this is an unnerving thrill ride with some seriously crunchy subtext.
Sign up to receive daily breaking news, reviews, opinion, analysis, deals and more from the world of tech.
Louise Blain is a writer and presenter specialising in tech, games, and horror entertainment. Thanks to the latter, she needs to avoid nightmares and regularly reviews the latest sleep tech for BBC Scotland, TechRadar and T3. Her specialist subjects include mattresses, weighted blankets, and sleep aids.