On-ear headphones are a great option if you don't want to wear bulky and powerful over-ear headphones, but you do want headphones with a band and cushioning that you don't get from earbuds.
There are a wide range of different styles of on-ear headphones from many of the top audio tech brands - and if you hadn't guessed already, they get their name from how the cushions sit on, rather than over or in, your ears.
On-ear headphones are usually more compact than over-ear options but can still deliver a better audio experience than earbuds generally do – they're also a good middle choice if you don't like putting in-ear headphones directly into your ear canals.
On-ear headphones tend to be one of the most comfortable listening options, which is why we recommend them if you commute into work or travel a lot. They're also good for home listeners because these lightweight headphones give you a little bit of noise cancellation without the bulk of over-ears – and you can still pick up on some ambient sounds when you need to.
If you enjoy listening to music when you work out, this style is also one of the best for workout headphones. Their cushioning and headband add stability, which means on-ear headphones are great for cardio and weights – although might not be perfect for lots of high-impact exercise, like sprinting or burpees.
We've reviewed all kinds of on-ear headphones over the years, and so we've put together this guide to explain our favorite models- including some cheap headphones if you're on a budget, and wireless headphones for those that hate dangling cables. Here's a selection of our top-rated on-ear headphone reviews, so you can do all of your research and make a purchase in one place.
The best on-ear headphones
For your money, you can't do any better than Jabra Elite 45H. A replacement for the company's Move Style wireless on-ears, the Elite 45H's combination of colossal battery life, fully competitive specification, and decently realized sound quality puts them at the top of the class for best on-ear headphones.
Jabra has wrapped Bluetooth 5 connectivity, 40mm full-range dynamic drivers and a smattering of physical push-button controls in a wireless on-ear frame. Faux leather and memory foam, combined with winningly un-creaky plastic, make for a comfortable fit (even if the earpads themselves absorb ear-heat quite quickly and then give it straight back).
There's voice control available from Amazon Alexa, Google Assistant, or Siri. Jabra's Sound+ control app even walks you through a brief hearing test to establish exactly how the EQs should be set to best suit your ears. By the standards of fairly affordable headphones, the Elite 45h are feature-packed.
And who's about to argue with 50 hours of battery life from a single charge? There are very few headphones around, at any price, that can challenge that figure – and the Jabras will go for another 10 hours after just 15 minutes of USB-C charging.
Read more: Jabra Elite 45H review

The Sony WH-CH520 are the new super-affordable headphones in Sony's wireless lineup, coming in at $60 / £60 / AU$99. They're on-ear Bluetooth headphones, and while, as you might expect at this price, you're not getting active noise cancellation or Hi-Res Audio support, their focus on sound (and a few useful tricks) means they're still fantastic value.
The bass underpins things well, adding depth while staying controlled, and letting you have some fun with electronic or dance music. The mids are capable of letting vocals stretch their legs, and giving dense instrument mixes a chance to stand out, although obviously more detail is lost here than in higher-end models. And trebles elevate out of the mid-range well, feeling like they have enough room to breathe.
Compared to the Sony CH510 that the Sony CH520 replace, there's more cushioning, which is always appreciated in the best on-ear headphones as their design means their earpads sit directly on your ears, which not everyone loves.
It's a shame there's no 3.5mm jack, but app support, multi-point pairing and 50 hours of battery are great. At this price, they're a superb buy.
Read our full Sony WH-CH520 review

After a well-received update to the Powerbeats in-ear range via the Powerbeats Pro, Apple turned its attention back to the extremely popular over-ear Solo range, with the Beats Solo Pro the result. With a far more balanced sound profile that gives equal attention to lows, mids and highs alongside an enormous upgrade in general sturdiness, the Beats Solo Pro are also the company's first on-ear cans to offer pure adaptive noise cancelling (or Pure ANC), easily earning its newfound 'Pro' status.
The Solo Pro will likely appeal most to users who want a great pair of Beats headphones without committing to Apple's bulkier, pricier over-ear option, the Beats Studio 3 Wireless. Luckily for them, the Solo Pro basically outclasses the latter in every single way.
Read more: Beats Solo Pro review
[Update: The Beats Solo Pro have actually been discontinued, in the wake of the Beats Fit Pro being released. You can currently still buy these Beats headphones, but stocks may not last very long.]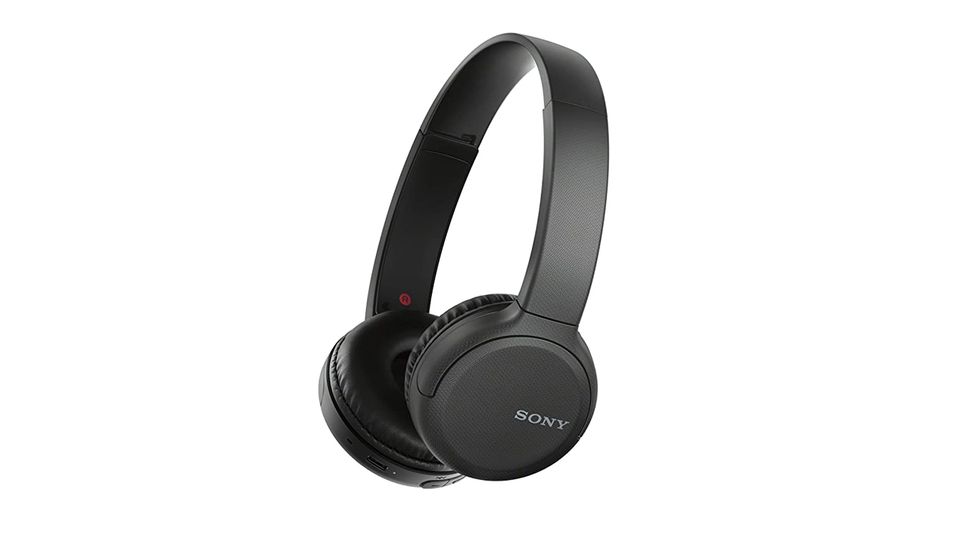 Looking at the Sony WH-CH510, it's mind-blowing that wireless on-ear headphones could cost this little, not to mention a pair that has decent sound, a USB-C port, and 35 hours of battery life. You'll find their successors, the WH-CH520, further up this list: they offer even better battery life and improved comfort, although they're also a little more expensive too.
If you're looking for headphones at this price point, you're likely already willing to make a few sacrifices. Thankfully, most of the compromises Sony has made with the WH-CH510 haven't been too crucial – the lack of analog input mirrors the loss of the 3.5mm port on most modern smartphones while the lightweight, plastic construction improves their portability and comfort.
While they won't have the superb clarity, balance, and sense of space that their WH-1000XM4 siblings boast, the sound these on-ear headphones produce definitely belies their size and price. You'll find most genres perform well here, although tracks that already have low mids and bumped treble might get uncomfortably exaggerated.
Read more: Sony WH-CH510 review

Not luxurious, and not exactly stacked with features – but the Sennheiser HD 250BT have it where it counts. The fact that the HD 250BT don't look, or feel, any more costly than they are is more than compensated for by the sound they make. Yes, the headband is unpadded, but the soundstage is wide open and properly defined – and that's what counts.
They're lighter and more comfortable than you might think, and a 25-hour battery life is decent, if not class-leading. Overall, the HD 250BT are a very reasonably-priced pair of headphones that sound far better than they ought to at such a budget-friendly price.
Read more: Sennheiser HD 250BT review

In recent years AKG has dominated the budget and mid-range headphone space. While most other headphones at these price points chase after the bass-addicts, AKG has been content to stick to what it knows best; namely headphones that offer a balanced, refined sound you'd normally find in more expensive cans.
With the AKG N60NC Wireless on-ear noise-cancelling headphones the company appears to be stepping out of its comfort zone a little. The aluminum accented design is more flashy than AKG's usual fare, and the noise-cancellation combined with wireless operation pushes the N60NCs to the upper end of the company's normal price points.
Read more: AKG N60NC Wireless review

Bowers & Wilkins PX5 Wireless on-ear headphones are aimed at users that want the immersive sound of over-ears without the bulk.
Kitted out with Qualcomm's aptX Adaptive audio codec, which is designed to deliver low latency hi-res audio, they're ideal for low latency gaming. Battery life is very good, and while noise cancellation could be stronger, it's pretty adept for on-ear cans that don't have the same passive noise-cancelling abilities as their over-ear peers.
If you're looking for compact on-ear headphones that will suit your commute, without skimping on audio fidelity, the Bowers & Wilkins PX5 could be a fantastic choice.
Read more: Bowers & Wilkins PX5 Wireless Headphones review

The V-Moda XS are the perfect travel buddy for audiophiles. Their balanced and detail-rich sound is a pleasure to listen to, plus, they're built like a tank. While the bass could use a little more impact, we had little complain about the sound. However, that said, the XS has a loose fit on the head and barely blocks out any sound, which isn't ideal for working out or for commuters.
If you're a sedentary listener, however, these on-ear headphones are great. In terms of competition, the Klipsch Reference On-Ear II are an excellent alternative that can block out more external sound. However, the trade off is the extended and exciting highs of the V-Moda XS as the Klipsch has more high frequency roll-off.
Read more: V-Moda XS review

The Klipsch Reference On-Ear II are the follow up to the excellent Reference On-Ear model, a previous resident of the best on-ear headphones round up. Admittedly, the latest model doesn't change much in terms of design or sound – but why fix something that's not broken?
That said, Klipsch kept it simple with the Reference On-Ear II, concentrating on sound, comfort and portability that will please audiophiles. Only diehard audiophiles will even consider these wired-only headphones after looking at the price tag, but those who value sound and comfort above all else will be happy with the Klipsch Reference On Ear II.
Read more: Klipsch Reference On-Ear II review

The Grado GW100 on-ear headphones sound absolutely stunning; they boast an immersive, wide soundstage, clear highs, smooth mids, and extended bass frequencies. They also look great, with a kitsch, retro design that recalls Grado's humble beginnings in 50's Brooklyn – but, that said, that vintage-style look won't appeal to everyone, and they do feel a little flimsy.
Although the Bluetooth connection works very well, we are struggling to understand the need for a wireless pair of open-back headphones; particularly if the design makes them unsuitable for commuting or listening in communal areas.
Overall, we feel the Grado GW100s are designed for a fairly niche market of audiophiles who crave a wide, natural sound, and who do the majority of their music listening at home. If that sounds like you, you will probably love the Grado GW100s. If not, you may want to look at closed-back models instead.
Read more: Grado GW100 Wireless headphones review

You, like everyone else, probably want a set of on-ear headphones that nail the tricky blend of design, useful features and incredible sound. You might think that you need to flush your savings to enjoy such a pair of cans. Pro tip: you don't.
The Audio-Technica ATH-S200BT are a well-built, great-sounding, long-lasting pair of headphones. Their features constantly outweigh their modest price and we can't get enough of that 40-hour battery life. While technological advancements usually mean a premium price, that's just not the case with the Audio-Technica ATH-S200BT.
Read more: Audio-Technica ATH-S200BT review

Adidas won't be the first name that comes to mind when you're thinking of buying new headphones, even if you're the sporty type. Despite that, the Adidas RPT-01 running headphones shouldn't be overlooked.
They're part of a collaboration between the sportswear company and Zound Industries, best known for working with Urbanears and Marshall to develop headphones and Bluetooth speakers.
That's a pretty strong pedigree for these unique-looking on-ear headphones. They don't quite have the sound quality of a Marshall speaker, but for running headphones they're a pretty solid option.
We gave them a whirl while going about our activities, and were impressed by the results.
Read more: Adidas RPT-01 Wireless Bluetooth Sport Headphones review
On-ear headphones: FAQs
Which brands make the best on-ear headphones?
On-ear headphones may not be as ubiquitous as their over-ear and in-ear counterparts, but plenty of top audio brands make headphones in this style.
Our favorite on-ear headphones companies include Beats, Jabra, Sony, Grado, and AKG, all of which offer high-spec cans at good prices. If you're more of an audiophile, you may want to look at brands like Sennheiser and Bowers & Wilkins - though you won't get the immersion that a pair of over-ear headphones can offer, on-ear headphones from these brands still come with some serious audio props.
Will on-ear headphones hurt my ears?
They shouldn't, though we can see why the idea of ear cups squashing your ears might come to mind when you think of on-ear headphones. As long as you choose a pair with generously padded earcups and the clamping force on your ears isn't too tight, you shouldn't experience any discomfort. In fact, many people find the lightweight build of these headphones more comfortable than over-ear models, and they work great for anyone who's squeamish about in-ear headphones.
On-ear headphones deals