The bank holiday sales are fantastic opportunities to grab a great deal on lots of our favourite gadget, electronics and gaming items from a wide range of retailers. It's certainly something worth a look while weighing up the possibilities of the usual rain vs barbecue debacle of a British bank holiday weekend.
We usually get a cheeky heads-up on some of the discounts and will be putting together an extensive list of our deal highlights from the top retailers out there. Actually, we've seen a few decent deals make a break for it already, so why wait?
If you'd prefer to dig out a discounted treasure of your own, you'll find links to the big stores that are sporting an August bank holiday sale below. Keep an eye on this article, as we'll update it with some fresh offers due to appear each day.
To stay tuned on all our regular deal updates, bookmark our deals page or follow us over on Twitter.
Bank Holiday Sales: Quick Links
The retailers below are bound to be saving some special deals for the bank holiday sales starting in a few days. Some launch pages are live now, but we expect the real discounts to start from Friday.
When do the bank holiday sales start?
The next bank holiday technically starts Monday August 28 in the UK. But usually we see the bank holiday sales spread over the whole weekend. So we were expecting the deals to start on the Friday August 25.
As you can see below though, some retailers just couldn't wait and there are some excellent deals to be had below. Order quick enough and you might get them delivered in time for the weekend! The best bargains will be made available on a first come, first served basis, so don't leave it until the Monday to check out the bank holiday sale items - it might be too late!
The latest items in the Bank Holiday sales
Amazon Echo Dot £99.99 @ Amazon - was £149.99
That's a massive £50 discount on both the black and white version of Amazon's Alexa-ready smart speaker and the best price we've ever seen as the lowest it got around Black Friday was £120.
Update: Tesco has gone even cheaper for the white version. Use the voucher code TDX-HYTP, to knock £10 off the store's matching £99 deal to bring it down to £89 @ Tesco.
Amazon Echo Dot £44 @ Tesco - was £49.99
We see this dip to £45 every other month or so, with the lowest £40 price being reserved for the Christmas shopping season. So £44 is a solid price for one of the best smart home speakers on the planet and a lot cheaper than the regular full-sized Echo above albeit at the cost of quieter (but still decent) speakers. If this sells out at Tesco, we've spotted it for £44.99 at Amazon, John Lewis and Very too.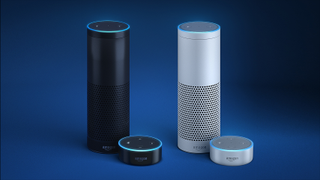 Amazon Echo and Echo Dot package £123.99 @ Argos - was £200
Compared to the usual prices for buying both version of the Amazon Echo speakers, you're saving £76. Factoring in the deals above though, it's more like £20. Still, this is the best bundle price we've ever seen. The link above is for the black tower speaker (then choose which Dot you want). Here's a link for the white Echo tower bundle.
Google Home £99 @ Currys, John Lewis, Argos - was £129
Google Home has faced stiff competition from the Amazon Echo devices, but it's arguably a better fit for you if you enjoy the Google/Android ecosystem already. Plus you can play the free version of Spotify on Google Home - Premium only on the Amazon Echo. We've seen this excellent price once or twice before, but rarely as the Google-flavoured smart speaker is usually £129.
Chromecast £19 @ Currys - was £30
Chromecast has always been a bit of a steal at just £30. So at £19, you really don't have any excuses. Chromecast allows you to watch content from your mobile or tablet on your TV, via a wireless signal. Clips or playlists on YouTube, video downloads, Netflix, Amazon Prime and video content bought or rented from the Google Play store all looks fantastic in smooth HD. If you're after something with a 4K kick instead though...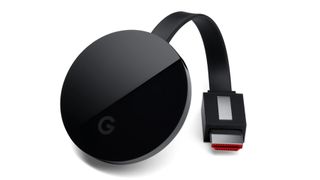 Chromecast Ultra £54 @ Currys - was £69
Discounts on the Chromecast Ultra are annoyingly rare and we always found the initial £69 price-tag a little steep given how cheap the regular Chromecast is. This bank holiday sale price is looking harder to resist though especially if you've been dying to get some more 4K content on your TV. Like the older Chromecast, you can stream content straight from your phone or tablet, but now in 4K (you'll probably need to upgrade your Netflix membership to get 4K though).
PlayStation VR | Farpoint | VR Worlds | PS+ sub | £329 @ Tesco
Tesco currently has an offer where you can get the PlayStation VR headset, Farpoint, VR Worlds and a 3-month PS Plus subscription for just £329 by ordering this PSVR bundle adding the headset and games to your baket via the three steps, then adding the PS Plus sub manually and then using the voucher code TDX-WFTW at checkout.
Stay tuned for the latest picks from the August bank holiday sales. We've got loads more items to add over the next few days.