Well that didn't take long. Just under a month since the new iPhone 8 launched, and not even three weeks since it hit the shelves, we're already seeing prices fall significantly. If you refused to get caught up in the hype of the launch, and thought you'd wait a few weeks to snap up an iPhone 8 deal, then you've been vindicated, friend.
We thought we'd have to wait at least until the release of the iPhone X or the madness of Black Friday 2017 before cheap iPhone 8 prices would start to appear. But the latest big data tariffs on O2 from Mobiles.co.uk have confounded that theory.
We'll tell you about our favourite new iPhone 8 deals below – including exclusive discount codes only for TechRadar readers – but in short, you can now get an iPhone 8 with 30GB data allowance for less than £40 per month! That's extraordinary value for an iPhone that hasn't even celebrated its one-month anniversary.

Exclusive 15GB iPhone 8 deal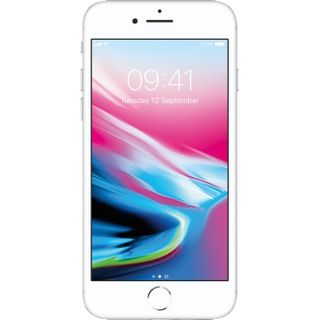 iPhone 8 64GB | O2 | £175 £125 upfront with TRIPH8 code | 15GB data | Unlimited minutes and texts | £39 per month
This was the best price on 5GB of data when the iPhone 8 launched last month. But not only has Mobiles.co.uk tripled the data, it's also giving TechRadar readers an extra £50 off. Simply type in TRIPH8 when you reach the checkout and fifty smackers will magically disappear from the price. Lovely jubbly. Total cost over 24 months is £1,061.
Cheap 30GB iPhone 8 deal
iPhone 8 64GB | O2 | £140 upfront (with 10OFF code) | 30GB data | Unlimited minutes and texts | £39 per month
Got an extra £15 rattling around in your jeans pockets or stuffed under the mattress? If so that's all you need to pay over the above deal to double your data again. This is a truly stunning price drop – if you tried to get 30GB data on the iPhone 8 during the pre-order period, you would have paid £400+ more than this over the two-year contract. Total cost over 24 months is £1,076.

How do these iPhone 8 deals compare?
We're glad you asked! It's only when you compare them to the rest of the market that you can see just how good these prices are.
If you look at the cheapest 3GB iPhone 8 deal out there at the moment, for example, it's £35 per month after paying £150 upfront. That's £990 over the two years, so only £71 less than our 15GB exclusive, and for far less data.
Meanwhile the most affordable 5GB tariff costs £125 at the start and then £39 a month. Sound familiar? That's because it's exactly the same as the payments for our exclusive 15GB deal above. So if you're interested in the iPhone 8 and need more than 3GB of data, then you may as well head straight to at least 15GB.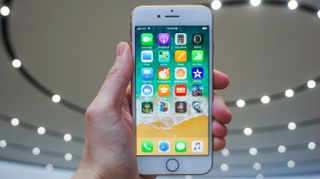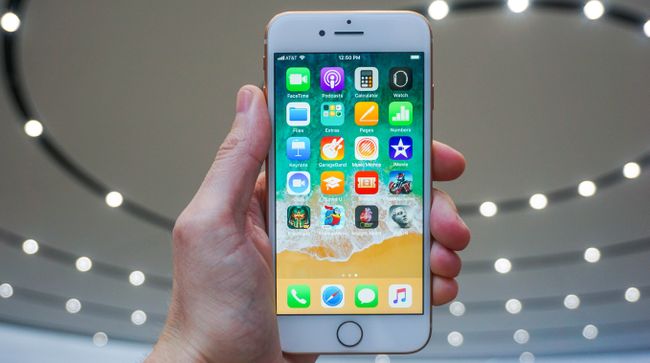 iPhone 8 review in brief
Obviously excellent, but not a giant leap forward
Screen size: 4.7-inches | Resolution: 750 x 1334 | Rear camera: 12MP | Weight: 148g | OS: iOS 11 | RAM: 2GB | Storage: 64GB/256GB | External storage: No | Battery: 1821mAh
Better screen than iPhone 7
Wireless charging
New gold colour is handsome
Same old design
Don't expect a revolution with the iPhone 8. It's essentially a tweaked iPhone 7 with a few enhancements and one or two upgrades. For that reason we wouldn't particularly recommend this phone to anyone with an iPhone 7 – but for those with older phones this could make a timely upgrade if the price of the iPhone X makes you want to weep.
Read TechRadar's full iPhone 8 review