Verdict
When viewed from afar, the Nokia 4.2 appears to have much to admire. It's a highly affordable £150 ($199, AU$299) phone with the classy style and build quality of a more expensive device.
Its Android One OS lends the Nokia 4.2 a dose of the same cohesiveness and poise as the more expensive phones in the range - and indeed Google's own Pixel family.
This is also a cheap phone that can take some pretty decent photos if you feed it with plenty of light. That's still not a given this far south of £200.
But when you get down to using the Nokia 4.2 day to day, it comes up frustratingly short. Its treacly performance is a case of countless slight delays and stutters leading to a growing sense of frustration, while its underwhelming display lacks punch and clarity, and its battery can't stand up to a media assault.
Who's it for?
The Nokia 4.2 is for those who want the vague air of a flagship phone, but for a fraction of the price. If you refuse to accept the plasticky build quality, gaudy colours, and ugly custom skins of many cheaper phones, the Nokia 4.2 could be an option. The guarantee of ongoing software and security updates from Google makes it an appealing pick if you've got one eye on the future, too.
Should you buy it?
The Nokia 4.2 is another tidy, attractive phone from the resurgent Finnish brand, with an appealingly crisp and no-nonsense approach to software. But it disappoints and frustrates at a fundamental hardware level, with sluggish performance and a bland display. Ultimately, Motorola offers several alternative options that do much of what the Nokia 4.2 does, but are that little bit nicer to live with.
Competition
Moto G7 Play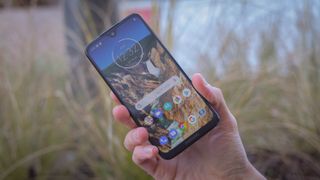 The Moto G7 Play can currently be bought for even less than the Nokia 4.2. Despite that it offers a similarly clean (if not quite as attractive) combination of hardware and software.
Crucially, though, you also great battery life and decent day to day performance with the Moto G7 Play. That's a combination the Nokia 4.2 simply can't provide.
The Nokia 4.2 does pip the Moto G7 Play in the camera stakes, but you'll find it less pleasant to live with over an extended period.
Read our Moto G7 Play review
Xiaomi Redmi 7
The Xiaomi Redmi Note 7 sports a design that's not a million miles away from the Nokia 4.2, as well as a larger 6.26-inch display with the same resolution and a similar dual-camera.
It's much snappier day to day, however, courtesy of the same Snapdragon 632 CPU that powers the two Moto phones.
And to top it all off, the Xiaomi Redmi 7 can currently be picked up online for around £20 cheaper. You will have to put up with that MIUI design, though…
Read our Xiaomi Redmi 7 review
Moto G7 Power
Motorola's beast of a budget phone is currently available for around the same price as the Nokia 4.2, which is a real tempter.
Everything good about the Moto G7 Play is here, with a tidy design and a clean take on Android OS allied to decent performance. But the Moto G7 Power's battery life has been taken to the next level.
The 5000mAh unit that powers this Moto will carry you through three full days of usage with ease, and won't be drained unduly by media consumption either.
Read our Moto G7 Power review