Bose has been one of the biggest and best names in the home audio world for more than 50 years thanks to its super high quality speakers. But more recently the company has become known for great quality at-home audio, as well as great quality audio on-the-go with its headphones. Bose headphones can be quite pricey so we've put together a list of the best Bose headphone sales and deals that are currently available.
We've created this deal guide to help you bag yourself a pair of Bose headphones at the best price possible, which will hopefully be within your budget. We've searched the web for the best Bose headphones deals that are available for you right now. There are plenty to choose from, whether you like in-ear styles, over-ear styles, wired headphones or wireless headphones, you'll find lots of options below.
The best Black Friday Bose headphone deals and prices
While you can shop stellar savings below, there's no harm in looking forward to Black Friday 2019 to score massive discounts on Bose headphones. To help you sort through all the offers, we've created a Black Friday deals page to find all the top sales in one place.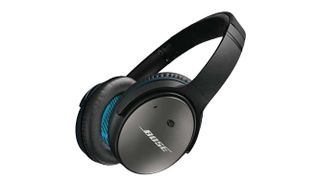 1. Bose QuietComfort 25
Headphones fit for a king and an excellent value for all
Weight: 6.9 ounces | Battery Life: 32.8 hours | Connection: Wired | Inline Controls: Yes | Noise Cancellation: Yes
Full sound
Stunning noise-cancellation
Doesn't require battery for use
Color customization costs an extra $100
If you can swing the price, you'll be treated to a deluxe set of headphones that delivers an unparalleled audio experience that's well worth the price of admission. They are a unique piece of technology in that they not only deliver a mind-blowing first impression, but offer it during each and every use, again and again. If you're serious about sound and want to hear your favorite movies, music and games in a new immersive way, or if you just want one of the best sets of noise-cancelling headphones you can get, the QC25 is for you.
2. Bose QuietComfort 35 II
Smart noise-cancelling headphones for voice assistant diehards
Weight: 8.32 ounces | Battery Life: 20 hours | Connection: Wireless with wired option | Bluetooth: 4.1 | Inline Controls: Yes | Noise Cancellation: Yes
Class-leading noise cancellation
Incredibly comfortable
No instant mute
Plain design
The Bose QC35 II shows why the company is so popular amongst travelers, with class-leading noise cancellation and balanced sound. They may not be the most detailed or exciting-sounding headphones, but they will sound great to most listeners. And the inclusion of Google Assistant is a nice addition.
3. Bose QuietComfort 20
Bose's latest in-ear headphones rock
Weight: 1.55 ounces | Battery Life: 16 hours | Connection: Wired | Inline Controls: Yes | Noise Cancellation: Yes
Extremely comfortable
Amazing sound quality
Aware mode will keep you alive
Battery module is huge
The Bose QuietComfort 20i headphones are easily some of the best sounding in-ear noise canceling headphones we've ever put through their paces. They boast amazing noise canceling technology and incredible sound, while being extremely comfortable. Additionally, we really liked "aware mode" and laud Bose for making versions compatible with every major mobile OS.
4. Bose SoundLink II
Delivers impressive sound at an affordable price
Weight: 6.9 ounces | Battery life: 8 hours | Connection: Wireless | Bluetooth: 4.0 | Earcup Controls: Yes | Noise Cancellation: No
Advanced mic system
Lightweight and comfortable
Up to 15 hours of playtime
Lacks active noise cancellation
If you don't want to spend over $300 on wireless headphones, then the Bose SoundLink wireless headphones are a fantastic option. The around the ear headphones deliver a powerful, crisp sound with light noise cancellation that helps block out noisy environments. The Bose earphones also include an advanced microphone system with controls on the earcup that allow you to take and end calls without touching your device. The SoundLink headphones provide up to 15 hours playtime and a wireless range of up to 30 feet.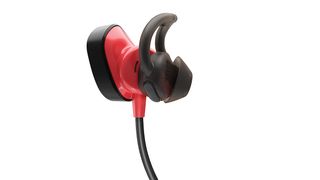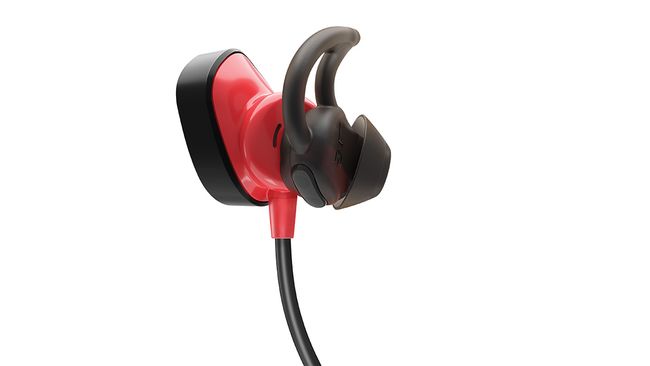 5. Bose SoundSport Wireless Headphones
Big sound and simple setup
Weight: 0.63 ounces | Battery life: 6 hours | Connection: Wireless | Bluetooth: 4.2 | Inline Controls: Yes | Noise Cancellation: No
Comfortable and secure
Optional heart rate monitor
Battery life could be better
Heart rate monitor version is pricey
If you need your power song to give even more umph, then the Bose SoundSport might give you exactly that extra push you're looking for. With the unmistakable sound signature of the US audio heavyweight, these lightweight earbuds feature a comfortable and secure fit thanks to the StayHear+ tips.
For runners with NFC-enabled smartphones and music players, the SoundSport buds can be paired in the blink of an eye. For an extra $50 you can pick up the Pulse edition which features a built-in heart rate monitor. Depending on your training method, this could be a worthwhile investment as we've found their heart rate monitor to generally be fairly precise.
6. Bose SoundSport Free Wireless Earbuds
Wireless earbuds built for quiet environments
Weight: 2.8 ounces | Battery Life: 5 hours | Connection: Wireless | Bluetooth: Yes | Inline Controls: Yes | Noise Cancellation: No
Balanced sound
Built for abuse
Fit loosely and stick out
Poor ambient noise isolation
The Bose SoundSport Free are an excellent sounding pair of wireless headphones with an ultra-reliable connection. They can easily withstand the abuses of working out, however, their poor fit and open design may turn casual listeners away.