Black Friday 2022 is officially over, but some of the best deals are still running, including great Black Friday headphones deals. The official Black Friday deals season continues even after th, people, so get ready to level up your portable audio game – and save some dollars (or pounds) in the process!
The category of best headphones is always a huge one for sales season. Great extra discounts happen – and headphones are always among the most popular products, especially the options from big names such as Sony, Bose, Beats and Apple.
This year has been a great one for music lovers, because there have been so many great deals, including half price Sony headphones at Best Buy. In the UK, you can get the Sony WH-1000XM4 for £250, or noise-cancelling JBL headphones for well under £100.
In this guide, we're chiefly looking at over-ear headphones (although we may include a few of the best earbuds discounts too) – but we've got a guide to the best Black Friday wireless earbuds deals still live if you want to hone in on those, or check our guide to the best Black Friday AirPods deals still live.
Black Friday headphones deals (US): Quick links
Black Friday headphones deals (UK): Quick links
Black Friday headphones deals: our predictions
When will the best Black Friday headphones deals start in 2022?
Black Friday is over! But we'll be keeping an eye on all the lowest prices around over at our best headphones deals guide.
How good will this year's Black Friday headphones deals be?
We've sort of mentioned this above, but it depends on what exactly has caught your eye.
AirPods simply aren't the kind of product that will see 50% off or more (although the AirPods Max may well get up to 20% off. You heard it here first…) – but other 'buds and cans may receive significant price cuts. Wireless earbuds with a sub $200 / £150 MSRP launched a year ago or more are the sweet-spot for Black Friday, while slightly older wired in-, on- or over-ears could even get end-of-line discounts.
Remember, we're here for you. Bookmark this page – we'll be updating it as and when the deals roll in.
What Black Friday headphones deals do we expect in 2022?
It's 2022 and with a cost of living crisis to contend with, we may see audiophile-grade in-ears gaining discounts – see the Bowers & Wilkins PI7 for example.
Elsewhere, aside from Sony's XM4 over-ears, look to options such as the Bose QC 45 or Noise Cancelling 700, perhaps.
Slightly subjective territory, perhaps, but you can find a great pair of wireless earbuds with all the features you could want for somewhere between $100/£100 and $150/£150 during Black Friday. That price would be a lot higher at other times of the year, but Black Friday typically offers sale prices of 50% or more on the best true wireless earbuds.
If your budget doesn't stretch that far, don't fret though. Sony, Jabra, Cambridge Audio, and Lypertek all offer budget-friendly headphones that don't skimp on the specs for under $100 / £100, and those still get full marks from us.
But what of those super-cheap options you see on Amazon from names you rarely see elsewhere? Do some research, and if you haven't heard of a brand before, check our reviews. If they're not listed in any of our buying guides, tread with caution…
Tips for buying headphones on Black Friday
1. Avoid heading directly to the likes of Apple or Bose
One place you probably won't find the best deals on Black Friday? That would be direct from the manufacturer of your chosen headphone.
Don't got for AirPods from Apple, or try for Bose from Bose. Apple's very mild Black Friday deals usually involve free trials or gift cards rather than actual product discounts, while Bose deals are so rare on Bose's own website, we'd sooner you search elsewhere.
But don't worry! The deals are plentiful – you just need to go through other stores.
2. Older headphone models get the biggest discounts
We've mentioned it already, but the biggest discounts are likely to concern older (but still relevant) models.
The Sennheiser Momentum 3 Wireless is a great shout here – because now you can buy the Sennheiser Momentum 4 Wireless.
Did the set of earbuds you had your heart on recently get superseded by a second (or third-) generation iteration? Perhaps the Samsung Galaxy Buds Pro (which now have a younger, Buds 2 Pro sibling) or the Sony WF-1000XM3 earbuds – because, you've guessed it, there's an XM4?
Remember, the slightly older product may not be approaching end-of-line just yet, but it may well get a good Black Friday discount.
3. Check other retailers before you buy
It might sound obvious, but it's easy to get carried away on the big day with "best ever deals" headlines that, well, aren't really… it's always a good idea to furnish yourself with as much knowledge as your busy schedule allows before clicking 'buy'.
Seen your chosen cans for the price you wanted them to drop to? Ready to buy? Take a moment… simply scrolling through deals from other big retailers could pay dividends. You never know: maybe Currys, Best Buy or AO is offering a shipping discount to undercut the deal you just saw.
The 3 best headphones to look for on Black Friday
They're new, so don't expect miraculous discounts, but we said under intense review that Sennheiser's welcome update to its 2019 Sennheiser Momentum third-generation Wireless headphones would soon be sitting pretty at the top of many a buying guide, and here they are. The Sennheiser Momentum 4 Wireless are the newest August 2022-issue wireless over-ear headphones from Sennheiser and if Sony isn't worried, it should be.
These cans boast an incredible 60-hour battery life, a likeable app, an extensive feature set, easy on-ear controls, talented adaptive noise cancellation and a zealous sound that'll have you nodding your head happily wherever you go. Yes, they're a tad plain aesthetically, but the proof of the pudding is in the eating, and these headphones sound outrageously good for the level.
Sennheiser has packed everything and the kitchen sink into the Momentum 4 Wireless's spec sheet, including Sidetone to better hear your voice during calls and 'Sound Zones', EQ and ANC presets which can be set to magically kick in when you're, well, in the zone. Make no mistake though, the headline-grabber is still the sound. And what a sound it is! Think open, detailed, expansive, neutral and crisp. Never is it overly warm; never is it congested or muddied through the bass.
Move over Sony XM5, there's a new set of cans in town and honestly, they're just that little bit better across the board…
Read the full review: Sennheiser Momentum 4 Wireless
If you're looking for headphones that can do it all this Black Friday, the Sony WH-1000XM4 are the best all-rounders you can buy – and since there's now a newer kid on the block, the discounts will likely be rolling in.
These wonderful noise-cancelling headphones don't look different from their predecessors, the Sony WH-1000XM3, but new features, including multipoint pairing, DSEE Extreme upscaling, conversational awareness and auto-play/pause using a built-in sensor, mean they're a significant upgrade.
The Sony WH-1000XM4 headphones also support Sony's 360 Reality Audio format, which enables spatial audio on stereo headphones, plus the LDAC codec that can send a bitrate of up to 990 kbps.
Last year's Black Friday deals saw in some excellent Sony WH-1000XM4 deals, so it's well worth keeping your eyes peeled in the run up to this year's sale event.
Read more: Sony WH-1000XM4 review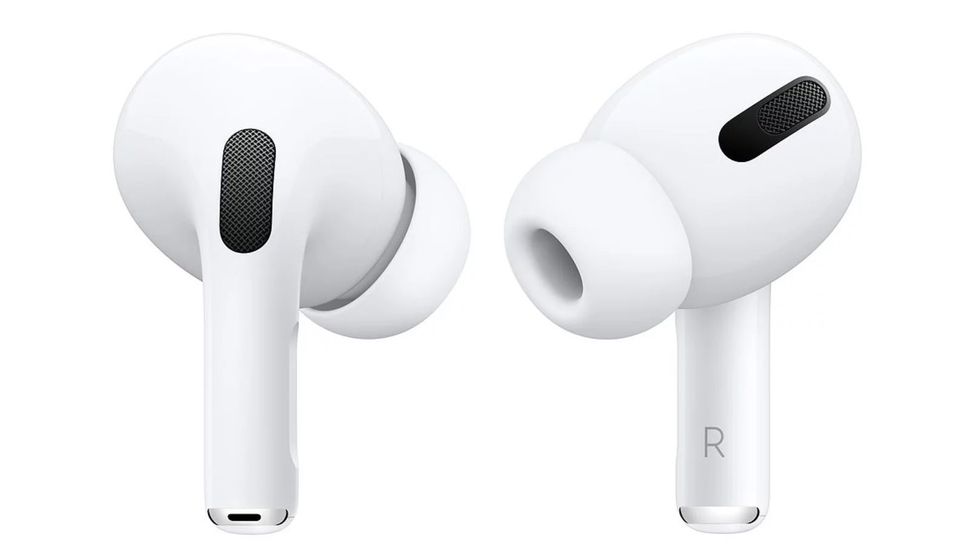 The AirPods Pro bring active noise cancellation, a snug fit, and an improved design to the company's previous true wireless earbuds – and they've just been superseded by the second-gen. iteration so expect a few choice deals.
Now that they're a little older, we think they'll see some steep discounts this Black Friday – and if you're on a very strict budget, the non-noise-cancelling 2019 AirPods are also likely to be discounted heavily.
Saying that, the original AirPods Pro are much better-sounding that their predecessors –there's a notable emphasis on vocals and bass, meaning these earbuds are better for pop fans than those who enjoy a more natural presentation that lends itself to classical music or more orchestral sounds.
Read more: Apple AirPods Pro review