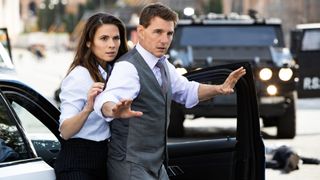 (Image credit: Paramount Pictures)
Tom Cruise is on a mission to save cinema again. Over a year has passed since Top Gun: Maverick, Cruise's last movie, flew to a near $1.5 billion box office haul. Not only was Top Gun 2 one of the best movies of 2022, it also helped to reignite the theater-going experience in the wake of the pandemic.
Numerous movies have struggled to replicate Maverick's success – Ant-Man 3, Indiana Jones 5, and The Flash, to name three – in 2023, so it falls to Cruise once more to entice audiences back to cinemas. With summer blockbuster season upon us – Barbie and Oppenheimer, two of our most anticipated new movies, are due out very soon – now's a good time to coax viewers back to their local multiplex.
So, what better way to do so than with Mission Impossible: Dead Reckoning – Part One? The long-running action-spy series' latest entry has endured a lengthy development cycle, but all of that pain and laborious work has paid off handsomely. Mission Impossible 7 is a stunning film that packs plenty of punch, thematic flavor, and entrancing performances that combine to make a captivatingly timely, incredibly fun, and unmissable spectacle.
Your mission, should you choose to accept it…
Dead Reckoning – Part One reunites us with Ethan Hunt (Cruise), everyone's favorite Impossible Missions Force (IMF) agent. This time, Cruise and his team are tasked with tracking down a terrifying new weapon, dubbed the 'Entity', that could threaten humanity's existence if it falls into the wrong hands. As Hunt races to find the powerful artificial intelligence (AI) algorithm, he's forced to confront his past in order to save the future and those he cares for most deeply.
Hunt has become adept at tackling human foes throughout the Mission Impossible movie series. And, while he grapples with a number of antagonistic individuals here (more on these later), the prospect of battling an all-seeing AI system is perhaps his biggest challenge yet.
How does one fight an ethereal, computer-based being that has no physical form? Well, when you're heavily reliant on tech that the Entity can manipulate and disrupt, you go back to basics. For Hunt, that means relying on his wits, his years of experience in the field, and his allies. Think of Mission Impossible 7 as a throwback to spy thrillers whose protagonists didn't solely depend on technology, such as the Bourne series, and you'll get a sense of the tone Dead Reckoning – Part One is going for.
It's this dichotomy between Hunt's humanness and the Entity's machine-centric guise that makes Mission Impossible 7's story so engrossing and appropriately timed. Dead Reckoning has been in development for years, so its AI-focused plot wasn't born out of the advances in this field that we've seen recently. But, now that AI experiments and chatbots, such as ChatGPT and Google Bard, are commonplace, it's hard to overlook the cautionary and topical tale it presents about the perils of this technology. The Entity isn't a villain but, when used for nefarious purposes – as showcased in the film's tension-riddled opening scene aboard a Russian submarine – it's an incredibly potent, omnipresent specter that Hunt and company struggle to combat.
Speaking of Hunt's team, the series' most cherished supporting characters are back for another round. Beloved franchise staple Luther Stickell (Ving Rhames) and the wisecracking, permanently-stressed Benji Dunn (Simon Pegg) return for more buddy-cop antics. Meanwhile, former MI6 agent Ilsa Faust (Rebecca Ferguson) marks her third franchise appearance with suitable amounts of mystery and altruism.
The return of former IMF director Eugene Kittridge (Henry Czerny), not seen since the first Mission Impossible film, is equally gratifying. Czerny's role reprisal helps to bring the series full circle – an appropriate one, given how Hunt's past collides with his present – and seeing Kittridge and Hunt's suspense-filled interactions once more is as enthralling as it was 27 years ago. Mission Impossible: Dead Reckoning – Part One doesn't delve into their frosty relationship as much as it could. Nonetheless, the brief reunions speak to the wider political paranoia and thematic exploration of loyalty at the heart of the series.
New blood
Like the six movies before it, Mission Impossible 7 delivers a fascinating batch of new characters who enthrall and frustrate.
Dead Reckoning – Part One attempts to reinvigorate the franchise's villain line-up in the form of the menacing Garbriel (Esai Morales) and silent but intimidating Paris (Pom Klementieff), albeit with mixed results.
Gabriel, who becomes the Entity's aptly named archangel, is an intelligent and physically imposing antagonist with ties to Hunt's past. His presence makes Hunt's mission more personal than before, which adds an intriguing subtextual layer to the pair's cat-and-mouse game as they battle for possession of the Entity. However, their verbal and physical showdowns – one which transpires during the train sequence depicted in its teaser trailers – are fleeting at best. That's to be expected in some respects. After all, their encounters wouldn't be as entertaining if they happened every 10 minutes. Still, the pair's lack of engagement, coupled with Dead Reckoning's two-part structure, is piecemeal.
As for Klementieff's Paris, the Marvel star disappointingly doesn't have much to do. Klementieff's secondary villain is a breath of fresh air whose frenzied and wild approach to stopping Hunt from acquiring the Entity elevates the movie's large- and small-scale action sequences. Those moments, and a more subversive one aside later on, though, Mission Impossible 7 doesn't make full use of Klementieff's talents. The same can be said of returning character Alanna Mitsopolis/The White Widow (Vanessa Kirby), whose command of every scene proves she should have a bigger part to play. Like Morales' Gabriel, I sense we'll get more from Kirby's scene-stealing, morally complex individual in Part Two. If not, maybe Marvel can do what Paramount couldn't if it turns those rumors about Kirby playing Sue Storm in its forthcoming Fantastic Four movie into fact.
While Dead Reckoning – Part One underutilizes some of its newcomers, the same can't be said of Hayley Atwell. Klementieff's fellow MCU alumnus is, for all intents and purposes, Cruise's co-star in Mission Impossible 7, with her enigmatic and morally ambiguous character Grace playing a key role in the plot.
The film's overarching narrative, and Hunt's complex relationship with Grace, wouldn't work as effectively without Atwell's highly entertaining performance. Grace is a chaotically fun presence whose spur-of-the-moment heel turns inject levity and thrills that keep Cruise's Hunt and audiences on their toes throughout. The instinctive chemistry between Cruise and Atwell further elevates the disorderly nature of their on-screen dynamic, imbuing scenes between them with some of the funniest exchanges and slapstick moments in the series' history. If – and it's a big if – Cruise rides off into the sunset once Mission Impossible 8 lands in theaters, I'd have no objections to Atwell leading the franchise into a new era. Or, at the very least, starring in her own spin-off movie or TV series.
Accelerating the action
But the Mission Impossible movies are more than mere character studies and thematically observant pieces of cinema. Above all else, the franchise is synonymous with grandiose, awe-inspiring, and death-defying set pieces, many of which Cruise performs his own stunts for.
Fans eager to see more like Rogue Nation's daring plane hanging and Ghost Protocol's vertigo-inducing Burj Khalifa climbing sequences – films that should be available to stream on Paramount Plus – will find plenty to enjoy here, then. The movie's trailers already teased one such scene where Hunt rides a motorcycle off the side of a mountain, but that's just the tip of the iceberg from a jaw-dropping, action spectacle perspective.
From crashing an actual train off a bridge to a blood-pumping car chase through the streets of Rome, Mission Impossible 7 is full of eye-catching set-pieces. In fact, Dead Reckoning – Part One's action sequences are eerily reminiscent of scenes we've seen in other recently released films. That aforementioned Rome-based sequence? Look to No Time to Die for a similarly high-octane set-piece. The high-speed train ride? Extraction 2, which continues to draw in millions of viewers on Netflix, has an equally impressive one. Even the neon-lit Venice nightclub fight scene has shades of the John Wick film franchise.
Not that that devalues the impressive (and no doubt expensive) action sequences Mission Impossible 7 serves up, though, with each one bearing its own unique set of thrills and at-times amusing sub-scenes. Just look at Grace and Hunt's awkward teamwork when they're forced to drive a yellow Fiat 500 – while handcuffed – as they try to evade Gabriel's henchmen in the Italian capital. Or Hunt and Gabriel's bruising fistfight on a train hurtling down the track at 60 mph during the film's climax. These sequences aren't carbon copies of what's come before, and even if they bear similarities to the previously mentioned films, there's enough jaw-dropping style and individuality here to leave viewers on the edge of their seats.
My verdict
Mission Impossible: Dead Reckoning – Part One is another globetrotting, high-stakes adventure that cements the movie series as one of the most entertaining in recent memory.
Unlike some of its summer 2023 contemporaries, it's more than just a derivative popcorn movie. Sure, it's a franchise that still asks you to suspend your disbelief at times, but it's politically and technologically savvy, and action-oriented, enough to know what its fans want from a movie of this ilk.
Equally, Mission Impossible 7 also feels like it's pivoting toward a future without Cruise's Hunt at its center. It's an expensively assembled but extraordinarily crafted flick that marks the beginning of Cruise's potential victory lap in the action genre space. He's in incredible shape for a 61-year-old, but there'll come a point where his age prevents Cruise from putting himself in extremely dangerous positions. In the event that Mission Impossible 8 is where he walks away from this franchise, Dead Reckoning – Part One isn't just a film that celebrates the series' past, present, and future; it's a terrifically constructed, absorbing, and undeniably crowd-pleasing way to kickstart his lap of honor.
Mission Impossible: Dead Reckoning – Part One releases in theaters on July 10 in the UK, and July 12 in the US and Australia.
Get daily insight, inspiration and deals in your inbox
Get the hottest deals available in your inbox plus news, reviews, opinion, analysis and more from the TechRadar team.
Senior Entertainment Reporter
As TechRadar's senior entertainment reporter, Tom covers all of the latest movies, TV shows, and streaming service news that you need to know about. You'll regularly find him writing about the Marvel Cinematic Universe, Star Wars, Netflix, Prime Video, Disney Plus, and many other topics of interest.
An NCTJ-accredited journalist, Tom also writes reviews, analytical articles, opinion pieces, and interview-led features on the biggest franchises, actors, directors and other industry leaders. You may see his quotes pop up in the odd official Marvel Studios video, too, such as this Moon Knight TV spot.
Away from work, Tom can be found checking out the latest video games, immersing himself in his favorite sporting pastime of football, reading the many unread books on his shelf, staying fit at the gym, and petting every dog he comes across.

Got a scoop, interesting story, or an intriguing angle on the latest news in entertainment? Feel free to drop him a line.