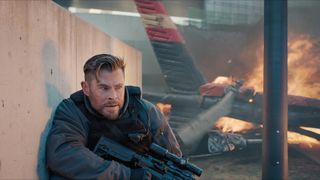 (Image credit: Netflix)
Full spoilers for Extraction's ending, plus light spoilers for Extraction 2, follow.
Few Netflix movies will be envious of the position Extraction 2 finds itself in. The forthcoming action flick, which leads the charge of all the new Netflix movies debuting on the streaming giant this summer, is the sequel to one of the most-watched Netflix films ever. That movie – 2020's Extraction – sits seventh on the streamer's all-time most popular movies list, with over 231 million hours viewed. The pressure for Extraction 2 to perform as well as, if not better than, its forebear, then, is outrageously high.
So how does Extraction 2 follow up a titan of Netflix's Original movie back catalog? By going bigger and bolder – and, largely, the Netflix film succeeds in both cases. It's more suspenseful, thematically rich, action-heavy, and entertaining than what preceded it, but it's marred by a generic plot and grandiose set pieces that peak way too early.
Survival of the fittest
Extraction 2 picks up in the immediate aftermath of the first film. Black ops mercenary Tyler Rake (Chris Hemsworth), who was seemingly killed in Extraction's explosive finale, is alive, though barely, when he's pulled from Bangladesh's Buriganga River by his fellow agents.
Weeks later, Rake wakes from his medically induced coma. And, despite moodily suggesting he should have been left to die, he embarks on a months-long rehabilitation journey before retiring to an Austrian mountain shack. His newfound peace is disturbed, though, when the mysterious agent Alcott (Idris Elba) turns up to offer him a mission: rescue a gangster's abused family from a Georgian prison for an unknown benefactor.
Initially, Rake refuses. But, when his past seemingly collides with the job presented to him, Rake – alongside mission handler Nik Khan (Golshifteh Farahani) and fellow operative Yaz Khan (Adam Bessa) – sets off on a dangerous quest that might offer him the true redemption he seeks.
It's this Rake-centric plot thread that immediately stands out, from a character evolution perspective, as a marked improvement on the original film.
Apart from a brief scene that revealed Rake had a son who died following a battle with lymphoma, Extraction completely bypassed its protagonist's backstory. Extraction 2 makes up for that oversight, digging into Rake's tragic past through expository family-based reminders, such as his son's drawings and ex-wife's letters. Rake also begins to open up about the personal trauma that shaped him into the seemingly uncaring merc he is today, due to the striking parallels between the family he believes he ran out on and the one he's trying to keep safe here.
It's a satisfying character arc that humanizes this usually stoic and cold individual, one that allows Rake to evolve past the point of being a mentally beaten individual who thinks he has little to live for. It doesn't make him any less of a badass than before, nor does its thematic importance outweigh the action-packed spectacle on show (more on this soon). What it is, though, is a natural progression for Rake's character, enabling him to make peace with his internal wounds and reignite his will to survive – a trait he shares with another fan-favorite renegade in Keanu Reeves' John Wick. Closing this chapter on Rake's arc opens the door for a new character-based journey in potential sequels, too, which Extraction 2 isn't shy about teasing.
Extraction 2 also finds time to explore Rake's relationships with his fellow operatives, most notably Farahani's Nik. Rake's handler had little to do in the film franchise's first outing. Here, though, she's given her own arc – albeit small compared to Hemsworth's lead character – that fleshes out her platonic relationship with Rake and gives her a moment or two to take center stage in this dramatic and action-fuelled family-led story. It destigmatizes Nik's position as mere cannon fodder (although, occasionally, Extraction 2 almost falls into that same trap its predecessor did), and elucidates the fragile trust that exists between her and Rake.
Even with that pleasing development, however, Extraction 2 only loosely examines the duo's bond, as well as that of Nik and her brother Yaz. Rake's character study aside, both relationships are integral to the movie's plot and core themes, yet they come across as trivial accessories that, apart from one big spoiler-filled moment two-thirds of the way through, should drive the story forward more than they do.
Of equal frustration is Zurab (Tornike Gogrichiani), the film's primary antagonist and brother of the gangster whose family Rakes liberates, who's pretty weak from a villain standpoint.
I don't mean physically, mind you – Zurab more than holds his own as a master tactician and brutal fighter in his showdowns with Rake. The duality that exists between the pair, based on their grief-laced pasts, sets them up as compelling opponents contextually.
However, besides the odd childhood flashback that reveals Zurab's difficult past, which helps us slightly sympathize with him, he's nothing more than a stock villain hellbent on enacting revenge on Rake and being reunited with his relatives. Extraction 2 was penned by Joe Russo, one of the visionary directors behind hugely popular Marvel movies, including Avengers: Infinity War, who also helped bring Chris Evans' charismatically evil Lloyd Hansen to life in Netflix's The Gray Man. As such, I expected more from Zurab's character arc to make the most of his fearsome, antagonistic force of nature persona. Unfortunately, that didn't prove to be the case.
Lights, camera, action
As an action-first flick – one with twice the action of the first movie – Extraction 2's small- and large-scale set pieces had to be more thrilling, entertaining, and intricately assembled than the first film. And, for the most part, they are. As an overall package, the gunfights and close-quarters combat in Extraction 2 are bruising, barbaric, and breathless extravaganzas.
Nowhere is this more evident than in the film's 'oner', a mindboggling one-shot sequence that took four grueling months to shoot. Comprising three distinct acts – Rake breaking the family out of prison, the car and bike chase that ensues, and the final escape attempt on a moving train (which includes a helicopter landing on a carriage at 95 kph / 60 mph) – Extraction 2's main set piece is an extraordinarily impressive feat of engineering and filmmaking. It's an intense, danger-laced, and extremely well-choreographed sequence that puts viewers front and center of Rake and company's frantic race to escape their pursuers, and I didn't even realize I was holding my breath until the graphically violent set piece drew to its spectacular close. With seamless transitions from one camera shot to the next, a complex network of coordinated stunts, and a real sense of tangibility – few visual effects were used to support the one-shot sequence – this is a 'oner' that will live long in the memory.
The main issue Extraction 2 has after its 'oner' is that its subsequent battles, although occasionally tense and striking, aren't as riveting, breathtaking, or impressive as its signature action sequence. The 'oner', which is a pulsating 21 minutes long from start to finish, takes place at the end of the film's first act resulting in the action peaking way too early. This creative decision thwarts Extraction 2's attempts to continually ratchet up the action in the ensuing combat sequences.
That's not to say that what follows is bad. A pulsating, lengthy shootout sequence in Vienna between Rake's and Zurab's forces – where Rake gets creative with some well-placed gym equipment at one point – and the pair's suspense-filled final confrontation are likable enough. They just pale in comparison to the brutal, edge-of-your-seat appeal of Extraction 2's apex action moment.
My verdict
Extraction 2 is a moderately entertaining, semi-globetrotting action film that, thanks to its positives outweighing its negatives, should find a temporary home on our best Netflix movies list. It's a thematically denser flick than its forebear (not especially difficult) that delivers its own take on the classic comeback hero trope. However, it isn't as conceptually deep as I'd hoped, and its plot – one that's admittedly more personal and important to Rake's arc – isn't much more than a retread of Extraction with one too many tedious plot points I could see coming a mile off.
As an action movie first and foremost, Extraction 2 did its job of taking me on a wild, blood-pumping rollercoaster of a ride. It certainly delivered on its promise to craft an even more awe-inspiring one-shot sequence, even if its positioning so early in the story meant that other set pieces felt lightweight in comparison.
Ultimately, Extraction 2 knows what kind of film it is and the type of viewer it'll appeal to. It's not a masterpiece and, in my view, it likely won't pique the interest of those left unimpressed by the first movie. Those who enjoyed 2020's Extraction, though, will feel satisfied by what's on offer in its somewhat captivating, escapist-positioned sequel.
Extraction 2 launches exclusively on Netflix on Friday, June 16.
Sign up for Black Friday email alerts!
Get the hottest deals available in your inbox plus news, reviews, opinion, analysis and more from the TechRadar team.
Senior Entertainment Reporter
As TechRadar's senior entertainment reporter, Tom covers all of the latest movies, TV shows, and streaming service news that you need to know about. You'll regularly find him writing about the Marvel Cinematic Universe, Star Wars, Netflix, Prime Video, Disney Plus, and many other topics of interest.
An NCTJ-accredited journalist, Tom also writes reviews, analytical articles, opinion pieces, and interview-led features on the biggest franchises, actors, directors and other industry leaders. You may see his quotes pop up in the odd official Marvel Studios video, too, such as this Moon Knight TV spot.
Away from work, Tom can be found checking out the latest video games, immersing himself in his favorite sporting pastime of football, reading the many unread books on his shelf, staying fit at the gym, and petting every dog he comes across.

Got a scoop, interesting story, or an intriguing angle on the latest news in entertainment? Feel free to drop him a line.