Steelcase Gesture: One-minute review
If you sit for hours each day, you're going to need an office chair like the Steelcase Gesture. It looks good, comes in different colors and you get the option to add in a headrest if you wish. More importantly, it's highly adjustable.
However, this chair has us divided in TechRadar's Australian office (where it was tested) – some love it, others not so much. Here's the thing, though: the Steelcase Gesture is really very comfortable… if you can get the configuration and adjustments right to suit your body.
Those of us who loved the chair figured out our personal adjustments quite quickly, others found it to be rather fiddly, which was exacerbated by the fact that the levers and knobs under the seat aren't labeled and not particularly intuitive to figure out.
The one thing we all agreed on was that the adjustability of the armrests is excellent. There are several ways to set them, including moving the resting surface back and forth. The entire mechanism also pivots inward and outward alongside being able to move up and down.
We all also agreed that the material used here is pretty darn premium. We were sent the full-fat Gesture for this review (see accompanying images), with headrest and cushioned seat and backrest. This model has a very sturdy build quality and we think it will stand the test of time.
For an expensive chair however, it does lack lumbar support. While there is a curved moveable panel for your lower back, you can barely feel it through the padded backrest. If you're someone who doesn't necessarily need a lot of lumbar support, you'll likely love this chair… if you're willing to splurge.
Steelcase Gesture review: Price and availability
How much does it cost? Prices start at $1,371 / £1,144 / AU$1,841
Where is it available? Available in several markets, including the US, UK, Australia and Singapore
Depending on where you live, you can find different versions of the Steelcase Gesture to buy either directly from the company or from an authorized dealer. For example, in the US and the UK, you can get a base model that has a hard (shell) back with no headrest for $1,371 / £1,144 (including VAT). However, that version isn't available in the APAC region, where you're only going to find the cushioned/upholstered versions at a starting price of AU$1,841 / SG$2,089.
If you'd like a headrest on the Gesture, then you're looking at an additional $227 / £230 / AU$374. That's enough to buy a whole other (non-Steelcase) chair.
Despite its high price, it's not the most expensive we've seen. Take the Herman Miller Aeron as an example – this excellent seat will cost you a whopping $1,895 / £1,329 / AU$2,345.
Unlike the Herman Miller, which is available in limited color options, the Steelcase Gesture has a whole bunch of different colors to suit everyone, although the specific colors available differ by market.
In some regions, when buying directly from Steelcase, the Gesture will come with a lifetime warranty on the main framework, while you get a 12-year warranty for all moving parts and the surface material.
Steelcase Gesture review: Design and setup
Arrives fully set up
Sleek-looking chair
Adjustment levers not intuitive
Depending on where you live, you're likely to get the Steelcase Gesture delivered to you fully assembled.
The first thing that strikes you about the chair is just how sleek it looks. Throw in a colorful upholstery option and that Gesture's got some personality, perhaps more than the Personality Plus model that's available in select APAC markets.
Like all Steelcase chairs, the Gesture not only looks premium but has a premium build too. It's very well put together and feels quite sturdy. In fact, every aspect of the chair feels like it's worth the high price if you're after quality, including the frame, upholstery, the foam padding, castors, levers and all the moving parts. We've been testing the chair for a few months now and apart from a little dust, it still looks and feels showroom-new. So far, there's been no sagging in the seat, no squeaks to any moving part and there's no apparent wear despite a few people having used it around the office.
Good looks aside, what we really like about the Steelcase Gesture is its adjustability… if you don't mind a bit of experimentation. Most of the adjustments are made using a couple of twistable knobs under the seat. If you don't memorize the pamphlet that comes with the chair (and you happen to lose it), the unmarked knobs don't clearly tell you what they do. You'll need to experiment, then remember what does what.
While it's easy enough to figure out how to adjust the seat height (it's the knob on the front), locking the recline position of the backrest isn't as intuitive. An inner ring on the rear knob is supposed to lock and unlock the backrest but that was hit and miss when we tried to make adjustments. We still haven't quite figured out how to make that work consistently every time someone makes an adjustment. And since we misplaced the instruction pamphlet quite early on, we had to revert to online instructions several times to figure out how to adjust the chair to each user.
While getting the seat and backrest adjustments are fiddly, the armrest adjustability is absolutely marvellous. Most of us who tried the Steelcase Gesture loved how many different ways they could be moved. For starters, the flat resting surface can slide back and forth – there's no way to lock them into a specific position though. This is great if you're pushing back to recline and your elbows move forward intuitively so you can relax. In fact, one user in the office said he wished the arm pads moved forward a little more. However, another colleague found the movements too fluid and would have preferred the arm pads to firmly lock in a particular position.
What you can lock are the rest of the movements the pivoting armrests are capable of – they can not only be raised and lowered to suit your specific needs, they can also swivel in and out. This gives you different ways to position your arms, helping you sit just right.
If you're after lumbar support, though, you'll likely be disappointed. While there is an adjustable panel on the rear of the backrest, it's hard to discern it through the cushioning – the curvature just isn't enough to make a difference. That said, there may just be enough of a sweep to keep your spine positioned correctly if your lower back doesn't require more aggressive lumbar support.
Design score: 4/5
Steelcase Gesture review: Comfort
Good for long-term comfort
Back contour could be better
Fiddly to get it 'just right'
Like the Steelcase Leap, the Gesture's cushioned seat is thick enough to make it comfortable to rest your derrière on all day. However, being a fully cushioned chair, it's not as breathable as a mesh seat in temperate climes. We found that on hot days, even with air conditioning in the office, we felt warm while using the chair. If you live and work where days can be hot and humid, you might want to consider a mesh chair instead.
With the extent of adjustability available here, finding the right position might be fiddly, but persistence will pay off. Each user during our review process took some time to figure out what worked for them, but once we got it right, the Gesture felt great to sit in for hours. We would, however, have preferred the curvature of the backrest to be more pronounced for the lumbar region.
And we would have preferred the contour of the headrest to be less aggressive. It might be an optional extra, but we think the Gesture is more comfortable without the headrest. Most of those who tried the chair found the headrest to be positioned badly no matter how we adjusted it. So if you are keen on the good looks and adjustability of the Steelcase Gesture, we'd recommend saving the extra cash and ordering without the headrest.
Comfort score: 4/5
Should I buy the Steelcase Gesture office chair?
Swipe to scroll horizontally
Steelcase Gesture

| Attribute | Notes | Rating |
| --- | --- | --- |
| Value | Despite being highly adjustable and quite comfortable, the Steelcase Gesture has some limitations that make its four-figure price tag a little harder to justify. | 3 / 5 |
| Design | It's been designed well, with plenty of thought going into the several ways to adjust it. It would have scored higher if the two under-seat knobs were clearly labeled. | 4 / 5 |
| Comfort | If you can get the adjustments just right, the Steelcase Gesture is a very comfortable chair, insomuch as a fully-cushioned seat can be in warm conditions. | 4 / 5 |
Buy it if...
Adjustability is important to you
If you have the patience to play around with the array of adjustments the Steelcase Gesture offers, this could be a great investment for your office or home workspace.
You want a chair with classy styling
No matter what angle you look at it from, the Steelcase Gesture knows how to strike a pose. It's sleek and the color options give it personality – it's sure to fit into any office or home without marring the existing decor.
Don't buy it if...
You require lower back support
While the Steelcase Gesture was designed to 'move' with you for all-day comfort, its contoured backrest doesn't offer a lot of lumbar support. If you have lower-back issues, you might need to look elsewhere for a more ergonomic chair.
You don't want to burn a hole in your wallet
It may not be the most expensive office chair on the market, but the Steelcase Gesture does cost a pretty penny. There are cheaper options out there that offer excellent bang for your hard-earned buck and, potentially, offer better ergonomics.
You live in warm, humid climes
Cushioned chairs aren't going to match the breathability of mesh chairs and that's the case with the Steelcase Gesture too, even in an air-conditioned room. So if you live and work in a place with hot and humid days each year, you might want to opt for a mesh-back or a fully mesh chair.
Also consider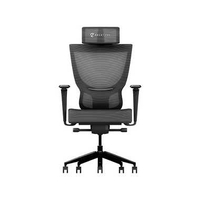 (opens in new tab)
ErgoTune Supreme V3
This is the best office chair we've tried to date and it's all down to its ergonomic design and remarkable adjustability. This full mesh chair wasn't built for comfort, it was designed to make sure you sit properly and avoid all the aches and pains that accompany our sedentary lifestyle. ErgoTune is currently only available in select APAC markets but there are plans to take the chair global in the near future.
Read our in-depth ErgoTune Supreme V3 review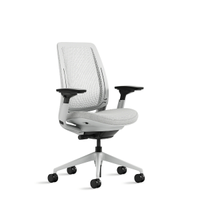 (opens in new tab)
Steelcase Series 2 Task
The base model of the Series 2 Task chair is excellent, of very high quality and is really quite customizable. It comes with a cushioned seat and mesh backrest, so it's ideal for long sitting sessions and hot climes. While more expensive than the Personality Plus, it's cheaper than the Gesture and available in most markets where Steelcase is sold.
Read our full Steelcase Series 2 Task chair review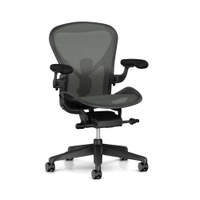 (opens in new tab)
Herman Miller Aeron
If money is no object, then the Herman Miller Aeron is still one the best office chairs available. This chair is remarkably comfortable and has a classy design. What's even better is that it's available in various sizes, is very adjustable and comes with adjustable pads for back support. If you can afford it, you won't be disappointed.
First reviewed February 2023
How we test
We pride ourselves on our independence and our rigorous review-testing process, offering up long-term attention to the products we review and making sure our reviews are updated and maintained - regardless of when a device was released, if you can still buy it, it's on our radar.