Verdict
The Samsung Galaxy Note 9 is the best smartphone that money can buy. Unfortunately, it's going to take all of your money to buy it (or at least more than you're likely budgeting for a smartphone purchase this year).
The iPhone X drove prices to this level, and we complained then, too. When Samsung told us that the ideal user for the Note is someone who wants to own the best AV receiver, Best TV, and so forth, they may have left out the best airplane, the best yacht, and the best sports car.
Samsung is at least giving you more 'big' for your money, and it's the best in most categories. The chief selling point for upgraders is the battery life – its 4,000mAh capacity is 21% larger than the Note 8 battery – and its much brighter, slightly bigger 6.4-inch curved screen, which will wow you, even in direct sunlight.
The Bluetooth S Pen has new remote-controlled tricks that are fun, the maximum 1TB storage size is unbeatable, and the AI-enhanced camera marginally improves image quality over the Galaxy S9 Plus. The Note 9 offers a lot to like – and a price hike to utterly dislike.
Who's it for?
Devout S Pen users need apply. This is the best (and only) option for people clinging to their stylus when using a smartphone. You're not going to get something better until the Note 10 arrives, likely in August 2019.
We loved getting creative with the S Pen on the Note 8, and that idea has been expanded with the new Bluetooth remote-controlled functionality. Staples like screen-off memo are productivity tools some people will miss if they don't upgrade to a Note.
It's also a laptop replacement for some mobile warriors who want to take advantage of the Dex software and push the limits of the 1TB expanded storage. This is indeed the Android phone for people who want 'the best'.
Camera enthusiasts may be drawn to the Google Pixel 3 or Google Pixel 3 XL, but neither phones have a screen that can compared to the Note 9.
Should I buy the Samsung Galaxy Note 9?
Yes, unless you're on a budget or want to wait six months for Samsung's 'next big thing', which is undoubtedly going to be the Galaxy S10.
Everyone on a budget will want to weigh buying last year's Note 8. The Note 9 has you paying through the nose for this bundle of little upgrades at a time when the Note 8 is a fine phone at a discounted price – and when Galaxy S10 rumors make it sound like that phone could herald a big shift in mobile technology.
Competition
Samsung Galaxy S9 Plus
The screen size and performance differences are minimal, so the chief advantages of the Note 9 are the S Pen stylus and longer battery life. You'll also get more storage capacity, Dex mode without needing a dock accessory, and a slightly better camera. While these seem like a lot of little upgrades, true power users will appreciate the Note 9's 14% increase in battery capacity and the Bluetooth S Pen.
Google Pixel 2 or Google Pixel 2 XL
The Google Pixel 2 and larger Google Pixel 2 XL (but it's still smaller than the Note 9) are fine alternatives if you're mostly interested in stellar smartphone photography at a cheaper price. It makes up for their dated designs, which can't compete with Samsung's bright and punchy curved display (Google's main weakness).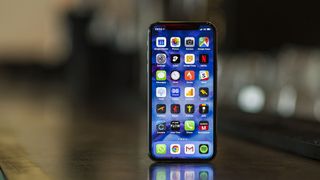 iPhone X
The switch between iOS and Android (or vice versa) is never easy, and not one we recommend to the faint of heart. That said, Apple's flagship handset is similarly priced and offers convenience like iMessages – something Google's operating system struggles to match, especially in the US where SMS texting remains popular. But the value Samsung offers is better: double the storage in the entry-level model, and a curved virtually all-screen display that doesn't fool around with any notch compromise.