Camera
Inherits the S9 Plus camera's dual-aperture features
Wide-angle and telephoto lenses on back
AI-backed scene optimizer enhancements show promise
Samsung is carrying over its camera prowess from the Galaxy S9 Plus to the Note 9, with low-light defeating and telephoto-zooming camera lenses on the back. This is one of the best camera phones you'll be able to buy in 2018.
The S9 Plus gives you an idea of the photo quality you can expect from the Note 9, though Samsung has tweaked its software to improve on that quality. It automatically makes small, but meaningful differences to the white balance of images by recognizing what you're shooting.
Image 1 of 2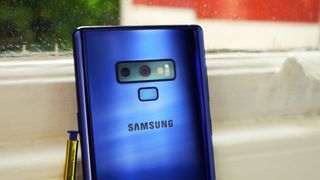 Image 2 of 2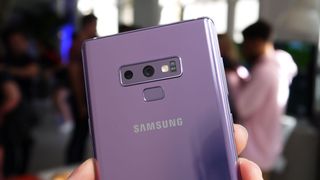 The dual 12MP rear camera uses variable-aperture technology to switch between an f/1.5 aperture for low-light photography and an f/2.4 aperture for normal lighting conditions. The S9 Plus gave us positive results even in the darkest settings, based on this same technology.
Image 1 of 5
Great bokeh and focus on the food – the camera was able to pick up that the subject was food and adjust the white balance automatically
Image 2 of 5
The Brooklyn Bridge is there, but kind of far away. Time to use the Note 9 telephoto lens…
Image 3 of 5
The second rear camera lens is dedicated to optical zoom, which gets you two times closer to subjects without moving a muscle. The Brooklyn Bridge is the focus of our frame.
Image 4 of 5
More tests of the Note 9 rear camera zoomed out. There are jet skiers on New York City's East River.
Image 5 of 5
And now the camera zoomed in on the jet skiers. A 2x zoom isn't always going to do it for you, but it's better than digital zoom, which can distort photo quality.
The secondary rear camera allows for a 2x optical zoom, giving you sharp telephoto snapshots for when you're standing too far away. The aperture here is always set at f/2.4, and like the main lens it has optical image stabilization (OIS) to make up for your shaky hands. Noise-filled night-time shots on the telephoto lens were our only issue – everything else outside of low-light remains crisp.
The Note 9's front-facing camera does selfies at 8MP and includes autofocus, a first for a Note phone. Samsung fills its camera app with an endless number of mode options, too: AR stickers, wide group selfies, and Super Slow Motion video at 960 frames per second at a 720p resolution. It's one of the most robust camera apps in the business, yet easy to use.
Image 1 of 6
Our first remote photo with the Samsung Galaxy Note 9 camera and the Bluetooth S Pen. It's actually fun and useful
Image 2 of 6
Again, all photos snapped with the S Pen while enjoying some pizza for dinner near the TechRadar office
Image 3 of 6
Holding the phone and manually snapping photos with the on-screen shutter button? That's so Note 8
Image 4 of 6
Here's a building being built. The Note 9 battery lasts a long time, but not long enough to capture its completion in a hyperlapse.
Image 5 of 6
Shots are very detailed. We're eager to test out the low-light performance when it gets dark
Image 6 of 6
Launching the camera app is still incredibly easy. Just double-click the sleep/wake button and the phone instantly opens up the camera app. It's a great shortcut
The Samsung Galaxy Note 9 camera identifies and adapts to various subjects with a new scene-optimizer feature. It adjusts the white balance and color based on 20 subjects as varied as sunsets, flowers, food, birds, text and so forth. Compared to even the six-month-old S9 Plus, we saw the Note 9 camera capture a bit more detail, but you're going to have to squint to see the differences.
Image 1 of 2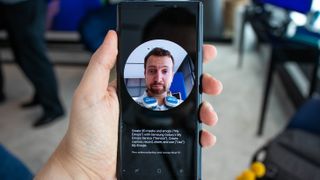 Image 2 of 2
The camera understands what it's looking at (more accurately than the AI camera in the LG G7), and it uses the same technology to help you correct flaws, including eye blinking, image blurring, lens smudges, and backlight. A pop-up warning message told us to clean our dirty camera lens, and told us we blinked in shots.
Here's our biggest complaint camera-wise: while rival Android handsets can record 4K HDR video with 64 times the color data compared to current 4K video. the Note 9 can't. The Snapdragon 845 chip supports HDR video recording, but Samsung's own (faster) Exynos 9810 chip doesn't, so the feature is turned off worldwide. We're going to have to wait until the Galaxy S10 for superior, color-rich video that really pops.
The camera quality here has been topped by the Google Pixel 3 and Google Pixel 3 XL camera, which has two front-facing camera, and you may be impressed with the triple-lens rear camera array on the Huawei Mate 20 Pro. Of course, more cameras isn't always better. The LG V40 ThinQ, which we recently reviewed, is a great example of that.
Android, interface and apps
Comes with Android Oreo, just misses Android Pie
Fortnite was exclusive (for a very limited time period)
Samsung Pay, Bixby AI, and AR Emoji are present
Samsung just missed the Android 9 Pie launch, meaning the Galaxy Note 9 comes with Android Oreo, though an update to Pie is promised and in fact has started rolling out to some countries as of January 2019. Not that you'll notice its absence in the meantime, as Samsung puts its own spin on Android.
And that's no longer a bad thing. The Samsung Experience software is well refined in 2018, with helpful cues on how to navigate a deep and complex operating system. It's much better than the bloated Samsung TouchWiz firmware on its old Android phones, and everyone who hates on the software today likely hasn't touched a Samsung phone in years.
Samsung devices (Galaxy S7 and up) were the first with access to the free-to-play hit game Fortnite: Battle Royale. The short, 48-hour exclusive was designed to give other Android users phone envy, and even now, after the Samsung exclusivity has expired, they still have to sideload the app – it's not downloadable in the Google Play Store. Beyond that, the Note 9 and Tab S4 have an exclusive Fortnite skin that lasts forever.
Samsung Pay is the other app worth noting. It continues to be our favorite way to make contactless payments, simply because you can pay for things at card machines that don't normally accept Apple Pay and Android Pay. Why no one else has hopped on this MST (Magnetic Secure Transmission) technology is beyond us.
The Bixby AI assistant is here, and so is Google Assistant. Google's AI is smarter and understands us better, whereas Bixby often picks up our words as if we said them with marbles in our mouth. Samsung says this is pre-release software, so we'll come back and update this portion of the review on August 24.
The good news is that Bixby is able to navigate the UI better, going as far as to download apps from the Google Play Store (other AI will just bring you to the app page and sit there when you ask to download something). If that Samsung Galaxy Home speaker is going to launch any time soon, the company needs to improve Bixby first, and we hope it'll get rid of the insufferable Bixby button that we often mistake for volume down. It's basically this year's version of the offset fingerprint sensor we chastised Samsung for on the Note 8.
We had to inquire about AR Emoji to get details about the avatar refinements. They're here. We tested them. Bixby and AR Emoji are not showstoppers for the Note 9, even though Samsung couldn't stop mentioning them six and 12 months ago.