ProtonVPN Free is an interesting free VPN offering from the people behind ProtonMail, the popular Swiss-based encrypted email service.
As usual with free VPNs, there are some major restrictions. You get just three countries, there's support for only one device, and free users are bottom of the performance priority list, so speeds could be low. And unlike the commercial product, there's no P2P or Tor support.
This sounds poor – but wait. There are major plus points, too.
ProtonVPN Free offers unlimited bandwidth. There are no stupid '500MB a month' restrictions here – you can use the service as much as you like.
Although there are only three locations, they're well placed in the US, Netherlands and Japan, so most people will find there's one near them.
DNS leak protection and a strict no-logging policy do a good job of maintaining your privacy.
Perhaps best of all, ProtonVPN comes from a respected team with a long track record in security. You don't have to cross your fingers and hope the promises on the website are true – you can look into the company and get a real idea of who they are and what they do (start on the About page).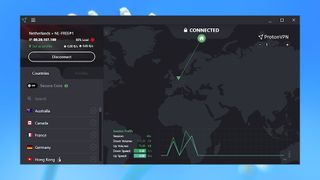 Privacy
ProtonVPN's Swiss base gives it an immediate privacy advantage over most of the competition. The country has very strong privacy laws, is outside of US and EU jurisdiction, and not a member of the 'Five Eyes' surveillance network.
The company states its logging policy very clearly on the website: "ProtonVPN is a no logs VPN service. We do not track or record your internet activity, and therefore, we are unable to disclose this information to third parties."
Session logging is almost non-existent. The company stores the timestamp of the last successful login attempt, but that's it. This is kept indefinitely but overwritten when you next log in, so it only ever reflects the last session.
ProtonVPN associates your account with an email address when you create an account, but this can be whatever you like. The company suggests using ProtonMail if you'd prefer to remain completely anonymous.
The free plan doesn't require any payment details. Upgrade and you can opt to pay by Bitcoin. If you use PayPal or a credit card, the payments are processed by a third-party, and ProtonVPN won't see your billing details.
Even the website is more privacy-conscious than we expected. There are no ads, and like Windscribe, ProtonVPN uses a local Piwik installation rather than Google Analytics. This shows an attention to detail that you rarely get with other providers.
Performance
Creating an account with ProtonVPN only takes a moment, and its web control panel points you to everything you need: client downloads (Windows, Mac, iOS, Android, Linux), OpenVPN files for third-party clients and routers, and a brief help page with some troubleshooting advice.
We grabbed a copy of the Windows client. This installed with ease, then announced that it would run as a trial of the full version for seven days, giving us full-speed access to all 100+ servers across 14 countries. That's unusually generous, as many VPN providers don't give you a trial until you hand over your payment details, and some don't allow a trial at all.
The ProtonVPN Windows client looks great, with a professional and polished interface. A zoom-able world map highlights all the server locations, there's a separate list of countries, assorted menus and settings, and a Quick Connect button for folks who just want to get online straightaway.
Free users don't get any immediate indication of which servers are available to them. This could be initially annoying as you try to connect to various countries, and keep being told there are "no servers available for your subscription tier."
This confusion doesn't last long. Once you've realized which countries are available (US, Netherlands, Japan), it's easy enough to ignore the others.
The client also gives you the option of connecting via Profiles, a flexible favorites system. There are bundled profiles to connect you to a random location, or the fastest server, and you can add specific profiles as required ('free Netherlands server #2').
Conveniently, the Quick Connect button can launch whatever profile you like. Initially this works like other clients, connecting to the fastest server, but it can also connect to a random server or a specific server you use most often.
Whatever server you've accessed, the client provides an unusual amount of feedback on the session. You don't just get to see your new IP: there's also the time connected so far, data downloaded and uploaded, and the current download and upload speeds.
The client has a kill switch to reduce the chance of identity leaks if your connection drops. To test how this might work, we turned off our router and watched the client. It didn't react and continued to show a 'connected' state, suggesting it's not doing a very thorough job of checking connection status.
Turning off the router is a drastic step and not a realistic representation of what's most likely to happen, so we also tried killing the VPN connection process on its own. This time ProtonVPN stepped in immediately, displaying a 'disconnected' message, blocking our internet access and giving us options to try and reconnect using the VPN, or our standard connection. That's exactly what we wanted to see, and it's hard to imagine how the client could have performed any better.
Our performance tests* delivered some unusual results. Our closest Netherlands server had very poor latency at around 250ms, around ten times what we would expect from a good VPN. But the all-important download speeds were actually better than some commercial VPNs, at around 28-34Mbps.
Switching to the US saw speeds fall and become more inconsistent, though always acceptable at 16-30Mbps. Even Japan delivered solid performance at 14-22Mbps, better than most of the commercial VPNs we've seen.
There is a caveat to these results. During our tests, the client rated the premium ProtonVPN servers at around 1-5% load, while the free servers – the only ones we could use – were around 50-70% load. We suspect ProtonVPN Free will typically deliver very good speeds, but they'll be more inconsistent than the commercial competition, and at peak times there's a chance they'll plummet.
There's no such uncertainty about our privacy tests, fortunately. All ProtonVPN servers were in the locations promised, and the client correctly shielded our identity by blocking DNS and WebRTC leaks.
Final verdict
If you can live with a choice of only three locations, ProtonVPN's free plan is an excellent choice – there are no bandwidth limits, decent speeds, a privacy policy you can believe (probably) and clients for almost everything. It's well worth checking out, if only as a backup for your existing VPN service.
*Our testing included evaluating general performance (browsing, streaming video). We also used speedtest.net to measure latency, upload and download speeds, and then tested immediately again with the VPN turned off, to check for any difference (over several rounds of testing). We then compared these results to other VPN services we've reviewed. Of course, do note that VPN performance is difficult to measure as there are so many variables.