One-minute review
When it comes to the best air fryers, Proscenic is a brand that's fairly new on the scene. The T31 is the brand's latest, third model of air fryer, offering a different style of air frying that's sure to appeal to people who aren't fond of basket-style air fryers.
The Proscenic T31 is a large-capacity air fryer, with its box shape and drop-down door, coupled with slide-in trays, making it more reminiscent of a traditional oven – albeit a mini one – than a common basket-style air fryer. And while Proscenic refers to it as an air fryer oven, it doesn't actually offer functions other than air fry or dehydrate, so it isn't really a multi-functional appliance of the types we've seen from Ninja or Cuisinart, for example.
Having said that, it comes with a bunch of rotisserie accessories, making it an interesting proposition for meat lovers. What's more, the 12 preset cooking programs offer plenty of guidance on settings for a variety of foods, and app connectivity means you can control the air fryer without having to pause your box set.
On test, the Proscenic T31 proved to be up to the job, delivering air-fried foods quickly and easily. If you'd rather cook on trays and watch your dinner brown through a viewing window, this is the air fryer for you; but if you're short on counter space, you should skip past this bulky appliance.
Proscenic T31 price & availability
List price: £199
Available in UK
At the time of writing, the Proscenic T31 air fryer is only available in the UK. However, the US launch is planned in the coming months, so watch this space.
It's available from Amazon with an RRP of £199 (opens in new tab). At the time of writing, it's on an offer of 25% off, so you can bag it for £149 with all the rotisserie accessories bundled in.
The specs of our Proscenic T31 review unit
Price: £199
Preset cooking programs: 10
Temperature range: 165 – 400ºF/ 75 – 205ºC
Capacity: 15.8 quarts/ 15 liters
Timer range: 1 – 60 minutes
Power: 1700W
Warranty: 1 year
Proscenic T31 design
Automatic pre-heat
Intuitive control panel
Three shelf levels
The first thing to mention about the design of the T31 is its big, boxy shape. It's far from a subtle appliance, measuring 13.8 x 15.4 x 16.5 inches/ 35 x 39 x 42cm (h x w x d) including the handles. In addition to the handle at the front, there's also one at the back, which does at least make lifting it and moving it around a bit easier.
The drop-down door includes a window for viewing your food while it cooks, helped further by an internal light. Inside there are three levels to choose from, and the unit comes with two perforated cooking trays along with a solid one that doubles as a drip tray. A range of rotisserie accessories are bundled in, too, including a rotisserie fork, rotisserie tongs, rotisserie cage and rotisserie skewers.
Some of the rotisserie accessories – the skewers, in particular – are fiddly to assemble, and I'd recommend practicing and mastering the configuration before adding food. Even then, I think in some instances they'll continue to prove awkward to assemble and position inside the air fryer.
The easy-to-understand control panel is completely black when switched off. Turn the appliance on and it illuminates a range of touch controls, including buttons for the 13 preset programs. These include fries, wings, steak, vegetable, fish, chicken, pizza, bacon, cake, toast, dried fruits, air fry, and dehydrate.
The additional buttons include pre-heat and keep warm, which can be engaged in combination with any of the presets. There's also a button to switch on the rotisserie, as well as one to switch on the internal light. A power button and a start/ pause button complete the lineup. Although there's also a large dial to adjust the time and temperature, a button in the center allows you to toggle between the two. In use, it beeps once the pre-heat is completed, and on some of the presets it beeps again with a handy reminder to shake or turn foods.
Proscenic T31 performance
Presets are useful for time and temperature guidance
Food cooks and browns evenly
Easy to use and clean
I got started by cooking up some chicken wings, using the wings preset. But before starting, I pressed the preheat button; this automatically preheated the T31 for five minutes to reach 385ºF/ 195ºC. I placed five wings onto the perforated tray, with the solid tray below, and started the 25-minute program.
Halfway through, the air fryer reminded me to shake, so I turned the wings. At this point, they looked not far off being cooked, and the skin felt crisp under the tongs, so I kept a close eye on them. The viewing window and the ability to switch the interior light on and off as needed proved useful, making it really easy to keep an eye on the wings without having to open the door.
Following 16 minutes of cooking time, I removed the wings from the air fryer. My meat probe displayed 195ºF/ 90ºC, confirming that they were cooked through. They were moist and tender inside and the skin was crisp and lightly golden.
Buoyed by the chicken wings, I decided home-cut fries were next on the list to try. The instruction manual advises soaking freshly cut fries in cold water for 15 minutes, before drying and then adding ½ – 1tbsp of oil. I opted to coat my 1 pound/ 500g batch of fries with ½ tbsp of oil.
Selecting the fries program, I engaged the 4-minute preheat function before tipping the potatoes onto the perforated tray, spreading them out into a single layer. Then, when prompted to shake halfway through the 20-minute preset cook time, I turned them over because shaking wasn't achieving anything.
At the end of the cooking time, I turned them again and added two further minutes to ensure they were evenly browned. The fries were fluffy inside and golden on the outside, just lightly crisped – they were very enjoyable. I welcomed the option to cook something else at the same time on another tray, which makes it easy to cook a whole meal. Although, if you're cooking for more than two people, you'll probably need a second tray of fries; one tray was about two portions.
On paper, the Proscenic T31 does offer a large capacity, but since you can't load up the trays in the same way as you would a basket-style air fryer, it doesn't feel like there's much more space available than in your average large-capacity air fryer.
Next up I used the same fries program to cook frozen chunky fries. Again, I used the preheat function and gave the fries a turn when prompted following 10 minutes. At the end of the 20-minute program, they were crisp and golden, and cooked to perfection.
In an attempt to bake something sweet and use the cake program, I followed the recipe for chocolate muffins in the included recipe book. After mixing the muffin batter and preheating the air fryer, I baked the eight muffins in paper cases directly on the tray for 15 minutes.
It's fair to say that these were a far cry from my usual muffins – and their messy, craggy appearance wasn't all that appealing. But I can't fault the texture, which was light, fluffy, and moist inside. The outer was a bit crunchy, but the muffins weren't sweet enough for my taste. However, I did at least learn that it's possible to make sweet treats such as muffins in this air fryer; but I'll try a different recipe next time.
Cleanup is easy; the trays can go in the dishwasher. Furthermore, the non-stick coating makes washing by hand a breeze, too. The stainless-steel rotisserie accessories will be fiddlier to clean by hand, so it's best to wash these in a dishwasher if you can.
The air fryer isn't loud in use. You'll hear the hum of the fan, which registered at about 55- 60dB on my noise meter – and is similar to the sound of my cooker hood on a low setting.
Proscenic T31 app
Schedule start times
Offers all the functionality of the control panel
Large variety of recipes
I was able to connect the air fryer to the app on the first attempt; but you will need a 2.4GHz Wi-Fi network to enable that connection. The app controls mirror those on the front of the air fryer, allowing access to all from the comfort of your sofa or garden. Plus, you can schedule start times through the app, which you can't do on the air fryer control panel.
I won't lie, the app isn't going to be a groundbreaking addition to your life. Nevertheless, it's handy to be able to check how long is left on the timer or pause cooking if – for example – you're bathing the children or playing fetch with the dog. Note that I didn't receive any notifications when it was time to shake the fries, or when the food had finished cooking.
If you're looking for inspiration, though, the app contains a wealth of different recipes to try. And if you choose to follow a recipe, you can simply press start and the app will set up the correct time and temperature on your air fryer, making it super easy.
Should you buy the Proscenic T31?
Swipe to scroll horizontally
Proscenic T31 air fryer oven

| Attributes | Notes | Rating |
| --- | --- | --- |
| Price | Competitively priced for a large-capacity air fryer, although currently only available in the UK | 4/5 |
| Design | Simple and useful range of settings, but some of the accessories aren't so intuitive to use | 4/5 |
| Performance | Very intuitive to use and foods cook evenly, although it doesn't feel as roomy as a large basket-style air fryer | 4.5/5 |
| App | Doesn't add much extra functionality, but simple to use and some people will enjoy controlling the air fryer from their phone | 4/5 |
Buy it if...
You prefer to cook on trays
Most air fryers are designed with basket-style cooking zones, which – depending on what you're cooking – can be limiting. If you prefer a more traditional oven style of cooking on trays, this air fryer is for you.
You want an air fryer you can control via an app
As I already mentioned, the app isn't essential, but it's a handy extra that allows you to schedule cooking, start or pause cooking from another room; it can be very helpful in busy or chaotic households.
You want a rotisserie included
This is an accessory for the meat lovers, which allows you to cook whole rotisserie chicken or skewered meats. But it does mean there are lots of accessories to store, which is annoying if you don't plan to use them.
Don't buy it if...
You have limited space
This chunky box-shaped air fryer demands a good portion of counter space, plus it isn't the easiest to lift in and out of a cupboard. If your kitchen is bijou, there are more appropriately sized air fryers out there that will better suit your space.
You want a multi-functional cooker
At first glance, the Proscenic T31 looks like it might be a multi-cooker that includes extra cooking functions such as grill/ broil, but this is primarily an air fryer.
You want a basket-style air fryer
If you like an air fryer with a basket that you can load up and shake frequently using the integrated handle, you might get frustrated by having to use a spatula to turn fries or chicken pieces on a cooking tray.
Proscenic T31: also consider
Swipe to scroll horizontally
| | Cuisinart TOA-60 | Sage the Smart Oven Air Fryer | Instant Vortex 7-in-1 air fryer oven |
| --- | --- | --- | --- |
| Price | $229.95 / £250.00 | $350/ £330/ AU$629 | $120 |
| Cooking programs | 7 | 10 | 7 |
| Temperature range | 190 – 450oF/ 90 – 230oC | 120 – 500oF/ 50 – 230oC | 95 – 400oF/ 35 – 205oC |
| Capacity | 17 qt/ 17 L | 23.3 qt/ 22 L | 10qt |
| Power | 1800W | 2400W (UK & AUS) 1800W (US) | 1500W |
| Warranty | 3 years | 2 years | 1 year |
If you're interested in a basket style air fryer, here are the other models available from Proscenic...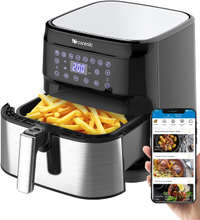 (opens in new tab)
Proscenic T21
If you prefer the idea of basket-style air fryer, the Proscenic T21 is the brand's largest basket air fryer, with a 5.8-quart / 5.5-liter capacity. And although it's the first one launched by Proscenic, it includes presets and app connectivity. Plus, at half the price of the new T31, it can still produce a decent batch of fries.
Read our full Proscenic T21 review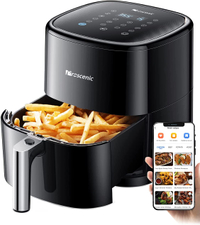 (opens in new tab)
Proscenic T22
For the exact same price as the T21, around $129/ £99, the T22 is the brand's most compact and streamlined offering, making it perfect for smaller kitchens. It's still loaded with preset functions and app connectivity, plus, despite its compact footprint, it boasts a 5.3-quart/ 5-liter capacity.
Read our full Proscenic T22 review
How I tested the Proscenic T31
I cooked three foods that we make in every air fryer we review
I also made cakes using a recipe from the recipe book
I evaluated how easy it is to use, clean, and how it looks in a normal kitchen environment
I made a range of foods in this air fryer across my two days testing it. Fresh-cut as well as frozen fries are a standard test we do in all air fryers, since fries are one of the most popular foods people like to cook in air fryers.
Similarly, cooking plain chicken wings give us a good idea whether the air fryer can deliver crisp skin without drying out the meat. I cleaned the various parts of the air fryer by hand as well as putting the trays through my dishwasher. I connected it to the app and used the additional functions to see if the app actually adds anything to the experience, or if it's simply a gimmick.
I've been reviewing kitchen appliances for well over a decade and have evaluated several air fryers for TechRadar, so I've got plenty of experience to draw on when deciding whether or not an air fryer is worth a coveted spot on your kitchen counter.
Read more about how we test
First reviewed February 2023