Onyx Boox Tab Ultra two-minute review
Some day, E Ink technology may reach the level that the Onyx Boox Tab Ultra is trying to achieve, with screens that can redraw fast enough to run Android and all the apps you desire. Sadly, today is not that day; the current technology just can't keep up. Even when things ran smoothly, they just weren't better on this screen.
The E Ink market is getting hot, especially with the new writable E Ink tablets. Reviewing the Onyx Boox Tab Ultra, I felt like Dr. Ian Malcolm from Jurassic Park. In trying to stand out from the Kindle Scribe and Kobo Elipsa pack, Onyx was so preoccupied with whether or not it could make an E Ink tablet with iPad features it didn't stop to think if it should.
The Tab Ultra can run not only the simple note-taking apps included but also Microsoft Word and Google Docs. It can scroll your Twitter feed and browse the web. It shouldn't bother, though, because E Ink is a distracting technology for these apps, and the Tab Ultra lacks the power to keep up with the basics.
There's a camera around the back, but it doesn't work very well, so why bother? There's a keyboard you can attach, but the tablet can't keep up with the typing, so why bother? The question kept coming up, why did they bother to make this tablet? I don't think E Ink is ready for the power that Onyx tried to pack inside.
If you must have the high-contrast readability of E Ink along with apps that only a full Android build can offer, this is one of the few options available. If you're just looking for a great note-taking tablet or gigantic ereader, the Onyx Boox Tab Ultra is beyond overkill. Instead, it has tripped over itself trying to impress.
Onyx Boox Tab Ultra price and availability
$599.99 / £619.99 including a magnetic case and pen with tips
Keyboard cover is around $/£110+ more, but not worth it
The Onyx Boox Tab Ultra is an expensive E Ink tablet, but it's not too expensive when compared to the Apple iPad 10.9, and that's probably the point. The Tab Ultra comes with a pen and a magnetic cover. It's more expensive than the reMarkable 2, with all accessories included, and much more than a comparable Kindle Scribe.
On the other hand, an iPad 10.9 with an Apple Pencil is around $30/£60 more expensive, but you get an iPad and an Apple Pencil. That means you get a bright, colorful display, a powerful A14 Bionic chipset, and the incredibly robust Apple ecosystem.
With the Onyx Boox Tab Ultra, you get an E Ink display that isn't as sharp as an iPad and a processor that can't perform well enough to handle basic tasks. It's even heavier than an iPad, which is a sad feat among E Ink tablets.
If the Boox Tab Ultra were half the price, I might recommend it to enthusiasts looking to see how far E Ink technology has come. The answer is not far enough to justify iPad-level pricing because it doesn't offer iPad-level performance.
Onyx sells the Boox Tab Ultra through online retailers like Amazon, or you can buy from its own cryptic website, which, for some reason, asks you to choose the location of the shipping warehouse, presumably for tax or import purposes.
Onyx Boox Tab Ultra specs
A Qualcomm octa-core chipset running Android 11
Similar 10.3" E Ink carta display found on competing tablets
We usually don't get a Qualcomm octa-core chipset on an ereader but the Onyx Boox Tab Ultra tries to be a much more capable machine than its simple competitors. It runs Android 11, packs more memory and storage inside, and is a bigger machine all around as a result.
Most writable E Ink tablets use a similar 10.3-inch E Ink Carta display. The Kindle Scribe display is a bit sharper than the rest at 300 ppi, but the Tab Ultra screen is similar to the reMarkable 2 at 227 ppi. The similarities between the Tab Ultra and the competition end there.
While other E Ink tablets get away with packing generic, dual-core processors inside, Onyx springs for a full (unnamed) Qualcomm octa-core chipset. An eight-core platform should give the tablet a mix of high performance and long-lasting efficiency. Sadly, the performance never showed up.
The Onyx Boox Tab Ultra packs 4GB of RAM, which is the same as a base model iPad 10.9, but apps and transitions don't run as smoothly as they do on Apple's tablet. Even forgiving the refresh rate of the E Ink display and the processing required to manage it, it's clear that the Tab Ultra has trouble keeping up.
This is also one of the heavier tablets I've used at this display size. This E Ink tablet is one of the few I've seen that manages to be heavier than an iPad. To compare, a Kindle Scribe is more than 40g lighter than the Tab Ultra, and the reMarkable 2, which lacks lighting capabilities, is more than 70g lighter and 2mm thinner.
Onyx Boox Tab Ultra design
Thicker and heavier than most competitors, even iPad
Magnetic pen and magnetic carrying case are included
If you like a black slab, the Onyx Boox Tab Ultra doesn't veer much from this aesthetic. There's a nice strip of iconography on the back that vaguely resembles a computer geek's interpretation of Louis Vuitton's signature pattern but otherwise, the Tab Ultra is very sleek and clean, with a business-friendly look.
Because E Ink displays don't allow true backlighting, there's usually a big side-light bezel on these ereader tablets, but Onyx has done a fine job keeping the Tab Ultra looking more normal than bookish. It has a wider edge than an iPad, but that's convenient for reading, so I'm not complaining. I wish it were much lighter, though.
The Tab Ultra uses USB-C for its charging port, thankfully. For some reason, the cover doesn't fit the tablet in the way I'd expect. The keyboard cover I got from Onyx has a large overhang. The tablet rests deep inside. I worry that, over time, the cover will bend, but frankly, I had trouble using the keyboard, so I'd probably skip that big case entirely.
Around the back, you'll find the enigmatic camera, a novelty among black-and-white E Ink tablets. It's meant for document scanning – more on that later – and placed up in the corner, where you'd expect. There's no selfie camera.
The Tab Ultra pen sticks onto the side magnetically. I hate this arrangement, even though it's the most common way writable tablet makers attach a pen. It's stupid. When sliding this tablet into the magazine pocket in my backpack, the pen falls off every time. With the thick, magnetic cover in place the pen is held securely, but I shouldn't need a cover to avoid losing my pen.
The pen itself is one of the nicer styli I've used with a writable E Ink tablet. It uses Wacom-like electromagnetic resonance (EMR) technology, the same as the Kindle Scribe and reMarkable 2. I like that Onyx provides a pen with a built-in eraser feature, which costs extra from some competitors. It even has a little tactile bounce to the eraser when you touch it to the screen.
Onyx Boox Tab Ultra Performance and battery
Tablet chipset cannot keep up with basic typing
Battery life was fine but not exemplary for E Ink
We usually don't even think of E Ink or ereader tablets in terms of performance because these devices don't try to do too much, and that's part of their charm. With the Onyx Boox Tab Ultra, the sky's the limit for what you can attempt, but your wings are made of wax.
For simple browsing, reading, and drawing tasks the tablet kept up within reason. The E Ink screen redraws itself quite frequently, no matter how you set it, so it was hard to tell if the stuttering display was a performance lag or just the E Ink beautifying.
When I tried to type into a Google Docs document – a simple task – the Tab Ultra failed miserably. Onyx sent me the keyboard attachment, which I used, but the tablet couldn't keep up with the input. It lost letters and whole words, and I had to go back frequently to correct errors.
I tried writing this review on the Tab Ultra to see if it could perform as a basic productivity tool. I usually write on a Chromebook, so simple Android is all I need. I gave up within a few paragraphs and returned to my normal workflow.
There's something of an anomaly here because the tablet can certainly run apps and services. I browsed the web, checked my Twitter feed, and even played a few rounds of Marvel Snap. The Tab Ultra handled each of these tasks better than I expected. Subtle touches like hourglass animations still came through smoothly.
It's one thing to impress me with an animated graphic, but it's another to impress me with consistent performance. If the Tab Ultra can't handle a simple Google Doc, I'm not sure of the point of such an advanced Android system on an E Ink tablet. If the tablet can't perform well enough to gather input from its own pogo-pin keyboard, then I have to declare this a swing and a miss.
In terms of battery life, the Onyx Boox Tab Ultra was somewhere between an iPad and a Kindle Scribe, but that's a vast margin. A Kindle or reMarkable tablet, which have minimal processing power and redraw the display infrequently, can last weeks. The Onyx Tab Ultra could last a few days, for sure. I charged it regularly, just in case.
It's hard to compare battery life between this tablet and an iPad. I might spend 2 hours watching a movie on my iPad, but I would never spend 2 hours in front of the Tab Ultra unless I'm reading a book, which draws very little power.
Onyx Boox Tab Ultra software
Runs Android 11 with a basic interface on top
Supports Google Play and Google services
The Onyx Boox Tab Ultra runs Android 11, and it's clear just how much work Onyx has put into fitting its big foot into this glass slipper. There are settings and adjustments galore to make the E Ink work for you as best it can. You can adapt the refresh rates, the brightness and warmth of the lighting, and even the way E Ink translates dark and light colors to black and white.
It's a bit much. These are the kind of settings you never look for on a normal tablet, but Onyx finds them important enough that you can access them quickly through gestures. To me, a product that insists upon my tweaking the settings is not one I use for everyday tasks. I want my $600 tablet to make more decisions for me than I make for it.
The software is also poorly translated. I found grammatical and usage errors throughout the system, making it less intuitive and more of a chore to use. It's just another way the Tab Ultra feels like it's doing a poor job of fitting in. At the very least, I expect my ereader system to be pleasant to read.
Onyx doesn't weigh the Tab Ultra down with unnecessary bloatware, which is nice since the Google Play Store is ready for your perusal. There's a good, but not great, note-taking app with support for a variety of pen features. I couldn't find ways to change the background of my notebooks, but there were plenty of options for layering and drawing.
If you want to venture into the Android world, the Onyx Boox Tab Ultra is surprisingly capable, even if the experience is unusual. I played a few rounds of Marvel Snap on the tablet, and it drew just enough of the foreground graphics to make the game playable. The ghosting effect grew quickly as I played, but I could refresh when I felt overwhelmed.
In other words, the Tab Ultra is capable of pulling off astonishing feats for an ereader tablet. However, these feel like stunts, not the performance I demand from a tablet I'll live with every day and rely on for web browsing, social networking, and, heaven forbid, gaming.
Onyx Boox Tab Ultra camera
16MP camera for document scanning
Limited capabilities and questionably effective
The standout feature on the Onyx Boox Tab Ultra is the 16MP camera, for the simple fact that no other E Ink tablet bothers to slap a camera on the back. An E Ink display is not a natural fit for viewfinder duty, but the Tab Ultra does manage to take photos, even using the display to focus and frame documents.
It works most of the time, but not consistently enough that it's worth the premium. I expected this camera to be much better at scanning documents than my smartphone camera. With a black-and-white display, I would have expected a high-contrast, black-and-white sensor to optimize the optical character recognition (OCR) function.
Nope, the Tab Ultra shoots in color?! When you share a photo with another device, it's clearly a color picture. Yet, there's no Camera app preloaded on the Tab Ultra, only the Scan Documents tool. I think Onyx would have found a more effective sensor in monochrome.
In practice, the document scanner worked fine, but documents didn't look great after being scanned. I had good, even lighting, but my documents still came through looking dark and shadowy.
The text was properly encoded when the document was clean and clear. For alternate layouts or mixed text format, like recipe books, things were more of a mess. Overall, I'd rather use my phone and its scanning tools because the Tab Ultra isn't anything special when it comes to document scanning.
Onyx Boox Tab Ultra score card
Swipe to scroll horizontally
How did the Onyx Boox Tab Ultra stack up?

| Attributes | Notes | Rating |
| --- | --- | --- |
| Value | Less than an iPad, but too expensive for what it can accomplish | 3/5 |
| Specs | Performance should have been better considering specs | 2.5/5 |
| Design | Heavy black slab with a few accents | 2.5/5 |
| Performance | Couldn't keep up with typing on the keyboard | 2/5 |
| Software | Impressive Android extensibility | 3/5 |
| Camera | Not specialized for document scanning | 2/5 |
Should I buy the Onyx Boox Tab Ultra?
Buy it if...
You need a robust ereader that runs Android
If you're in a specialized field or you're a developer and you need an E ink display that can run Android apps, the Onyx Boox Tab Ultra is one of your best and only options.
You want drawing and reading with some solitaire
If your needs are simple – just a book and maybe a light distraction – you can't get solitaire or social networking apps on a Kindle, so the Tab Ultra may be the way to go.
You're into E Ink and want to see how far it's come
If you're a tech enthusiast, E Ink is like a unique evolutionary fork on the display ladder. Onyx has worked marvels making the technology usable for real Android tasks. It's not for everyone, but it's amazing to see how far the tech can go.
Don't buy it if...
You need a serious productivity tablet
Onyx can sell the Boox Tab Ultra with a keyboard attachment, but that doesn't mean you'll get work done. I found text entry and productivity apps to be unreliable and the tablet couldn't keep up with typing.
You want a sharp tablet for reading
While most writable tablets use the same E Ink Carta display, the Kindle Scribe has a sharper screen than the rest. It maintains the same 300ppi sharpness as a smaller Kindle Paperwhite for reading text clearly.
You want a tablet for taking notes and journaling
If you just want a writing tablet, and you're avoiding the Kindle because you don't need all the books, consider the reMarkable 2 tablet, which is better for writing. Or the Kobo Elipsa, which will let you write on digital books that you own.
Also consider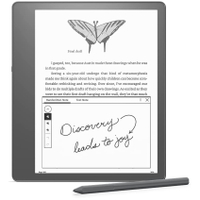 (opens in new tab)
Amazon Kindle Scribe
The Kindle Scribe is a more basic writing tablet, with fewer writing and journaling features than I'd like. It's still the best large-screen ereader, with the sharpest display and full access to the huge Amazon Kindle library, as well as many local library branches.
Read our Amazon Kindle Scribe for more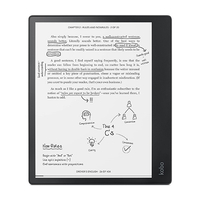 (opens in new tab)
Kobo Elipsa
The Kobo Elipsa is first and foremost an ereader, with the added advantage of a pen to write on it. However, the Elipsa gives you far more annotating and note-taking options, with the ability to convert handwriting to type, upload directly to Dropbox, and even add drawings or formulae to notes. Plus the Elipsa has 32GB of storage and ships with the SleepCover too, so offers more value for money.
Find out more in our in-depth Kobo Elipsa review.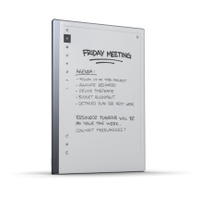 (opens in new tab)
reMarkable 2
If you want to start a journal, or draw and be more creative, turn to the reMarkable 2. It has many more pen options to change the look and feel and includes many more templates to write on. If only it had a backlight for nighttime use and came with the pen in the box instead of as an add-on.
Check out our reMarkable 2 review.
First reviewed: February 2023