Why you can trust TechRadar We spend hours testing every product or service we review, so you can be sure you're buying the best. Find out more about how we test.
The unit given to us to review is a more typical baseline model, with MSI also offering variants of the GT73VR depending on your priorities (and budget.)
For example, you can swap out the anti-glare 120Hz display for an IPS-level 4K screen for about $300 extra, or save half a grand and more by trimming storage and lowering the RAM. Even then, the cheapest models in the range still start at $2,799 (about £2,210/AU$3,725), so don't expect to get out of high roller territory just because you made a few cuts.
We also have to note that our configuration is an older Skylake model and MSI just announced newer Kaby Lake models at CES 2017.
Benchmarks
Here's how the MSI GT73VR 6RF Titan Pro performed in :
3DMark: Cloud Gate: 25,236; Sky Diver: 30,644; Fire Strike: 14,519
Cinebench CPU: 700 cb; Graphics: 112.33 fps
GeekBench: 3,695 (single-core); 13,800 (multi-core)
PCMark 8 (Home Test): 3,298 points
PCMark 8 Battery Life: 1 hour and 42 minutes
Battery Life (TechRadar practical test): 2 hours and 15 minutes
The Division (1080p, Ultra): 86 fps; (1080p, Low): 173 fps
GTA V (1080p, Ultra): 63 fps; (1080p, Low): 153 fps
Performance
When it comes time to work (or rather, play) the Titan Pro is beyond capable. Grossly capable, even. Startup times were speedy, transferring RAW image files was a breeze, pairing Bluetooth headphones took an instant, and popping in peripherals was a snap.
Portability problems and price aside, raw performance is where the Titan Pro truly shines above the rest. The only real technical disappointment was the battery life. In our practical test - which entails watching Guardians of the Galaxy on loop until the laptop gives out - we barely got through one complete screening of the movie.
If battery life does matter to you in a gaming laptop, we got decent output from the , but let it be said that the Titan Pro simply can't survive for long unplugged.
Though impressive numbers all around, Titan Pro especially killed it in the graphical department. Games like The Division and GTA V managed to keep above 60 frames per second, even on the most demanding settings, and the 3DMark scores are top of the class.
MSI meant it when it said it would make laptops on the same plane as desktops. By the numbers, the Titan Pro is one of most powerful laptops we've benchmarked to date, truly offering desktop-level performance.
The and have some impressingly comparable stats, but if you've come for bragging rights look no further than the Titan Pro.
Features
Shortcomings with the speakers and charging cable aside, the rest of the Titan Pro is stuffed with all the right bells and whistles in the all the right places.
Everything you'd want standard on a laptop, from ample USB 3.0 ports on each side to a Kensington lock slot, is present and accounted for.
There isn't an optical drive for CDs, which may be a bummer for video production types or amateur mixtape creators, but the SD reader and ports ranging from USB-C with Thunderbolt to 4K-primed HDMI to even a line-in/line-out ensure the Titan Pro can handle just about any accessory you toss its way.
The Type-C and HDMI deserve special mention, as the inclusion of both allow you to easily port out 4K media to a compatible monitor. At the end of the day, the ultra-fast speeds of Type-C and ubiquity of HDMI (on top of how ridiculously fast this thing is) means the Titan Pro could also have some extra legs as a media hub.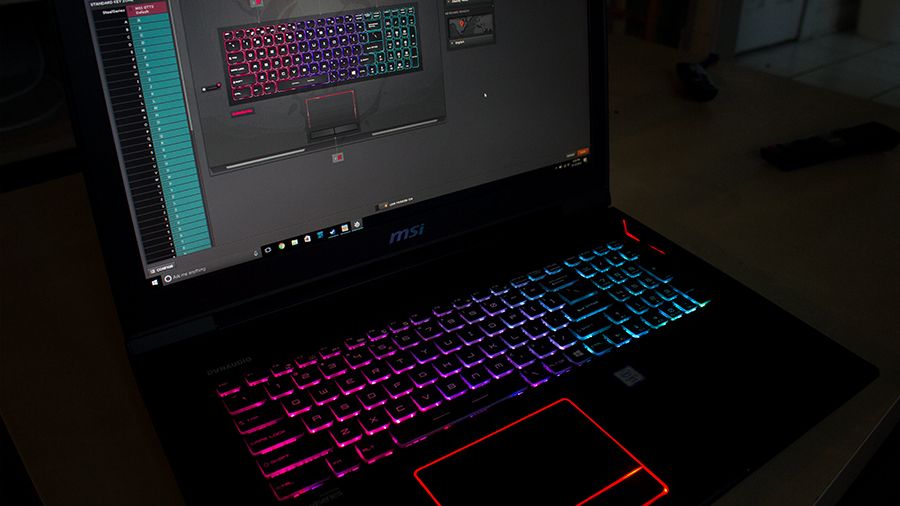 The built-in SteelSeries keyboard is also rife for customization, featuring four backlit zones – including the trackpad – with a multitude of chromatic hues and multiple presets to choose from using the pre-installed SteelSeries Engine 3 software. (Seen above)
The keyboard is familiar ground for those used to MSI's last few gaming laptops, but what ain't broke rarely needs fixing. The evenly spaced keys give just enough resistance to make typing tactile without a cacophonous clickety-clack, and the smart function shortcuts are easy to locate and figure out.
Sadly, we can't say the same about the cursor trackpad. While we liked the healthy heaping of space, the pad doesn't have tap-to-click functionality. Combine that with the giant paddles it calls buttons at the bottom, and the trackpad wound up being difficult to use without using two hands.
We liked
The Titan Pro is a responsive, solid piece of tech with a gorgeous screen that brought out a little extra somethin' from the games we played. It also felt like a premium device inside and out, from its quality keyboard and smartly placed ports, to the sheer number of ports themselves.
Ultimately, though, the reason you would care about the Titan Pro is because it's a behemoth in the graphical department. This things plays demanding AAA video games on the highest settings with ease, and was cemented itself as the one to beat in the performance laptop world.
Also, this top-tier gaming machine doesn't look like a Monster energy drink commercial, and that goes a long way for us.
We disliked
While the Titan Pro makes gameplay smooth like rich creamery butter, it stutters when it comes to portability. Though sharp-looking and sleek, this 17-inch rig has a heavy body, a dinky two-hour battery, easily muffled speakers, and criminally short charging cable.
Admittedly, most – if not all – these issues don't apply if you intend to keep your Titan Pro in one place all the time, but this is a lot of money we're talking about here. It may be a desktop replacement, but it shouldn't have all the qualities of a gaming PC, like immobility and reliance on a wall socket.
Final Verdict
At the end of the day, the MSI GT73VR 6RF Titan Pro is the SUV of laptops. It emphasizes power and luxury, and backs it up with some of the best performance in its field. However, just like how a SUV isn't the most practical choice for every driver, the Titan Pro isn't the most practical choice for every customer.
The Titan Pro is plain ol' overkill for the fairweather gamer, dorm-bound student, part-time video editor, or budgeted buyer. For more wallet-friendly performance, the and keep up with today's games at reasonable settings, and do so at a half the price (and weight) of the Titan Pro.
We also mentioned the MSI's own being a close second in terms of VR-readiness and ability to play The Division on Ultra at over 60fps. The base model for that laptop is about $2,000 (about £1,575/AU$2,670) less than the Titan Pro, leaving us to let you decide how much you're really willing to pay for the best of the best.
If you're looking to go all-in on a luxury laptop that can do just about anything a desktop can, the Titan Pro will not disappoint. However, if the 'laptop' part of 'gaming laptop' matters to you - or you just don't have multiple months' worth of rent burning a hole in your pocket - you may want to consider other avenues.
Parker Wilhelm is a freelance writer for TechRadar. He likes to tinker in Photoshop and talk people's ears off about Persona 4.