The HTC U12 Life is a mid-tier smartphone that takes a few cues from the flagship HTC U12 Plus, but the two handsets are less similar than their names suggest.
Announced at IFA 2018 in Berlin, the HTC U12 Life features a reduction in resolution, power and camera capabilities compared with the U12 Plus, but it does build significantly on 2017's HTC U11 Life, making it a much more attractive affordable smartphone.
What you get then is an attractively priced mid-range smartphone with a suitably competent spec sheet and an eye-catching, if perhaps overly shiny, design that offers something a little different to the competition
Note: we got hands-on with a pre-production model of the HTC U12 Life. The design was almost final, while the software was still in beta. The cameras also hadn't been tuned, so we were unable to test their quality.
HTC U12 Life price and release date
The HTC U12 Life price is set at £299 (€349) SIM-free, which puts it up against the likes of the Moto G6 Plus, Sony Xperia XA2 Ultra and Honor 9 – not bad company at all, and from our initial hands-on time with the handset it feels competitive.
It'll be available in the UK soon, with the HTC U12 Life release date expected to be some time in late September/early October; the handset will also arrive in Asia, the Middle East and Europe this year.
Design and display
The HTC U12 Life continues with the premium unibody form factor that HTC has employed for a number of year now, with the Optical Spectrum Hybrid Deposition finish featuring layers of glass with various metallic elements added to them to create a color-shifting effect.
In plain English that means this is a super-shiny smartphone. In fact, during our hands-on time some of our peers commented that the U12 Life was too shiny for their liking, and while we're not against the dazzling finish on the rear of the handset there will be some who will find it a bit much.
It's not such a super-shiny rear though, as HTC has applied a brand-new finish to the lower two-thirds of the U12 Life, with a series of physical laser-etched diagonal lines creating what HTC is calling '3D Ultra Stripes'.
This finish serves to address two common issues with glass-bodied smartphones. First, as the stripes are physically engraved into the phone they offer an almost rubber-like textured feel in your hand, providing a high level of grip.
HTC U12 Life hands-on gallery
Image 1 of 9
Image 2 of 9
Image 3 of 9
Image 4 of 9
Image 5 of 9
Image 6 of 9
Image 7 of 9
Image 8 of 9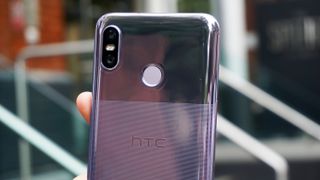 Image 9 of 9
Glass-backed phones are generally pretty slippery in the hand, but the U12 Life is much easier to grip, and it felt secure in our palm.
The second issue the 3D Ultra Stripes looks to fix is fingerprints, with the finish making smudges less noticeable. It doesn't prevent them entirely though, and after a few minutes of handling the phone we could see fingerprints on this portion of the rear – but they are less noticeable.
However, this good work gets a little spoiled by the top third of the phone's rear, which boasts the super-shiny finish which is a huge fingerprint magnet. And slightly confusingly, HTC has opted to place the fingerprint scanner in this top third portion of the phone.
While its location is the most natural spot for your forefinger to fall – we had no trouble locating the scanner during our time with the HTC U12 Life – it does increase the risk of covering the shiny finish in fingerprints.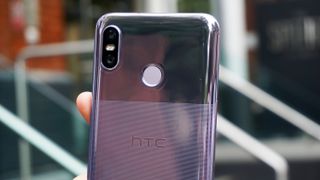 HTC told us that it produced a number of different rear finish combinations for the phone, and believes this layout on the U12 Life is the best balance, as you'll rarely place your fingers on the top third of the phone.
It also didn't want to cover the entire rear of the phone in those stripes, as it wouldn't have the shine the U12 Life has – but given the focus on reducing fingerprints this feels a like a missed opportunity.
In the hand the HTC U12 Life looks good, and it's easy to hold in one hand as it isn't too heavy considering its size.
Those with smaller palms will struggle to stretch their thumb to the top of the 6-inch display, and to reach the volume rocker high up on the right of phone, but a quick shuffle in the hand helps that – and the extra grip on the rear means such shuffling is less risky.
There's no IP rating, but HTC says the U12 Life is splash-proof. The phone will be available in two colors: Moonlight Blue (which is mainly blue with a dark grey tone) and Twilight Purple (which is mainly silver with a touch of purple and more shine).
You'll find a headphone jack on the top of the U12 Life, while on the bottom a centralized USB-C port sits next to a down-firing speaker, which works with the speaker in the earpiece to provide you with stereo sound.
It's a little disappointing that the speaker on the base isn't front-facing, though, as it can be easily muffled by your hand.
HTC has equipped the U12 Life with a 6-inch Full HD display, and has opted not to include a notch here, giving you a full 18:9 display.
That does mean you get a slender bezel above and below the screen, but it's a much neater design than on the U11 Life and results in a screen-to-body ratio of 83%. It's bright and clear, and we were easily able to read text and enjoy viewing images and video on the screen.
Camera
As we mentioned at the start of this hands-on review, the U12 Life handset we got hold of wasn't running final software, which meant we couldn't put the cameras through their paces.
We can tell you more about the cameras the phone is packing though, with a dual setup on the rear featuring a 16MP main camera with a f/2.0 aperture, and a 5MP, f/2.2 secondary snapper.
This setup allows for a live Bokeh mode, letting you preview the background blur as you compose a shot, so you can see how the image will look before hitting the shutter button. The HTC U12 Life also supports 4K video capture at 30fps, and Full HD at 60fps.
Round the front the 13MP, f/2.0 camera sits alongside a front-facing LED flash, allowing you to light up dark selfies more effectively than the screen flash that many phones now rely on. It also features HDR (high dynamic range) to further aid low-light shooting.
Power and battery
Under the hood you're looking at a Snapdragon 636 chipset which, maker Qualcomm claims, offers a 40% performance improvement over the 630 (which was in the U11 Life), plus a 10% improvement in graphics.
That's paired with 4GB of RAM, while you get 64GB of storage. There will also be a 128GB U12 Life variant, but this will only be available in Taiwan.
The hybrid SIM tray on the left of the handset can take either two SIM cards, or one SIM card and one microSD card, allowing you to build on the 64GB of internal space.
The HTC U12 Life runs Android 8.1 Oreo out of the box, and features a light HTC Sense overlay, which provides that distinctive HTC look and feel without being too overbearing.
HTC has upgraded the battery in the U12 Life over its predecessor, with the sizable 3,600mAh power pack also bigger than the 3,500mAh battery in the flagship U12 Plus.
That will hopefully translate into some reasonable battery life, but you'll have to wait for our full review to find out how it performs. There's no wireless charging support, but the U12 Life does offer fast charging, with HTC claiming you'll be able to go from 0% to 100% in under 50 minutes.
Early verdict
After a few years of mid-tier mediocrity, it feels like HTC could be about to enjoy a mini reassurance, starting with the U12 Life.
It's got a strong spec sheet, attractive (if perhaps overly shiny) design, and a price tag that ensures it won't be DOA. If the bigger battery and cameras live up to their billing, the U12 Life could be one of the more desirable affordable smartphones to own.
IFA 2018 is Europe's biggest tech show. The TechRadar team is in Berlin to bring you all the breaking news and hands-on first impressions of new phones, watches and other tech as they're announced.