If you don't need to shoot 4K video, the Mavic Mini remains one of the best beginner-friendly drones you can buy. It's since been succeeded by the 4K-shooting DJI Mini 2, but the Mavic Mini otherwise offers a very competitive blend of portability, image quality, price and convenience. It weighs no more than five golf balls, lasts a solid 30 minutes in the air, and fits into a large jacket pocket when folded down. Only that lack of 4K video and object-tracking powers show its age.
Pros
+

Smart, collapsible design

+

Incredibly stable video capture

+

Impressive battery life
Cons
-

No 4K or 60fps 2.7K video

-

No object tracking

-

Micro USB charging, not USB-C
Why you can trust TechRadar We spend hours testing every product or service we review, so you can be sure you're buying the best. Find out more about how we test.
When the DJI Mavic Mini arrived in October 2019, it was pretty unique – a sub-250g drone that actually packed a decent, 2.7K camera and combined that with DJI's useful autonomous flying modes.
It's since been succeeded by the DJI Mini 2, which can shoot 4K video. But that doesn't mean the Mavic Mini isn't worth considering. It remains considerably cheaper than the Mini 2, and if you're happy shooting 2.7K/1080p video, it remains one of the best beginner drones you can buy.
One of the big selling points of the DJI Mavic Mini when it arrived was its 249g weight, which meant it narrowly avoided the need to be registered with many civil aviation authorities. That's no longer the case in some countries, like the UK, which have since updated their registration requirements to include all drones with a camera.
Still, it's currently true that you don't need to register the Mavic Mini in the US and Canada, and the drone itself is still a compelling option for those who are just starting out, but aren't quite ready to spend bigger bucks on a higher-end model like the new DJI Air 2S.
Alongside its exemption from the need to be registered in some countries, the Mavic Mini has other benefits over rivals like the Parrot Anafi. The Mini features three-axis mechanical stabilization (the Anafi has two – its 'third' axis is electronic stabilization), and includes handy features like a hot-swappable microSD card slot. It also has a better battery life than the Anafi, with a quoted flight time of 30 minutes.
The Mavic Mini isn't without its shortcomings, though. Video capture caps out at 2.7K resolution with a frame rate of 30fps, which will leave some videographers who need 4K footage, or the option to slow things down at 2.7K, looking elsewhere. It also lacks the incredibly handy object-tracking and avoidance smarts that its larger DJI siblings feature.
That said, it's also worth pointing out that the DJI Mini 2 also lacks these features, which tend to be found on higher-end models like the DJI Mavic Air 2 and DJI Air 2S. So if you're looking for a small, travel-friendly drone that can shoot high-quality 1080p video, then the Mavic Mini could well be worth considering over its newer sibling.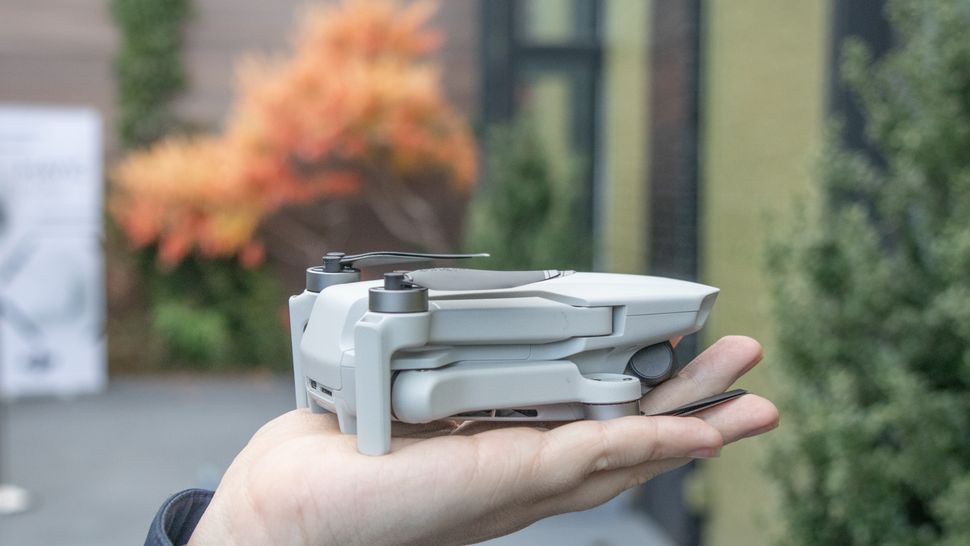 DJI Mavic Mini release date and price
The DJI Mavic Mini is available to buy right now in two versions: there's the base package (drone, battery, controller) or the Fly More Combo, which also includes a two-way charging hub that can double up as a power bank, a 360-degree propellor guard, and two extra batteries.
The base drone costs $399 / £369 / AU$599, while the Fly More Combo is $499/ £459 / AU$799. If you ask us, the Fly More Combo is worth the extra cost for the additional batteries alone, offering you around 90 minutes of flight time in total. For new drone fliers or indoor pilots, the safety guards are also priceless.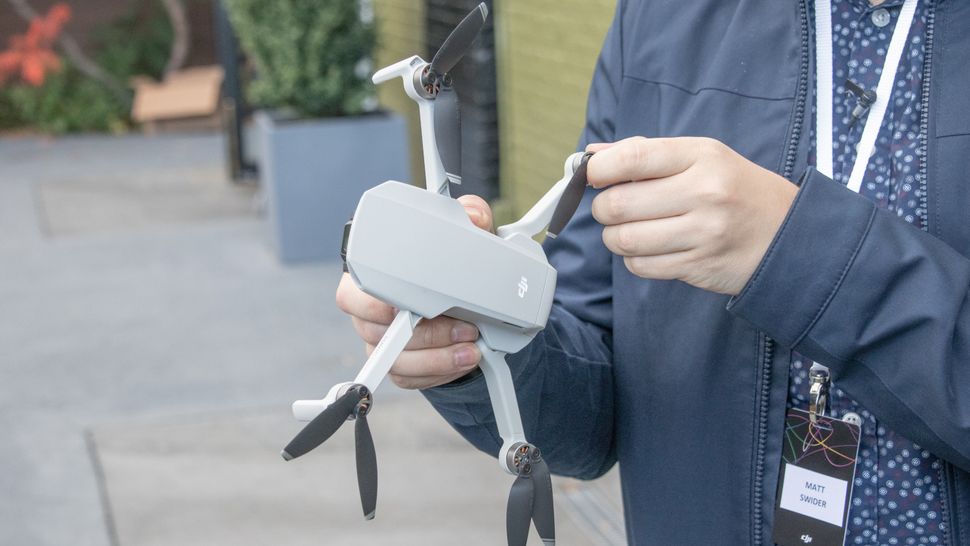 Design
Just like its larger Mavic siblings, the Mavic Mini is collapsible, with arms that unfurl to transform it in a couple of spring-loaded maneuvers.
When it comes to looks, this is a DJI product through and through. The color scheme is gray and dark gray, just like the DJI Osmo Action and DJI OM 4, and its front is adorned with a pair of 'eyes', nuzzled under a flat, beveled, angry-looking top-side. It's still one of the better-looking drones we've seen.
On the front of the Mavic Mini is the 3-axis stabilized camera. Out of the box, it's shielded by a camera guard, which is removable when you come to fly it. On the back are an exposed microSD card slot, and a micro USB port for charging. Above these is the battery flap. Compared to the Parrot Anafi, whose SD card slot is tucked away under the battery, DJI's design is much more convenient for frequent storage-swappers.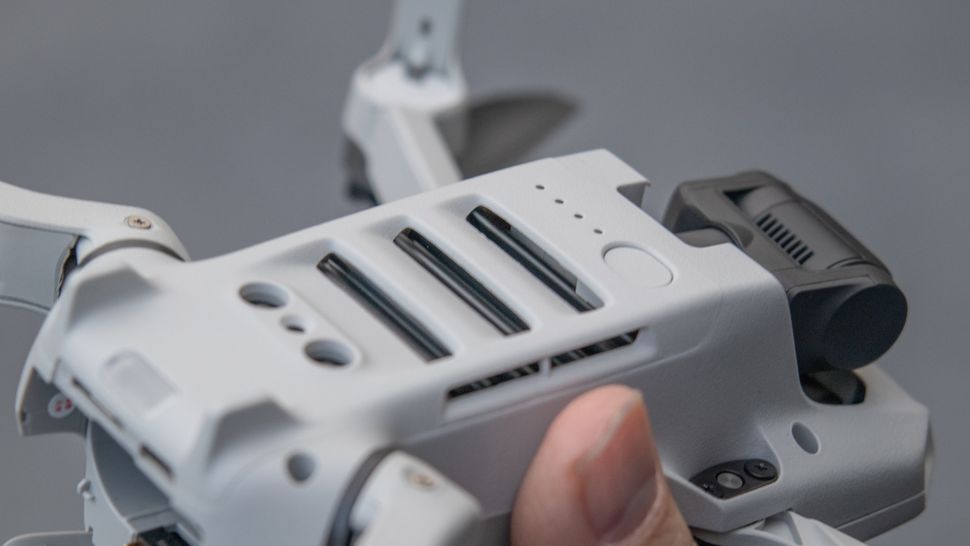 As mentioned, the Mavic Mini is purpose-built to weigh a fraction under 250g, so that it can bypass the need to be registered with aviation agencies in the US and Australia. As we mentioned earlier, though, the UK has since changed it laws on drone registration, extending it to all drones with a camera, so it's worth checking your local laws.
DJI achieved this light form factor by teaming a drone that weighs around 150g with a roughly 100g battery. The fact that it doesn't crumble every time it's flown is a wonder, and while lightweight is often associated with cheap quality, the Mavic Mini feels anything but cheap.
The Mini isn't crash-proof, though; there are no obstacle avoidance sensors on its sides, front or back, as found on the DJI Mavic Air 2. That said, there are a couple of sensors at the base to enable smooth landings, along with a battery meter, and a light, so that you can keep tabs on your drone in the air and keep it in line of sight, even at night.
The Mavic Mini's arms are relatively slender, and we actually cracked one of ours with a 1.8-meter drop – while it still works perfectly, that's something that wouldn't have happened had the safety guards been affixed. If you're a newbie, anticipate flying indoors, or know you'll be flying in strong winds, it's worth picking up the Fly More bundle to get the 360-degree propellor guard.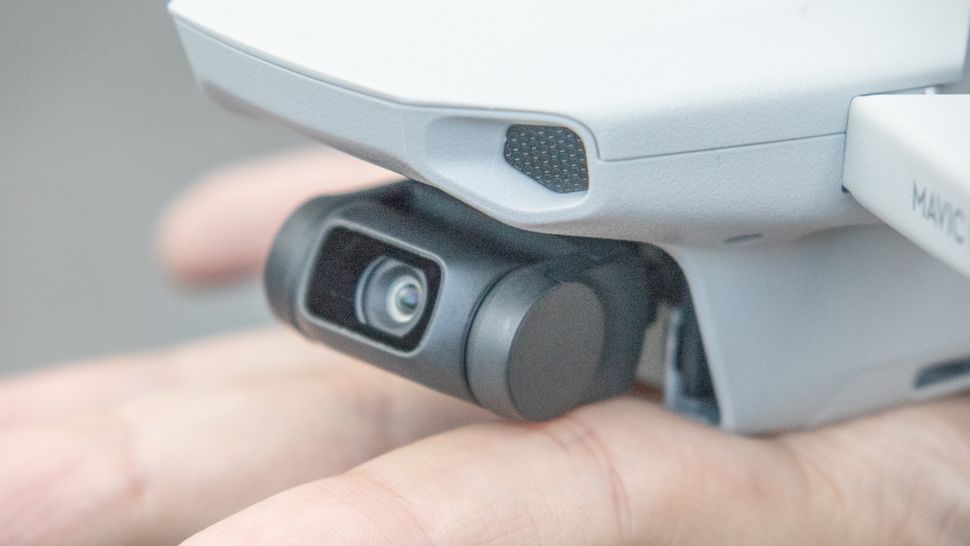 DJI Mavic Mini controller
Unlike some other drone controllers, the DJI Mavic Mini's doesn't include a screen; instead it unfolds to hold an Android or iOS smartphone. Tucked away in its body are screw-on joysticks, so that when it's collapsed the controller has a flat profile, and when opened out it delivers a traditional feel.
On the left side of the controller is a micro USB port for charging and connecting it to your phone. The drone also ships with Lightning, micro USB, and USB-C cables, so whatever smartphone you have, provided its software is compatible with the DJI Mavic Mini's Fly app, you're catered for.
The controller's jog-dial at the top pivots the camera vertically through 90 degrees, so it can look forward through to down. Unlike the Parrot Anafi, it can't look up, which would have been a bonus, but its range is typical of most drones. Buttons of note include the L trigger, which starts video recording, and the R trigger, which takes a photo – perfect if you're operating the drone while wearing gloves.
Setting up the flying experience is a little fiddly – you have to feed cables from the controller to your phone, screw on the joysticks, and fire up the app, all of which takes about a minute. From a portability point of view, though, the experience is about as compact as we could hope for when the drone and controller are collapsed, while still feeling robust and natural across the board when flying.
Once connected, we had no issues pairing the drone with our phones – we tried it with Android 9 and 10 phones, as well as an iPhone.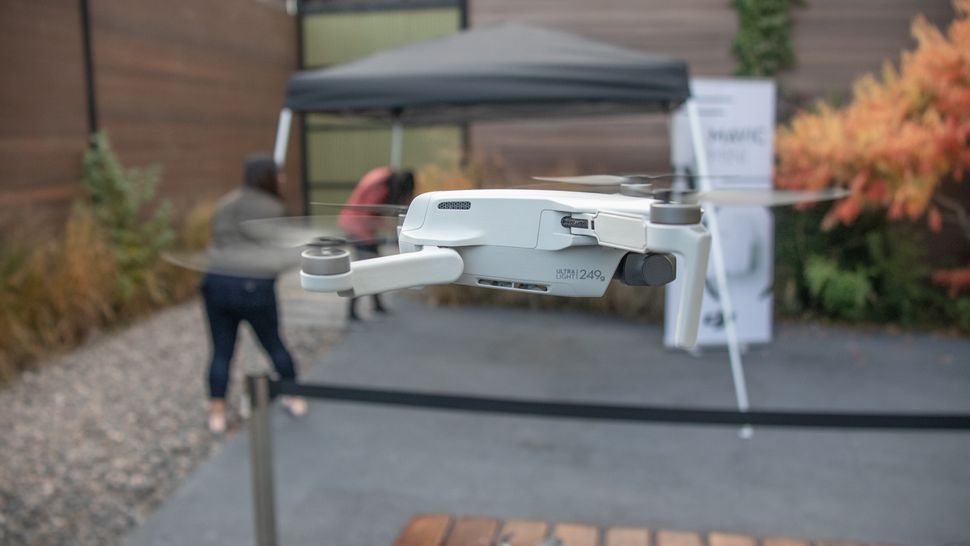 DJI Fly app
DJI's Fly app has been refreshed since we first used it, and now comes complete with guides and example videos, so that you can see what kind of footage you'll be capturing in its various modes.
It's a bizarre mix of experiences though. On the one hand, some aspects are very premium – the function tutorials and in-app tips are polished and handy, and the core UI is also intuitive and responsive; but some elements pop up in Chinese, and the Fly Spots component, which highlights areas safe to fly in, isn't localized outside of China.
Get past these niggles, though, and you're in for a treat. The modes are simple enough to get your head around, and the three speeds, which we'll come onto in the next section, are a doddle to toggle between and offer plenty of versatility.
Quickshots, as found on the Mavic Air, have also returned, which is excellent. These pre-programmed flight paths can engage dynamic pans at the press of a button, revolving around an object, and while there's one notable omission – Asteroid – the rest of the Quickshots, including our favorite, Helix, are accounted for.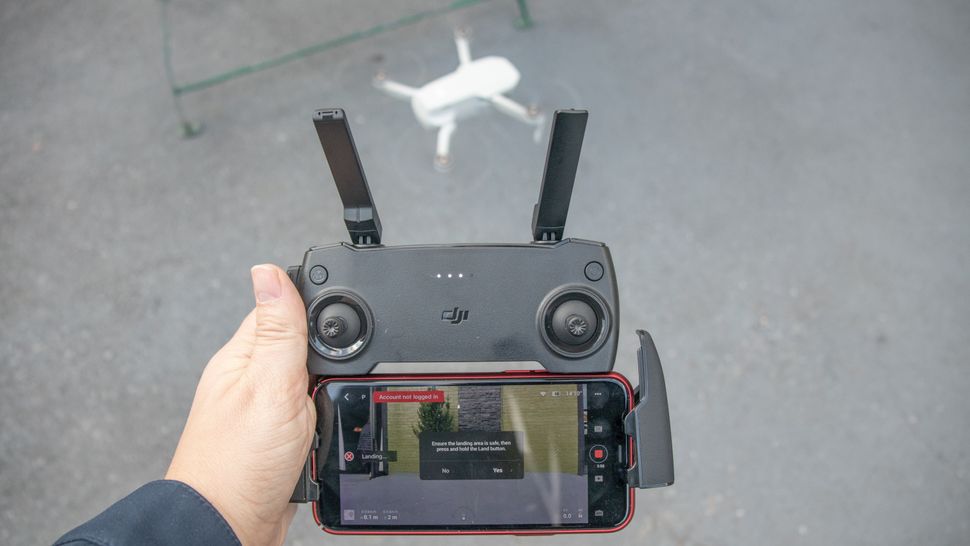 Control over images and video capture is relatively minimal, with no option to tweak contrast or saturation. You can still overlay handy tools like a histogram and gridline to help with framing, but we would have liked to have seen more options to enhance footage.
On the plus, the gimbal supports two modes: follow mode, which keeps the horizon line level, and FPV mode, which takes the perspective of the drone itself, while still keeping everything incredibly stable. This isn't just handy when flying – you can use the Mavic Mini as a fantastic handheld steady cam in a pinch, and toggling between these modes makes this possible.
Camera
The DJI Mavic Mini shoots 2.7K video at 30fps or 1080p video at 60fps. Its 1/2.3-inch sensor can also capture 12MP images across a range of modes, including Position mode for basic operation, Sports mode for more high-speed flight, and CineSmooth mode, which lengthens breaking time and slows things down for smoother shots and more cinematic footage.
Once you get it on your computer, drone footage seems more fast paced than it did on the field, so we found ourselves sticking to CineSmooth mode to get us the lingering shots we were after for the most part. All modes delivered stable footage, though there was a noticeable judder when changing direction while shooting in sports mode, as you can see at 02:30 in the sample footage below:
The fact that there isn't a 60fps 2.7K option also compounds the need to slow things down in the sky, as you won't have the option to do so in the editing phase with 30fps footage. If you're happy shooting in 1080p, however, then frame rates do climb up to 60fps.
Footage looks punchy, detail captured is solid in good light, and dynamic range is fair, though we noticed clips crying out for an ND filter on a couple of occasions. There isn't a huge amount of scope to pull detail out of highlights on bright days, so the Mavic Mini isn't going to be a pro filmmaker's dream drone, but its image quality is still great for what it is, and good enough for relatively seamless inserts with other drone footage, or casual aerial videography.
You can take control over photos with manual mode, with the option to use shutter speeds as long as four seconds, and up to ISO3200; as a result, low-light shots are perfectly usable. Low-light video has improved since we first got our hands on the Mavic Mini, but it still isn't something you'll want to capture on a drone with a 1/2.3-inch sensor, unless you're going to edit it heavily and stylize it, or are okay with a healthy amount of noise.
Image 1 of 3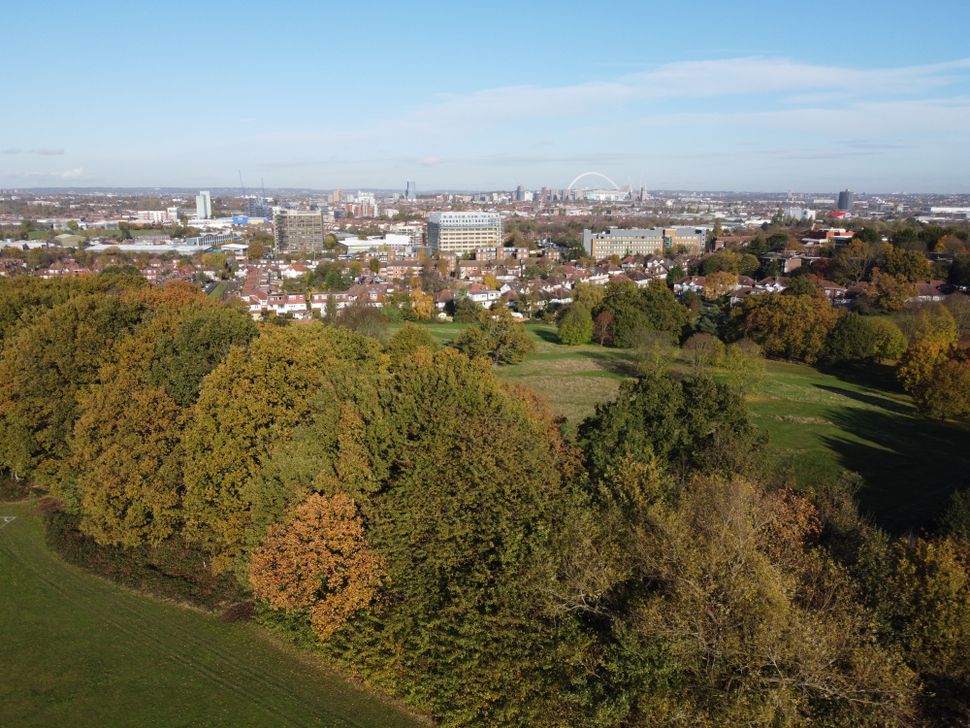 Image 2 of 3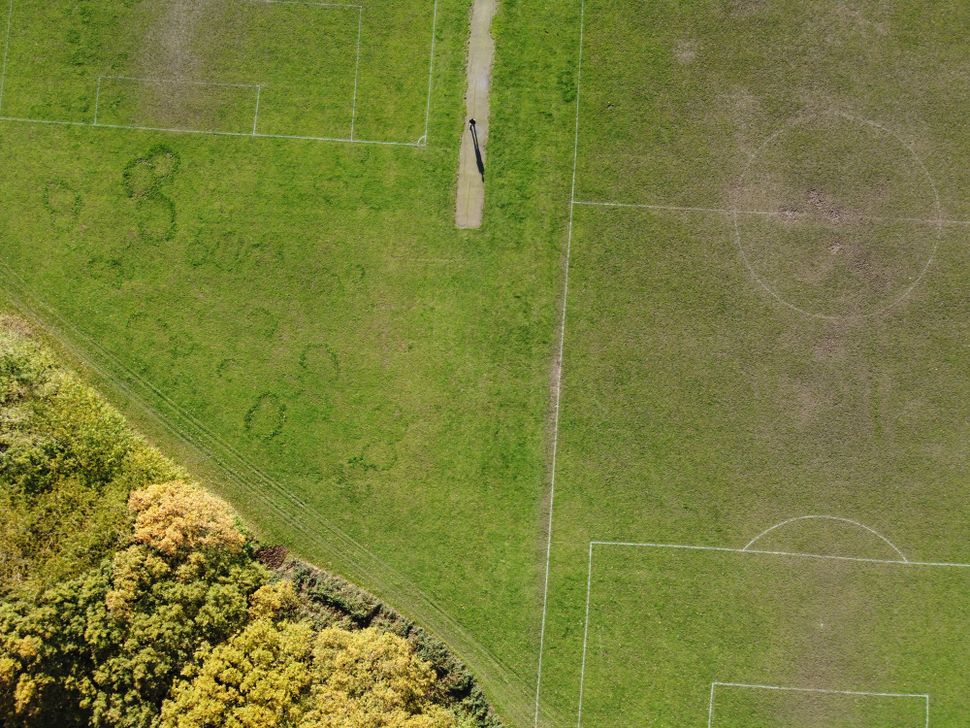 Image 3 of 3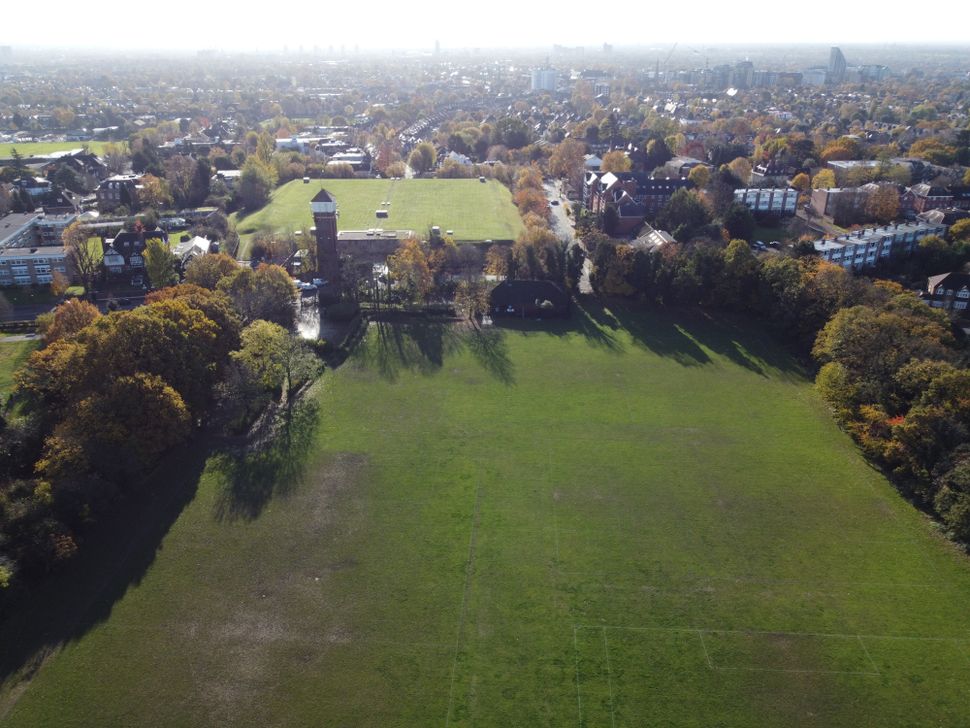 Connections and battery
The Mini connects via Wi-Fi, transmitting the live video feed to the controller, which plugs into your phone and engages with the app interface. With our phone's Wi-Fi connectivity switched on, our Mini disconnected from the controller at around 60 meters in an environment with plenty of ambient Wi-Fi connections.
Switching our phone to airplane mode extended this range significantly, and Mavic Mini users flying the drone in less built-up areas have achieved distances of in excess of two miles, with DJI's quoted maximum distance being 2.5 miles.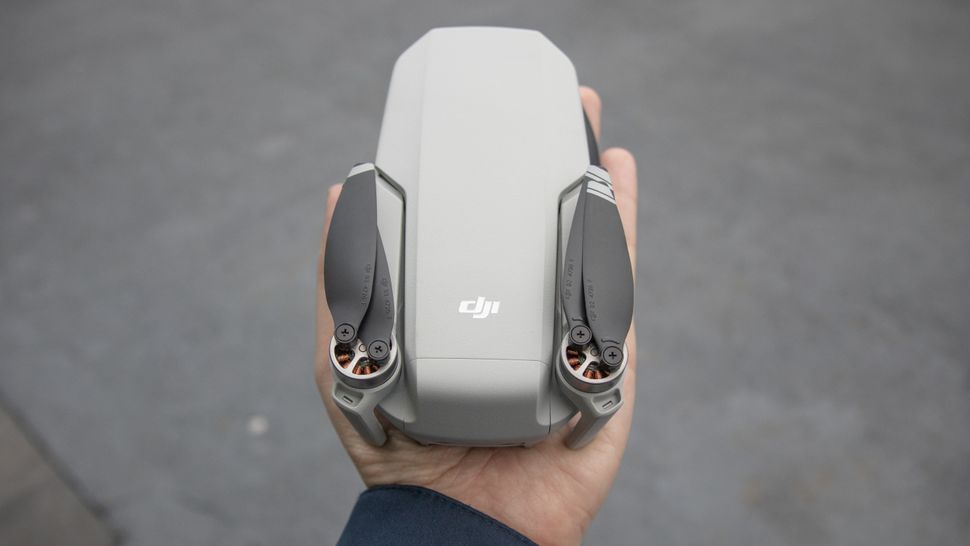 When plugged in, the controller charges your phone, with its 2,600mAh battery delivering ample juice for a couple of hours of flight time. As for the Mini itself, its batteries are 2,400mAh, with a quoted flight time of 30 minutes, depending on environment and usage. We found this to be roughly on the money, though flying primarily in Sports mode shaves a few minutes off the flight time.
We would have loved to have seen USB-C charging on the Mavic Mini, but that's probably our biggest gripe with the drone from a connectivity point of view.
DJI Mavic Mini verdict
Despite its age, the DJI Mavic Mini is still one of the best beginner-friendly drones you can buy. The Mini 2, which succeeded it in April 2020, did bring 4K video powers, Ocusync transmission for greater range, and the ability to shoot raw photos – but if none of those are important to you, then the Mavic Mini remains a very solid buy.
It's slight shame that firmware upgrades haven't brought a 2.7K/60p mode or object-tracking smarts. But the Mavic Mini has since been given manual exposure and white balance control for videos, along with a 2.7K/24p mode, thanks to a firmware update in April 2020.
It also has an impressive 30-minute battery life, which beats the 10-15 minutes offered by most drones of this size, and captures very smooth aerial video thanks to that three-axis gimbal.
Yes, $399 or £369 for a drone isn't throwaway money, but for casual users looking to level-up their aerial footage, and newbies who want a simple first step into drone flying, the Mavic Mini is a good alternative to our number one pick, the DJI Mini 2.
Basil Kronfli is the Head of content at Make Honey and freelance technology journalist. He is an experienced writer and producer and is skilled in video production, and runs the technology YouTube channel TechEdit.