Though the Denon DHT-S517 gets plenty right, it's just flawed enough to prevent it being a default choice.
Pros
+

Good features for the money

+

Robust, expansive sound

+

Well built and unobtrusive looks
Cons
-

Small subwoofer issues add up

-

Occasional audio format confusion

-

Uncertain with music
Why you can trust TechRadar We spend hours testing every product or service we review, so you can be sure you're buying the best. Find out more about how we test.
Denon DHT-S517: One-minute review
The Denon DHT-S517 wants to maximize the sound your money can get you. This is a Dolby Atmos-ready, soundbar-plus-wireless-subwoofer system, configured to serve up a 3.1.2-channel interpretation of movie soundtracks. From its tidy dimensions, to its adequate build and finish, the DHT-S517 is an unremarkable object with deadly serious aspirations.
Setting up the Denon DHT-S715 is simple. Input options are adequate. The subwoofer and the soundbar form a wireless connection almost as quickly as they're plugged into power. If 'ease of use' is important to you, this Denon will be just the ticket – it's genuinely hard to suggest ways in which it could be less taxing to operate. It's one of the best cheap soundbars for those who don't want any fuss.
The way the Denon DHT-S715 delivers movie soundtracks is equally gratifying. It serves up a big, expansive sound that's immersive and easy to follow, even if it doesn't maximize the full potential of Dolby Atmos soundtracks in the way that the best Dolby Atmos soundbars do. The subwoofer is just a little estranged from the rest of the action, though, and its relative lack of detail puts it at odds with its partnering soundbar, which is nice and clear. The whole system could do with a little more positivity when it comes to reproducing music, too.
There's plenty to admire here, though, and the Denon DHT-S517 is well worth consideration if you're looking for a very affordable and more compact option (ideal for TVs 50 inches and up). The Sony HT-G700 remains marginally our favorite in this kind of price range, though – and if you want something without the subwoofer, look to the Bose Smart Soundbar 600 or Sonos Beam 2nd Gen.
Denon DHT-S517 review: Price & release date
Released in mid-2022
Officially priced at $449 / £379 / AU$699
The Denon DHT-S517 launched in 2022, and in the UK it's priced at £379 – although you don't have to look long or hard to find it dipping closer to the £300 mark. In the US it retails for $449 tops, and in Australia it costs AU$699 or thereabouts.
This is a keen price for a Dolby Atmos soundbar/wireless subwoofer combo from one of the most credible brands around, but it's by no means without competition. Everyone from Sonos to Sony to Samsung has an option competing to get in our list of the best soundbars at around this price, though most don't have the real upfiring Dolby Drivers of the Denon.
Denon DHT-S517 review: Features
Great physical connectivity
Seven drivers in the soundbar
Setup is a breeze
The speakers in the Denon DHT-S517's soundbar portion are arranged to deliver the '3' and '2' element of the DHT-S517's '3.1.2' spatial audio configuration, while the subwoofer handles the bass. The soundbar is equipped with an oval 120 x 40mm 'racetrack' midrange driver at each end of the front, each accompanied by a 25mm tweeter, forming the left and right channels. A 25mm full-range driver sits in the center, as the center channel, unsurprisingly.
Behind each grille on the top of the soundbar there's a 66mm full-range driver, carefully angled to give it the best chance of reflecting sound from your ceiling for that overhead Dolby Atmos effect.
Denon is coy about revealing the amount of amplification power that's on tap here. But – as the 'audio performance' section will make obvious – the power that's available is plainly more than adequate for all but the largest listening spaces.
Setup couldn't really be any simpler. Both units require plugging into the power, and then the soundbar is attached to your TV – ideally via eARC, so its Dolby Atmos potential can be exploited. However, you've also got digital optical and a 3.5mm analogue input available. Happily, there are a couple of HDMI sockets – one with eARC to connect to the TV, while the other can take a video input and pass it through to the TV, so you don't lose the use of one of your precious HDMI ports.
The subwoofer and the soundbar wirelessly pair in an instant. If they don't, they can be forced to, but in our experience they locate each other and form a connection immediately. And that's your job done. There's no room calibration, no fiddling with cross-over frequencies. As far as the Denon DHT-S517 is concerned, one size fits all.
Control options are brief, and to the point. Aside from the physical controls on the soundbar itself, the DHT-S517 ships with a small, clicky remote control handset. As well as the obvious stuff – on/off, volume and input selection – it features an independent control for bass output, a 'dialogue enhancer' (which is basically the same thing, but for the midrange – choose between low, med and high), and a 'pure' control. This last simply switches off all audio processing, letting you enjoy music in simple old-fashioned stereo.
The audio format LED indicator on the DHT-S517 soundbar lights up in cyan to indicate a Dolby Atmos soundtrack, green for non-Atmos Dolby formats. But on occasion the green light comes on even though you know your incoming signal is in Dolby Atmos – and the soundbar's HDMI connection needs to be un- and then re-plugged before the Denon understands.
Denon DHT-S517 review: Audio performance
Big, assertive and (mostly) confident sound
Subwoofer could be better integrated
Dynamism and detail in similar measure
With Dolby Atmos audio, there's a lot to like about the way the DHT-S517 sounds. The mid-range, for example, is really impressively realized. The center channel is the hardest-working element of pretty much any movie soundtrack, of course, if for no other reason than that's where all the dialogue sits. The Denon does a good job in creating enough space for voices to project, and has plenty of insight into character, texture and tonality of spoken words. Even when voices are shouting to be heard above a busy, action-packed background, the DHT-S517 gives them enough space to express themselves.
The spaciousness of the overall soundstage is not to be sneezed at, either. The 'height' aspect of the Dolby Atmos soundtrack to The Man From Toronto isn't especially pronounced, it's true. But the Denon's presentation is nevertheless expansive and immersive. It steers effects on the 'left/right' axis with real positivity and locks sounds in position with similar authority.
At the top of the frequency range, there's absolutely as much bite and crunch as is acceptable. The DHT-S517 never threatens to misbehave, though, not unless you're reckless with volume levels – treble sounds can become ill-defined and a little shouty in these circumstances. Keep things at a realistic level, though, and there's decent balance to the top end and plenty of detail regarding texture and substance to enjoy.
The bottom of the frequency range is a little more problematic. There's no doubt the subwoofer digs deep and hits hard, and the all-important control of attack and decay is pretty good too. But it's a little short of detail and insight in comparison to the soundbar, and seems happy enough to just thump along to whatever's happening on-screen.
But more significant is the slight-but-definite sonic gap at the point where the soundbar hands over to the subwoofer. It's not a huge distance by any means, but the imperfect way the crossover between the two is judged is audible. It's got enthusiasm, though, the subwoofer. It absolutely relishes the big dynamic variations present in so many movie soundtracks, and even at considerable volume it controls its output well.
Switching to some purely audio content takes the DHT-S517 a little way out of its comfort zone. A file of Sugar's If I Can't Change Your Mind streamed via Bluetooth sounds every bit as robust and assertive as a movie soundtrack, but the Denon's inability to properly unify its frequency response is thrown into greater relief. The result is a sound that's a little lumpy, and rather too obviously the product of numerous components instead of a single entity.
Denon DHT-S517 review: Design
Simple design with classy fabric
Suitable for TVs of 48 inches and up
Remote control, or controls on top
The soundbar portion of the Denon DHT-S517 is a usefully compact 1050 x 60 x 95mm / 41.3 x 2.4 x 3.7 in (WxHxD), which is no wider than the best 48- to 50-inch TVs, and unlikely to block the bottom of all but the lowest-slung screens. The cabinet is of unremarkable plastic, though the dark gray acoustic cloth that covers its front half looks and feels upmarket in an understated sort of way.
The front of the soundbar features a small amount of branding and an equally little row of four LEDs. The number that are illuminated, and the color they display, will give you details of source, audio format and volume level. The top is where you'll find five control buttons, covering power on/off, Bluetooth pairing, input selection and volume up/down. The rear of the soundbar, meanwhile, is where the physical inputs live. There are also a couple of keyhole cutouts in case you'd like to wall-mount the soundbar – at 2.5kg it's not much of a threat even to partition walls.
The subwoofer, meanwhile, is built from the same plastic as the soundbar, and its front portion is covered in the same acoustic cloth, which hides a 150mm bass driver. At the back of the subwoofer cabinet is a fairly big bass reflex port, a socket for power and a button to wirelessly pair the sub to the soundbar. There's also a little tell-tale light to confirm wireless pairing has occurred.
Denon DHT-S517 review: Value
The speaker setup here is pretty much unrivalled for the price, and it's great fun to watch your favorite movies with this soundbar blasting out the audio, so it's a real shame that the link between the sound of the subwoofer and the soundbar isn't smoother.
When it comes to features, it's good, but not far beyond other affordable options – some will give you Wi-Fi, but some may not include a second HDMI port. It's a great-value buy, no question, but it's not far out of line with other options once you balance everything out.
Should you buy Denon DHT-S517?
Swipe to scroll horizontally
| | | |
| --- | --- | --- |
| Features | Real Dolby Atmos upfiring drivers, great connectivity, and Bluetooth. All it's lacking is Wi-Fi and DTS:X. | 4/5 |
| Sound quality | Expansive, great with dialogue, and clear treble. But the bass isn't perfectly integrated. | 4/5 |
| Design | All perfectly well designed – not a major looker, but smart and compact. | 3.5/5 |
| Value | Upfiring Atmos drivers at this price is great, but some do the overall soundstage better. | 4/5 |
Buy it if…
You like a bit of convenience
The Denon DHT-S517 is as close to 'plug and play' as these things ever get – a simple sound upgrade.
You enjoy a big, bold sound
For a fairly compact system, the Denon DHT-S517 sounds impressively large.
You don't want a soundbar that stands out
Its simple design and fabric finish mean that it blends well into the room. Nothing too offensive to the eyes.
Don't buy it if…
You want the full Dolby Atmos experience
Despite the upfiring drivers, it's more of a light serving than the full Atmos meal.
You're after a system for music as well as movies
The Denon is a lot less certain when dealing with tunes – look to Sonos or Bose instead for that.
You enjoy a smooth sonic ride
Things get a bit bumpy when the soundbar hands over to the subwoofer, and those with attuned hearing will really notice it.
Denon DHT-S517 review: Also consider…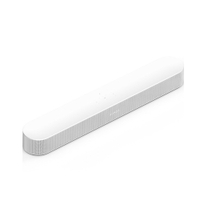 Sonos Beam 2nd Gen
No subwoofer or upfiring speakers here, but you get virtual Dolby Atmos and a really full, rich sound in a size that's great for TVs of 43 inches and up. It sounds great with music too, and supports Wi-Fi music streaming. Here's our full Sonos Beam 2nd Gen review.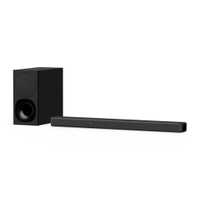 Sony HT-G700
Also good for TVs of around 50 inches and up, and also built for big Dolby Atmos sound. And also not very good with music. But the Sony does some real magic with its virtual Dolby Atmos support and sounds excellent with movies, and the sub is expertly integrated into the overall audio. Here's our full Sony HT-G700 review.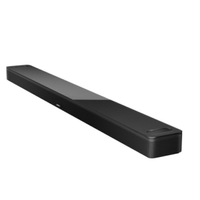 Bose Smart Soundbar 600
This is a lot like the Denon, including having real upfiring drivers for Atmos, but without the subwoofer included in the box. So it's even more compact, but handles music better. In our Bose Smart Soundbar 600 review, we hailed it as one of the best options available today – but it's a bit more expensive.
Simon Lucas is a senior editorial professional with deep experience of print/digital publishing and the consumer electronics landscape. Based in Brighton, Simon worked at TechRadar's sister site What HiFi? for a number of years, as both a features editor and a digital editor, before embarking on a career in freelance consultancy, content creation, and journalism for some of the biggest brands and publications in the world.
With enormous expertise in all things home entertainment, Simon reviews everything from turntables to soundbars for TechRadar, and also likes to dip his toes into longform features and buying guides. His bylines include GQ, The Guardian, Hi-Fi+, Metro, The Observer, Pocket Lint, Shortlist, Stuff T3, Tom's Guide, Trusted Reviews, and more.