Cyrusher ranger: Two-minute review
The Cyrusher Ranger is a full-package, premium electric bike that's shares genes with a mountain bike about as much as it does with a dual-purpose motorcycle. It's not a cheap e-bike, but it's making sure you get a lot for your money.
Many of the best electric bikes simply embed a little bit of motor power in an otherwise standard bicycle, like the Ribble Hyrbid AL e or Marin Sausalito E1. Some take a different tack. With front and rear suspension and fat tires, the Cyrusher ranger provides a supremely smooth ride, which is great given the 28mph top speed you can find yourself cruising along at with ease using the 750W motor. Even when you're flying, the bike offers plenty of range from its 52V20Ah battery. With a half-twist throttle that can pull the bike along at 20mph, it really is much like a motorcycle.
The Cyrusher Ranger might be a bit over-the-top for some. If you live somewhere that doesn't allow Class 2 or Class 3 ebikes, you'd be spending a lot for tech you can't tap into. If you just want a casual commuter and are largely riding on smooth pavement, the Ranger suspension and big tires will be less useful while playing a large part in the pricing.
But, if you want an e-bike that's happy to zoom down city streets, hop up and down curbs, and then hit trails all while enjoying plenty of motor assistance and range, the Cyrusher Ranger makes a competent option that's not a bad value.
Cyrusher Ranger: Specifications
Swipe to scroll horizontally
Cyrusher Ranger: Specifications

| | |
| --- | --- |
| Component | Value |
| Size range: | One Size (Rider Height Range 5'7"-6'6") |
| Motor: | 750W (1,200W peak), 80 Nm Bafang rear hub, geared |
| Top speed | 28+ mph |
| Power: | 52V 20ah (1,040Wh) Samsung lithium battery (IP65), 12.2 pounds |
| Control: | Torque-sensor pedal assist, half-twist throttle |
| E-bike classification: | Class 3 |
| Speeds: | 9-speed |
| Brakes: | Logan 180mm hydraulic disc brakes |
| Frame material: | 6061 aluminum |
| Weight: | 33 kg / 74 lbs |
| Weight capacity: | 150 kg / 330 lbs |
| Range: | 56 miles |
Cyrusher Ranger: Price and availability
$2,799 in US
£2,799 in UK
Unavailable in AU
The Cyrusher Ranger is available now directly from Cyrusher for $2,799 in the continental United States or Alaska and Hawaii with extra shipping charges. It is also available in the UK for £2,799. Discounts are often available on the site, and it's as-yet-unavailable in Australia.
Cyrusher Ranger: Design
Big, bulky and robust
Heavy-duty off-roading wheels
Removable battery
Electric bikes come in all shapes and sizes, but the Cyrusher Ranger's shape and size are both decidedly big. From its monstrous wheels and motorcycle-esque dual-crown fork to its giant battery compartment and expanded bottom bracket, everything goes big on this bike. That goes especially for the weight. While Cyrusher rates the bike as weighing 66 pounds before jumping to 74 pounds with its battery installed, we weighed our test unit at 78.2 pounds before finally hitting a total of 90.4 pounds with the battery installed and all included accessories accounted for — a confusing discrepancy.
The Cyrusher Ranger makes sense of all that size with the gear it's packing on. It squeezes in supple, grippy 26" x 4" offroading wheels, which are held on with a curious axle that connects with a bolt threaded onto each side — not your typical thru-axle or skewer. It has a deep Cyrusher-branded spring suspension fork in front (we're told it's a YISHUO Kunshan Yishuo Strong-DH/P171-26 suspension fork, but can find no details on this model online) with preload and compression adjustment dials, and a comfy soft tail with air suspension in the back that can also lock out.
The rear suspension is also Cyrusher branded but we're told shares much in common with this DNM shock system. The bike uses Logan dual-caliper hydraulic disc brakes and includes motor cut-off circuitry with the brake levers. It's even tacked on a 9-speed Shimano Altus drivetrain It fits a large LCD display with a USB port for charging extra gadgets onto the handlebars, though sadly most of the screen is taken up by a large green and gray arc that doesn't actually indicate anything.
Even the controls are stacked. There's a two-button controller for the headlight-horn combo unit, which has a decent headlight but seriously lackluster beeping noise that's neither loud nor attention-getting. Next to that is the control unit for the bike's assist modes and power. Meanwhile, the right handle has a half-twist throttle. This does result in quite a bit of cable mess at the front end of the bike, but it's well-grouped with cable ties.
The beefy downtube is housing the bike's 52V 20Ah battery, which is about as large as you'll find on standard e-bikes before breaking into the sort that is really not even pretending they're not motorcycles anymore. The battery has a latch to keep it from falling out and has a keyed locking pin.
Unfortunately, the battery comes out the bottom of the frame, which can see make it tricky to remove around the front tire, and it doesn't provide any easy spots to get a grip and pull it out. Still, it's good the battery is removable because the bike is incredibly unwieldy to carry as large as it is and at XX pounds, so anyone who can't plug it in to charge in a garage will desperately want to just take the battery alone in for charging.
The Ranger comes in a few different colors, all of which use a different color for the rear triangle. Cyrusher goes a little overboard with accents on the bike, giving a bit of a gaudy appearance to a bike that already has a loud presence due to its size.
Despite all that the bike has going on, it's fairly easy to put together. The handlebar needs attaching, and the front wheel needs to be seated in the fork (a job best for two people), the pedals need attaching, and then a few accessories need to be connected. But it's a quick job and Cyrusher includes the necessary tools.
One problem with the bike's size that we don't want to overlook is how hard this can make it to safely lock up. A U-lock can really only effectively go around the top tube, and it will take a long tether to get around both wheels. Locking through the fork is possible, but less secure. You'll likely want a long, robust chain lock for this bike, which is going to add considerably to the amount of weight you're already dealing with.
Cyrusher Ranger: Performance
Frame and seat awkwardly sized
Powerful motor and throttle
Holds charge well
As a bike that's tuned for offroad riding, the Cyrusher Ranger is supremely comfortable on pavement. There's a major confluence of comfort from the bikes various components. The front and rear air suspension combine to soak up substantial amounts of shock. That's on top of the exceptional absorption offered by the bike's enormous tires.
In comparison, the saddle and handlebars feel like weak links. Part of this comes from the available riding positions. The Ranger comes with an exceedingly short seatpost, so even though the bike is advertised as fitting riders up to 6'6", taller riders will be stuck with a very low seated position that puts more weight into the saddle and will have to stand to pedal comfortably. The handlebars have basic, cylindrical grips that feel surprisingly comfortable, but that may simply be because we don't get to put a lot of weight into our hands given the riding position.
For those who want a more natural riding experience, a new seatpost is an inexpensive upgrade. Though Ranger is styled like a mountain bike, it's more of an urban all-terrain vehicle, so the out-of-saddle riding that's common for mountain biking doesn't seem all that appropriate for the Ranger. No less because the Ranger's hub motor doesn't have the same smooth response of a mid-drive, which would be preferable for trail riding where a jerky motor could be hazardous.
That's not to discount the motor on the Cyrusher Ranger. The 750W Bafang hub drive is a blast. On throttle alone, it takes little time to cruise up to the bike's 20mph cap. Even at that speed, the motor hums along quietly while the large wheels are responsible for the bulk of the noise coming from the bike. Even more speed is available by pedaling. The bike will zoom up to 28mph with ease. The system uses a torque sensor, responding to the force we put into the pedals to ramp up the motor.
The result is far more natural than a cadence sensor, which just measures how fast the pedals are spinning. The sensor may be a little oversensitive, though, as we often find it kicking in when we're making small maneuvers at stoplights. That can be a concern since there's a lot of motor power to wrangle after it unexpectedly kicks on.
Thankfully, the bike has motor cut-offs built into the brake levers. The 180mm hydraulic disc brakes are also predictably effective. Our ability to come to a quick stop has never been a concern even with a payload of around 330 pounds between our weight and the bike's.
Between its speed and super-smooth ride, the Cyrusher Ranger has more appeal as a low-cost motorcycle alternative. While the Super73-R Brooklyn was more overt in its attempt to make a "bike" that was as close to a motorcycle as possible, the Cyrusher Ranger stays closer to a true pedal bicycle while still being able to bleed over into that motorcycle-like category. Part of that comes from the 9-speed gearing, which makes it possible to easily find a gear where pedaling is actually useful, unlike the aforementioned single-speed Super73.
For those looking to tool around on a motorcycle, the roughly 1kWh battery provides plenty of juice for doing just that. Cruising around on the Ranger largely using the throttle and set to its highest assist level, we're able to go over 33 miles before the battery is on its last legs and giving too little support to continue providing an enjoyable, electrified ride. As fun as e-bikes are to ride while they're powered, they're nearly equally un-fun to ride when that power runs out because of all their added weight.
Gearing on the Ranger makes it fairly easy to continue riding at low speeds, getting up to 12mph casually even when the battery gives up. It's worth noting that we tested the Cyrusher Ranger in winter conditions, including some freezing days, which negatively impacts the battery performance. The 33.8-mile range we got is all the more impressive as it's effectively a worst-case range. Lighter riders, better weather conditions, and less stop-go city traffic should all make for an even longer range.
Cyrusher Ranger: Buy it if...
You want to cruise over rough terrain
Two key parts of the Cyrusher Ranger package are its suspension and fat tires. These provide a comfortable ride on all sorts of terrain, making this a go-anywhere e-bike.
You want an easy ride
The Ranger's powerful motor and large battery will happily shoulder the effort of riding, so you can just enjoy cruising along at your leisure.
You want a motorcycle-lite
If you want a motorcycle but don't need the speed, don't want to use gasoline, and want to save a bit of money on the bike itself and license/registration/insurance, the Ranger is a viable substitute that gets around town quite well in a motorcycle's stead.
Cyrusher Ranger: Don't buy it if...
You can't handle a big, heavy bike
If you live in a small walk-up apartment or simply don't have it in you to schlep a massive, heavy bike from time to time, you'll probably want to skip the Ranger.
You don't need the bells and whistles
The Ranger offers decent value, but there are much cheaper options that are still competent if you don't mind skipping the full suspension and fat tires.
You want low maintenance
More parts, more problems. The Ranger has a lot going on, which will mean more maintenance over time, and they're not all common, cheaply replaced parts either.
Also consider
Swipe to scroll horizontally
| | | |
| --- | --- | --- |
| Component | Cyrusher Ranger | Specialized Levo SL Expert Carbon eMTB |
| Size range: | One Size (Rider Height Range 5'7"-6'6") | S-XL |
| Motor: | 750W (1,200W peak), 80 Nm Bafang rear hub, geared | Specialized SL 1.1, custom lightweight motor |
| Top speed | 28+ mph | 28 mph |
| Power: | 52V 20ah (1,040Wh) Samsung lithium battery (IP65), 12.2 pounds | Specialized SL1-320, fully integrated, 320Wh |
| Control: | Torque-sensor pedal assist, half-twist throttle | Specialized TCU handlebar remote |
| E-bike classification: | Class 3 | Class 1 |
| Speeds: | 9-speed | SRAM Eagle X01 12-speed drivetrain |
| Brakes: | Logan 180mm hydraulic disc brakes | SRAM Code RS, 4-piston caliper, hydraulic disc, 200mm |
| Frame material: | 6061 aluminum | FACT 11m full carbon |
| Weight: | 33 kg / 74 lbs | 18 kg / 40 lbs |
| Weight capacity: | 150 kg / 330 lbs | 109 kg / 240 lbs |
| Range: | 56 miles | Row 12 - Cell 2 |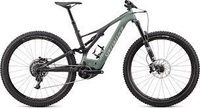 Specialized Levo SL Expert Carbon
Rated one of the best eMTBs, it's not as bulky and robust as the Cyrusher, nor is it a motorbike replacement, but it'll handle rough terrain at a fraction of the weight.
Read our full Specialized Levo SL Expert Carbon review
First reviewed: March 2023