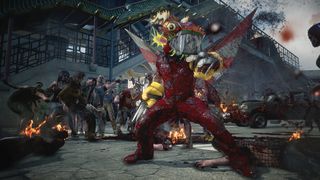 You can't keep a good franchise down and with the arrival of the Xbox One things are about to get a whole lot more interesting. The Xbox One isn't wasting any time in bringing these experiences either, with a truckload of titles to get your hands on from launch day.
Here's how your well known franchises are about to take a bold step into the next generation on Xbox One.
Dead Rising 3
Welcome to the city of Los Perdidos. Population: aggressively antisocial, also hungry. Thought the zombie hordes couldn't get any tougher? Dead Rising 3 is bigger, badder and bloodier than ever. But don't worry - that also means you also have a tonne of more novelty items to chuck at the unfriendly undead.
You've also got a brand new tool in your pocket: SmartGlass. Using your SmartGlass-enabled device you can access special missions, request drone support or even call in an airstrike when the flesh eaters start to overwhelm. George Romero, watch and learn.
Forza Motorsport 5
If there's a game to show off the potential of cloud power, it's Forza Motorsport 5. Sure, it looks more photorealistic than ever, it runs at 60fps at 1080p (full HD), it's packed with more vehicles than you can shake an oily rag at - everything you'd expect from the latest instalment of the acclaimed racing series.
But it's the introduction of Drivatars, Forza 5's brilliant answer to lacklustre AI, that's a real road-based revolution on the Xbox One. Drivatar learns your driving habits, good and bad, to create a virtual version of you.
You're then added to a network of opponents that other players can race against. This means your competitors will always be real people, and they don't even have to be sat at their Xbox One console at the time. They could literally beat you with their hands tied behind their backs.
Call of Duty: Ghosts
The blockbuster Call of Duty franchise makes a welcome debut on Xbox One, and this time it's really raising the bar. Powered by the next-generation Call of Duty engine and with the Xbox One's dedicated server support, the experience is more explosive and immersive than it's ever been.
Even better, Call of Duty: Ghosts DLC will be available first on Xbox One, meaning you can get your hands on the latest content before anyone else. It's the Free Fall dynamic multiplayer map we're most looking forward too though, which throws you into the heat of combat in a collapsing tower building hundreds of feet above the streets below. Makes John McClane look like a pencil pusher.
Battlefield 4
Powered by DICE's Frostbite 3 engine, the next generation of Battlefield promises to be like nothing you've seen before. Don't worry, there will still be explosions aplenty. But Levolution introduces a way of playing you've never experienced before, ensuring no two matches are ever the same.
Every action has a reaction, and everything you do affects the interactive environment in some way. Variety is the spice of life - and death.
Of course, all that destruction is going to look a heck of a lot better with enhanced animations, crisper visuals, and all running at 60 frames-per-second, which is why it's an Xbox One must-have for any shooter fan.
FIFA 14
FIFA 14 may have just hit the Xbox 360 but on Xbox One it's aiming much higher. Most of this is down to EA's next-gen Ignite engine, enhancing the AI with Human Intelligence to make other players much more lifelike in their reactions. True Player Motion, meanwhile, makes in-game players move and behave just like their real-life counterparts.
On top of that, the crowds look more alive and realistic than ever before, helping to create an incredibly immersive atmosphere that's closer to the real thing than it's ever been.
Oh, and if you're feeling a tad nostalgic, remember that FIFA 14 also introduces Ultimate Team Legends, which lets you bring back players from football years gone by. Don't worry if you think they're a bit past it now - you'll be getting prime time Pelé.
Just Dance 2014
Just Dance 2014 is grooving its way onto the Xbox One with huge expectations from its fanbase. Kinect now tracks your moves far more accurately and can also track up to six players - more than ever before. There's even some new acrobatic choreography involved this time, including human pyramids, which you'll only get in the Xbox One experiences.
Alternatively, One Stage mode lets one player take centre stage while their friends step behind the limelight and take the role of the backing dancers.
SmartGlass is also front and centre of the new Just Dance experience. You can control the experience from the sofa with your smartphone or tablet, editing playlists without interrupting any of the action.
Then there's Party Master mode on SmartGlass, which lets you get more involved by choosing dance moves for the players to bust. Just Dance 2014 also arrives in full HD on Xbox One, meaning that this isn't just the most packed-out Just Dance experience yet, it's also the best looking. Set phasers to funk.
Sign up for Black Friday email alerts!
Get the hottest deals available in your inbox plus news, reviews, opinion, analysis and more from the TechRadar team.