Key streaming info
- Spider-Man: No Way Home is now streaming on Starz in the US, HBO Max Brazil, Netflix India and Sky/Now TV in the UK
- The movie is also available to buy and rent on various services including Prime Video, Apple TV and Google Play
- Expected to come to Netflix globally following the conclusion of Starz's 18-month exclusivity deal
- A Disney Plus release is uncertain, but unlikely given complicated distribution rights
Having swung its way into theaters last December, Spider-Man: No Way Home has since gone on to become the sixth biggest movie in history – but when is Peter Parker's latest adventure hitting streaming services?
Well, the answer is a little complicated. Right now, No Way Home is streaming on various different platforms in various different regions, and it's available buy and rent on Apple TV, Prime Video, Google Play and a handful of lesser-known services.
There's been no official word yet on the movie's Netflix and/or Disney Plus release dates in the US, UK and Australia, but existing deals and industry trends mean we've got our own predictions as to whether the Phase 4 Marvel movie will come to these streamers in the near future, which you'll find further down this page.
First up, let's get into No Way Home's video-on-demand (VOD) release. If you're looking to stream the movie right now, a digital copy is available to buy outright through Prime Video, Apple TV (iTunes), Vudu, Google Play, Microsoft and YouTube in the US, UK and Australia for $19.99 / £14.99 (around AU$25), depending on the picture quality you choose.
The physical DVD and Blu-ray versions of the movie were released on April 4, April 12 and April 13 in the UK, US and Australia, respectively. On April 12, No Way Home also became available to rent in the US for $5.99 (as opposed to being purchased in its entirety) through those aforementioned platforms.
As for the movie's bona fide streaming release, No Way Home came to US cable network (and Lionsgate subsidiary) Starz – which owns the exclusive rights to distribute the film for up to 18 months after its December 2021 release – on July 15. In the same month, No Way Home arrived on Sky and Now TV in the UK.
Will Spider-Man: No Way Home come to Disney Plus?
As for whether Spider-Man: No Way Home will stream for free on Disney Plus in the near future, the jury is still out – but the prognosis isn't good. Sony currently holds the rights to Marvel's feature-length Spider-Man properties, meaning there's no obligation for the studio to offer up the film to Disney's platform, where the majority of other Marvel movies reside.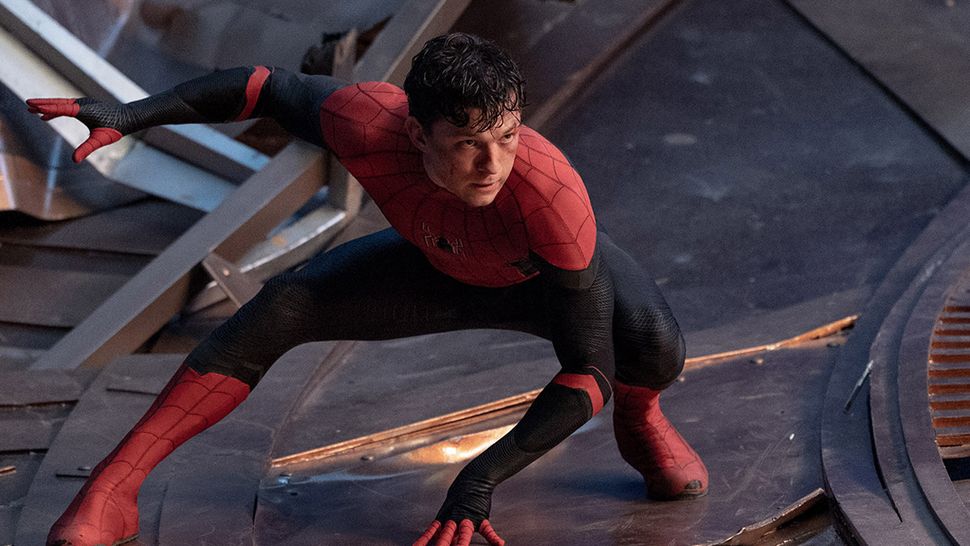 So, with that 18-month Starz exclusivity deal running until July 2023, we wouldn't ordinarily expect to see No Way Home arrive (at Marvel's request) on Disney Plus for at least another year. At that point, though, Netflix – which currently owns the distribution rights to Spider-Man films in the UK, Australia, India and other regions – will own the worldwide rights to all Sony movies (per the terms of an existing deal (opens in new tab)), meaning a Disney Plus arrival for No Way Home may not be on the cards at all.
At the time of writing, several of the webslinger's movies are available to stream on Netflix in multiple international markets. Spider-Man: Far From Home had also been available to watch on the streamer, but it was removed from Netflix's back catalog ahead of No Way Home's release. Oddly, many Sony-produced Spidey flicks made their way onto Disney Plus internationally in June – meaning the likes of Spider-Man (2002) and Spider-Man: Homecoming (2017) now exist concurrently on Netflix and Disney Plus in certain markets – but we're yet to see this happen in the US.
Given that Netflix holds the distribution rights to Sony Pictures' movie slate for the next five years, then (which includes a first-look deal on all upcoming Spider-Man films, per The Wall Street Journal (opens in new tab)), it's unlikely that No Way Home will be coming to Disney Plus any time soon.
So, if you do want to stream the final movie in Tom Holland's wall-crawler trilogy as part of an existing subscription package, you'll have to do so on Starz (or Sky/Now TV in the UK). As for when No Way Home will come to Netflix? Not until next year, in the US at least. The film has already landed on Netflix India, but it remains unclear which or when other versions of the streamer will get the nod. We'll update this article when we have more news on that front.