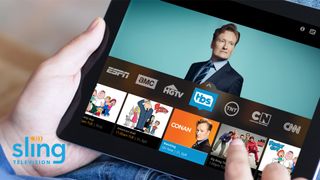 It's 2016, which means the end of cable as we know it is way past due. Thankfully, it's easier than ever to finally cut the cord and be free of those overcharging cable companies forever -- while still being able to enjoy more content than you could ever watch.
There are plenty of reasons to cut the cord, and not all of them having anything to do with money. In fact, most of them don't -- even if cable and streaming services cost the same amount, it would still be a good idea to make the switch.
Here are some of the top reasons to finally cut the cord and switch to streaming.
Take your TV shows with you
One of the best things about switching to streaming is that you don't need to stick to the living room. In fact, all major streaming services, including the likes of Netflix, Hulu, and Sling TV have apps for Android TV and Apple TV, but also for Android and iOS smartphones and tablets, and even for your Mac or PC. That means that you can stream while in bed on your iPad, or using your smartphone on the bus while you head to work - which is perfect if you're in the middle of a show you just can't stop watching.
You don't have to give up live TV and sports
One of the main complaints when it comes to streaming seems to be that there isn't enough for those that still want to watch live TV or live sports. Not so! There are some great streaming services out there that offer all the advantages of streaming services but still offer live TV -- like Sling TV. Sling TV essentially lets you subscribe to a core service of 25-40 channels -- which can includes the likes of CNN, ESPN, and Comedy Central -- as well as add-on packages, like the Sports Extra package, which lets you watch channels like ESPNews and BeIN Sports.
Only pay for what you need
As mentioned, with services like Sling TV, you can customize your entertainment experience by subscribing to Sling Orange or Sling Blue core services, and then add on what you need. Love movies? Subscribe to Hollywood Extra. Watch a lot of football? Add Sports Extra to your subscription. You don't need to pay for channels that you don't watch, like 90 percent of the channels you probably have in your cable package. The same is true for streaming services in general. Want to watch the new Marvel show on Netflix? Subscribe to Netflix. Don't care about it? Don't subscribe! With services as cheap as they are, you could subscribe to three or more streaming services and still not pay anywhere near the same amount as your cable package.
Not only that, but most services have multiple options -- you'll pay a different price for the ability to stream on different screens and different resolutions, but if you don't need or want those options, you don't have to pay for them.
Cut the cord -- literally
The world is going wireless, and it's about time. With smart TVs and devices like the Google Chromecast, instead of having to deal with set-top boxes and other unruly devices, you can simply download the app for the service you want to stream from, and watch the show over Wi-Fi. Even with a little box like an Apple TV, there's far less mess to deal with than you would have with a set-top box from the likes of Comcast.
No more contracts!
The is perhaps the best part of cutting the cord -- while the likes of Comcast would have you on the hook with a contract for months at a time, with streaming services you can subscribe and cancel at your convenience. No need for binding contracts that end up costing much more than they're worth.
Plus, streaming services like Sling TV make it easy to turn your account on or off, if you only want it for a limited time, like watching AMC's The Walking Dead, or football season. Not only that, but some services, like Sling TV and Netflix, offer free trials -- so you can try it out to see how you like it before ever spending a dime.
Conclusions
There's really no reason to stick with cable TV. There are plenty of streaming solutions for those who still want live TV -- like Sling TV -- and there are services like Netflix, which offer awesome original TV shows you can watch whenever you want.
Sponsored by Sling TV
Get daily insight, inspiration and deals in your inbox
Get the hottest deals available in your inbox plus news, reviews, opinion, analysis and more from the TechRadar team.