"The hair dryer sector lacks beauty": Celeb stylist Michael Douglas on why he launched the mdlondon BLOW
Michael Douglas has styled the likes of Claudia Schiffer and Naomi Campbell, Kate Moss and Yasmin Le Bon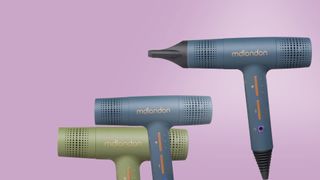 (Image credit: Future)
If you were to do a quick Google search for the best hair dryer, you'd be forgiven for thinking there are already a lot of hair dryers to choose from. Too many, in fact.
Today, there are dozens of shapes and sizes available to suit all budgets. Yet despite this sea of competition, it hasn't stopped a number of newcomers from entering the market, hoping to steal a charge against the incumbents.
Hairdryer specifications:
Here are the specifications of the mdlondon BLOW hairdryer:

Price: $236 / £195 / AU$342
Speed settings: Three
Heat settings: Three
Hanging loop: No
Cord length: 1.8m
Cool shot: Yes
Weight: 0.79lb/360g
Attachments: Two concentrator nozzles. Diffuser sold separately
One such newcomer is the mdlondon BLOW dryer by Michael Douglas. Whilst Douglas himself isn't a newcomer to this business, for almost 30 years he has been a hairstylist for the likes of Claudia Schiffer and Naomi Campbell, Kate Moss, and Yasmin Le Bon (to name a few).
He's worked on global beauty and editorial campaigns and has built up a following across social, TV, and radio too.
The BLOW dryer is the first styling product to launch under his mdlondon brand. It costs $236 / £195 / AU$342 and is available in the UK and ROI. There are plans to make the BLOW more widely available later this year, as well as release other stylers and products in the near future, so sit tight if you're outside of the UK and ROI; this trailblazing hairdryer will (hopefully) be available to you soon.
We wanted to find out more about why the mdlondon BLOW was launched, the thought process behind the design, and how this hair dryer is going to stand out from the crowd, so we caught up with Douglas for a chat about his innovation.
Reinventing the wheel
The first thing you notice about the mdlondon BLOW is its T-shaped design. As you can read in our mdlondon BLOW review, this shape is not too dissimilar to the Beauty Works Aeris but it is leagues away from the round, almost bulbous hair dryer designs of old.
The buttons and barrel have been positioned in such a way as to make the dryer balanced and as easy to use as possible, and little touches like the magnetic attachments and matte colorways add to the overall effect. Small, yet significant touches like this are considered and deliberate, according to Douglas.
"The hair dryer I wanted to use didn't exist," Douglas explained. "So I decided to create it. The design is built around my needs and the desire for other people to use it on themselves with ease. Many people would ask me to recommend the best hair dryer ever, that wasn't too expensive, unfortunately, I didn't have a good answer."
To solve this, Douglas began by getting rid of all the things he doesn't like about the standard hair dryer design.
"[Traditional dryers] are too heavy, too noisy, too expensive, too bulky. They're very old-fashioned looking. The colors are either too dull (black) or too garish (bright pink). There has been little to no thought into the dryer's actual purpose, which is to create shiny, smooth, frizz-free voluminous hairstyles."
Using his experience in the business, Douglas began testing existing designs that feature the latest drying technology, namely the brushless DC motors found in the likes of the Dyson Supersonic.
"The technology was great however the designs were awful and too expensive for me to recommend," added Douglas.
In late 2021, Douglas set about testing the best and most up-to-date designs of new hairdryers in the trade arena and used the results to physically design what he calls his "dream hair dryer."
He designed the attachments, the buttons, the colors, finish, and texture along with making the cable longer and giving the hairdryer a reverse self-cleaning function.
Douglas also wanted to make the dryer as lightweight as possible, without sacrificing speed or power.
"The actual weight of the BLOW hairdryer is a key difference. It's half the weight of all the professional dryers I'd been using and this makes a massive difference for the consumer styling their own hair."
Elsewhere, the BLOW's airflow measures 11 meters of air per second. "This is a fantastic force for getting the hair to do what you want it to do i.e. make it silky smooth," continued Douglas.
The nozzle has then been designed to create compressed airflow at the exact size of a blow-dry brush, meaning you can blow-dry a whole section in one go.
"This makes such a difference in the amount of time it would take using a smaller nozzle," said Douglas. "We're talking approximately 40% drying time shaved off with BLOW when used correctly."
When used correctly
The caveat Douglas makes at the end of that quote is key.
"Most people think their hair problems are solved with shampoo and conditioner, but they are largely solved by being good at blow-drying your own hair," Douglas continued.
"Every customer that buys the BLOW dryer receives a QR code to direct them on how to use it efficiently via a video tutorial. There are also many different styling videos on the website depending on the desired style one is looking to achieve."
When asked what "using it efficiently" means, Douglas said: "Many people start using a brush and blow-dryer when the hair is still soaking wet. The styling process only takes place when the hair goes from damp to completely dry so there is no point in using a brush until the hair is approximately 75% dry."
He also said that many people tend to use incorrect styling products and brushes for their desired outcome. "One of the confusing issues when it comes to hair is that many think there are general solutions to various problems but in actual fact, it's mostly specific solutions to individual needs."
The price is (almost) right
For all the design benefits, features, and performance – as well as Douglas' comments about how existing models are too expensive – spending $236 / £195 / AU$342 will put the BLOW out of reach of many people.
Yet Douglas believes that the price is lower than it should be.
"The price is based on two things: the cost of goods, and how much we can sell through our own platform. To sell our dryer through the usual third-party retailers comes with a hefty retail margin of 50%," he explained.
"In reality BLOW should be around the $300 / £250 / AUS$450/ price point, however, if we can do enough business through our own direct website where we don't have to stomach those retail margins the business can survive selling it at under $250 / £200 / AUS$350."
"I know and respect my audience and want to deliver the best products at the best price possible," he continued, before adding: "We'll be making other styling tools in the coming months that will be under $125 / £100 / AUS$175 too, so watch this space!"
Finally, when asked what made him want to enter such a seemingly competitive market, Douglas was quick to address this. "If I am completely honest, I don't see it as that competitive; I see it as desperately needing to be revolutionized.
"The whole sector seems to lack anything beautiful, it almost looks like most of the products belong in the domestic appliance department rather than the beauty department. How the vacuum cleaner companies have come to try and own this space is baffling and I aim to reclaim it!"
Sign up to receive daily breaking news, reviews, opinion, analysis, deals and more from the world of tech.
Victoria Woollaston is a freelance science and technology journalist with more than a decade's experience writing for Wired UK, Alphr, Expert Reviews, TechRadar, Shortlist and the Sunday Times. She has a keen interest in next-generation technology and its potential to revolutionise how we live and work.