Let's watch grass grow: Masters Tournament getting live 4K treatment on DirecTV
Can your retinas handle the agrostological greatness?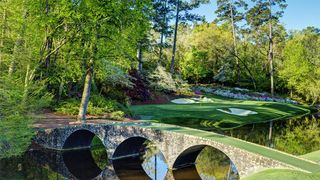 It's a tradition unlike any other, but evidently, traditions can look way better in 2016 than in years prior. In a move that can only be described as a miracle in the world of compression and encoding, AT&T has announced that it'll push the first-ever 4K broadcast in the U.S. over DirecTV with next month's Masters Tournament.
The year's most heralded golf event has been a popular spot for visual experimentation. DirecTV offered up six simultaneous views with its Masters Mix in 2011, and Comcast used the occasion to test out live 3D coverage in 2010.
High-res milestone
The move is significant on a couple of levels. For one, it's proof that backend engineering has progressed to a point where it's actually possible to broadcast a live event -- unequivocally the most difficult in television to wrangle -- at a resolution that would've been seen as impossible just a few years ago. Secondly, you could argue that live events are exactly the boost Ultra HD needs to prove itself as a must-have technology.
The greenest greens the world has ever seen will be shown on the newly formed DirecTV 4K Channel, which will be available on the carrier's Ultimate and Premiere packages. You'll need a 4K TV that'll handle a minimum of 60fps and DirecTV's latest Genie HD DVR (HR54). Oh, and a pocket of vacation time between April 7th and 10th certainly wouldn't hurt.
Sign up for Black Friday email alerts!
Get the hottest deals available in your inbox plus news, reviews, opinion, analysis and more from the TechRadar team.
Darren Murph has roamed the consumer electronics landscape for a decade, earning a Guinness World Record as the planet's most prolific professional blogger along the way. His work has been featured in Popular Science, Engadget, BGR, Mazda's Zoom-Zoom owner's magazine, Oprah.com, Gadling, and Thrillist, and he has appeared on ABC, PBS, CTV and NBC. He is presently dabbling in quantum physics in a bid to construct the 30-hour day, and is also TechRadar's Global Editor-in-Chief.