Rumores iPhone 13: cuatro modelos, pantallas OLED de 120Hz y tres cámaras
No habrá 12S ni 12R dice un rumor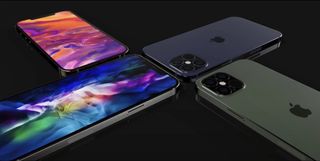 (Image credit: Everything Apple Pro)
Todavía no se ha lanzado el iPhone 12 y ya están empezando a aflorar los primeros rumores sobre el iPhone de 2021. Y el primero es que no se llamará iPhone 12S, sino sencillamente iPhone 13.
Según el fundador de DSCC, Ross Young, Apple volverá a proponer las mismas variantes de la familia iPhone 12 con la gama iPhone 13: un modelo mini de 5,4 pulgadas, el estándar de 6,1 pulgadas, la variante iPhone Pro 13 Pro de 6,7 pulgadas y finalmente el iPhone 13 Pro Max.
De ser así, la compañía se saltará por primer vez su tradicional nomenclatura, que hasta ahora usaba un número sencillo para un nuevo diseño y el mismo número más la letra S para la siguiente generación, que habitualmente venía con cambios notables en la arquitectura interna. O lo que es lo mismo: no habrá iPhone 12S (o iPhone 12R).
Las fuentes de Young agregan algunos detalles sobre las mejoras que se espera que lleguen con la próxima serie de iPhone, además de señalar los puntos en común con la gama iPhone 12.
Most important development on the iPhone 13 models from my perspective will be ProMotion with variable refresh rates through LTPO adoption on the Pro models.October 2, 2020
Todos los iPhone 13 tendrán una pantalla táctil OLED integrada: la red de sensores flexible al tacto estará integrada dentro de la pantalla en lugar de colocarse sobre ella como en los modelos actuales. Según los rumores, sólo los modelos de iPhone 12 Mini y Pro Max tendrán esta pantalla.
Otra de las señas de identidad de la gama iPhone 13 sería la pantalla ProMotion de 120Hz. Si bien algunos rumores afirman que la gama del iPhone 12 se basará en pantallas con frecuencias de actualización extremadamente rápidas, las filtraciones más recientes afirman que sólo el iPhone 12 Pro Max alcanzará los 120Hz. Se espera que la serie iPhone 13 tenga esta capacidad en a todas las variantes.
Tanto el iPhone 13 Pro como el iPhone 13 Pro Max y el iPhone 13 podrían reemplazar el sistema de reconocimiento facial por infrarrojos con cámaras LiDAR o ToF (Time-of-Flight) que ahora sólo tiene el iPad Pro y que, seguramente, tenga el iPhone 12 Pro. Esta supuesta filtración coincidiría con las patentes de Apple de una cámara selfie con ToF en las que se añadiría la capacidad de capturar gestos para la interacción sin contacto a las funciones clásicas de reconocimiento facial. Esta función es similar la que tienen el LG G8 y el Google Pixel 4. Habrá que ver cómo la implementa Apple porque en el caso de estos teléfonos, esta función ha pasado sin pena ni gloria.
Los modelos 13 Pro también deberían tener una cámara trasera triple de 1,9 μm, mientras que los modelos 13 y 13 Mini deberían usar las mismas cámaras duales de 1,7 μm que el iPhone 12 Pro Max.
Solo las variantes Pro contarán con la tecnología 5G mmWave, que también estará presente en el iPhone 12 Pro.
Más predicciones sobre la gama iPhone 13
Young es un reputado rumorólogo. Sus predicciones suelen ser acertadas. Por ejemplo: a principios de esta semana predijo el aplazamiento del Galaxy Z Flip 2 hasta finales de 2021. Dicho esto, parece un poco temprano para tener filtraciones sobre el iPhone 13, sobre todo cuando todavía no ha salido el iPhone 12. Pero lo que dice Young coincide con un informe de Mizuho Securities.
Una de estas supuestas filtraciones es habrá un iPhone 13 plegable, que está en proceso de diseño y tiene "dos pantallas separadas por una bisagra" sin una separación entre ellas. Young no ha proporcionado información sobre una posible fecha de lanzamiento.
También dice que Apple habría decidido mantener el diseño del iPhone 12 para la gama del iPhone 13 y que el futuro iPhone 14 tendrá un nuevo diseño.
También hemos leído rumores sobre un supuesto iPhone 13 sin puertos, equipado con un sistema de carga inalámbrica. Este rumor lo han repetido múltiples fuentes. Esperemos que, si es verdad, Apple mejore la velocidad de su sistema actual, porque va pisando huevos comparado con los celulares chinos.
Sign up for Black Friday email alerts!
Get the hottest deals available in your inbox plus news, reviews, opinion, analysis and more from the TechRadar team.
Michael Hicks began his freelance writing career with TechRadar in 2016, covering emerging tech like VR and self-driving cars. Nowadays, he works as a staff editor for Android Central, but still writes occasional TR reviews, how-tos and explainers on phones, tablets, smart home devices, and other tech.