Qué puedes ver esta semana en Netflix y demás plataformas
Aparte de Umbrella Academy, claro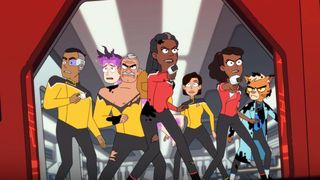 (Image credit: StarTrek.com)
Aparte de la gran The Umbrella Academy temporada 2 — que apareció el viernes pasado en Netflix hoy te traemos seis estrenos seis que podrás ver esta semana en HBO Max, Sky, Netflix o CBS All Access.
The Fugitive (Quibi)
¿Alguien está suscrito a ese desastre implosivo que es la plataforma Quibi? Pues si eres uno de los cuatro que está pagando para ver cosas en su móvil, estamos todos de enhorabuena: nos podrás contar cómo está la nueva serie El Fugitivo. Nueva, nueva, lo que se dice nueva, tan nueva como los calzoncillos de Jesucristo Supestar: el Fugitivo de Quibi está basada en la película de Harrison Ford El Fugitivo que está basada en la serie de televisión El Fugitivo. Efectivamente, queridos amiguitos, estamos ante un fractal de la memez.
En fin, el caso es que a Mike Ferro (Boyd Holbrook) la cae la del pulpo cuando le acusan de la explosión en el metro de Los Ángeles. El pulpo es Kiefer Sutherland, haciendo de detective con mucho fruncido de ceño y cara de póker, en su mejor imitación del agente Jake Bauer de 24 hasta la fecha. Pero aguante, joven, que viene aquí el plot twist inesperado: Jack Bauer fue Kiefer Sutherland y Ferro es inocente. Le acusan de un crimen que nunca cometió, como al Equipo A.
Hablando de 24, Stephen Hopkins es el director. Hopkins dirigió la mayor parte de la primera temporada de 24 así que, según parece, esto no sólo es un re-re-remake de El Fugitivo sino que además lo es de 24. Veinticuatro guantazos es lo que habría que darles a todos estos cráneos privilegiados de Quibi — paradigma de la creatividad, dicen sus perpretadores. Valientes sinvergüenzas de formato vertical.
Disponible ahora en Quibi
An American Pickle (HBO Max)
En 1920, un enterrador del este de Europa (Seth Rogen) emiga a los Estados Unidos con su mujer en busca del sueño americano. Por desgracia, cae dentro de un tonel lleno de salmuera que le preserva perfectamente durante 100 años. Cuando se despierta de su siglo de sueño localiza a su nieto Ben (también interpretado por Rogen) e intenta ajustarse al mundo moderno. Una comedia en largometraje exclusiva de HBO Max.
En HBO Max desde el jueves
Star Trek: Lower Decks (CBS All Access)
Antes del estreno de Star Trek: Discovery season 3, la nueva versión de la franquicia de Gene Rodenberry nos llega en forma de comedia animada para adultos de Mike McMahan, uno de los escritores claves de la gran Rick and Morty. Sólo por eso promete. La serie sigue las desventuras de la tripulación de las cubiertas inferiores — esos personajes que sólo salen de fondo en la serie principal y que son los que mueren en las batallas — de la nave USS Cerritos — la más insignificante de la flota. Entre su reparto está Jack Quaid — the The Boys' —entre otros. Hay episodios nuevos todas las semanas y la segunda temporada ya está en producción.
Disponible en CBS All Access desde el jueves
Immigration Nation (Netflix)
Una serie documental que trata el tratamiento que las fuerzas de ICE — el brazo ejecutor de las aduanas americanas que controlan la inmigración — a los inmigrantes de toda condición. Viene con polémica, porque ICE creía que les iba a dejar en buen lugar pero al parecer es una auténtico desastre y muestra su lado aún más oscuro. Como si no fuera lo suficientemente oscuro encarcelar a niños en jaulas y separarlos de sus padres.
Disponible ahora en Netflix
Wizards: Tales of Arcadia (Netflix)
El último de la trilogía de animación de Guillermo Del Toro para Dreamworks, después de Trollhunters y 3Below. La serie parece que hace que los mundos de los tres shows colisionen en uno como parte de una guerra masiva. Todavía no la hemos visto, pero las anteriores fueron buenas y la animación es de gran calidad. Y es Guillermo del Toro.
Disponible en Netflix a partir del viernes
Selling Sunset (Netflix)
Un reality — aunque no se parece a ningún reality de los que hemos visto —acerca de un agente de la propiedad en Los Angeles que vende casa super-caras. Drama manufacturado al máximo con la manicura hecha y lujo por todas partes. Un bodrio pero, si te gustan estas cosas, ha sido uno de los grandes éxitos de Netflix.
Disponible en Netflix desde el viernes
Get daily insight, inspiration and deals in your inbox
Get the hottest deals available in your inbox plus news, reviews, opinion, analysis and more from the TechRadar team.
Samuel is a PR Manager at game developer Frontier. Formerly TechRadar's Senior Entertainment Editor, he's an expert in Marvel, Star Wars, Netflix shows and general streaming stuff. Before his stint at TechRadar, he spent six years at PC Gamer. Samuel is also the co-host of the popular Back Page podcast, in which he details the trials and tribulations of being a games magazine editor – and attempts to justify his impulsive eBay games buying binges.