There's one phone situation we all want to avoid. Picture it: you almost miss your train stop because you were commenting on a friend's Instagram post. You dash through the doors just in time, but in the rush your phone leaps out of your hand onto the platform with a tiny, heartbreaking crunch.
Don't let that happen to your iPhone 12. Protect your phone by putting it in a case.
Spigen offers protection for the whole iPhone 12 range, including the iPhone 12 mini (opens in new tab), iPhone 12 (opens in new tab), iPhone 12 Pro (opens in new tab).
Built around three core concepts, Spigen cases get you military-grade ruggedization testing, air cushioning in the corners to soak up impact force, and protection that doesn't ruin the look or feel of your iPhone.
The many Spigen iPhone 12 case designs each offer a different balance of these three pillars, to provide something to suit just about everyone. Let's take a closer look at some of the company's top iPhone 12 cases.
Spigen Tough Armor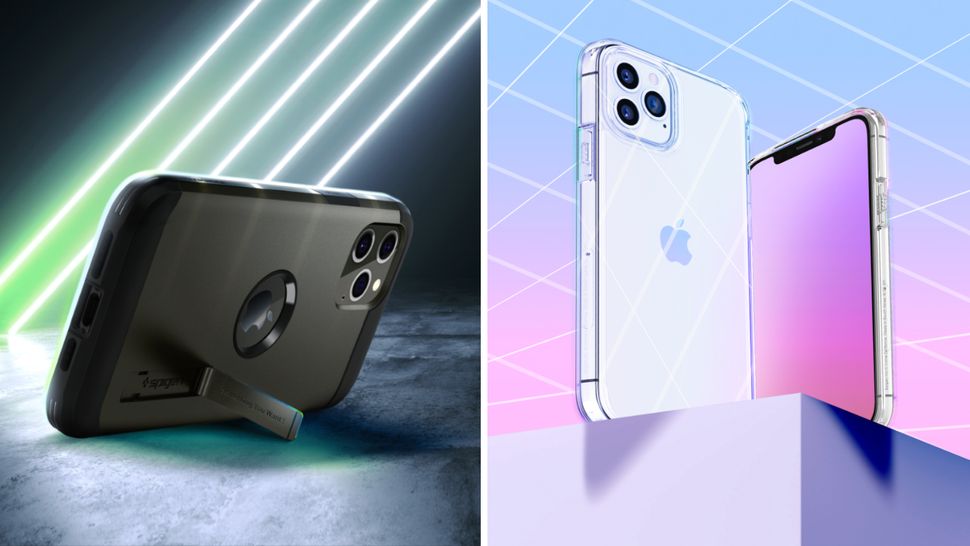 This is Spigen's most popular case. The Tough Armor is the one to get if protection matters most and you want your iPhone to look brand new when the next model arrives in 2021.
There are layers of impact foam inside, so your iPhone 12 will barely feel being dropped, let alone be damaged by the fall. The outer uses layers of hard polycarbonate and flexible polyurethane, and the additional corner air pockets help it conform to military-spec drop test standards.
The Tough Armor is still slim considering its top-tier protection, so you can still use wireless and reverse wireless charging. It also has a kickstand, handy should you want to set it up like a little kitchen TV.
Spigen Ultra Hybrid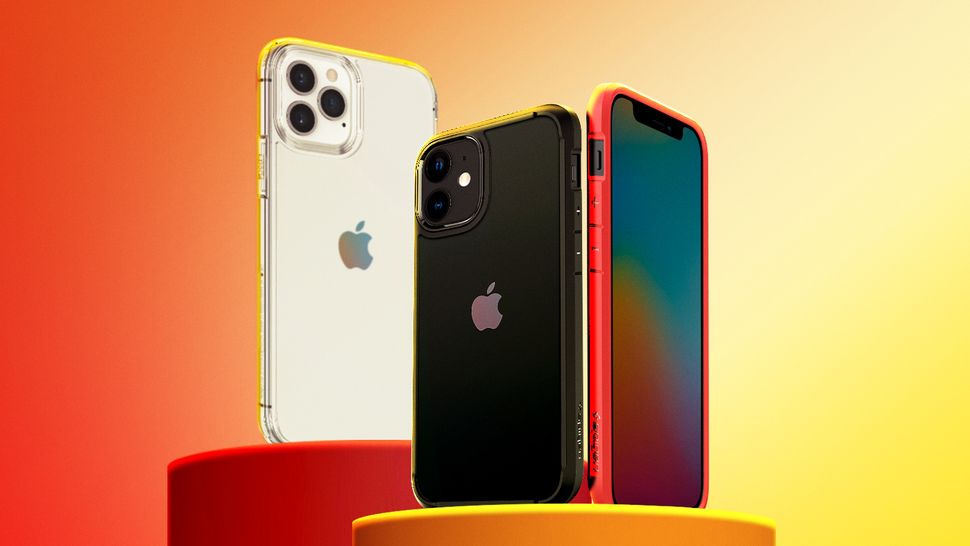 You've heard of hybrid cameras, hybrid laptops and hybrid smartwatches. This is the hybrid case.
The Spigen Ultra Hybrid has a rigid backplate and flexible sides, making it hard and soft in all the right places.
This is a friendly looking case, particularly if you pick one of the accent models, which use colourful (or black) flexible TPU for the corners and camera surround to add a little personality. Spigen's Ultra Hybrid is slim and light, but still has MIL-spec drop readiness.
Spigen Liquid Air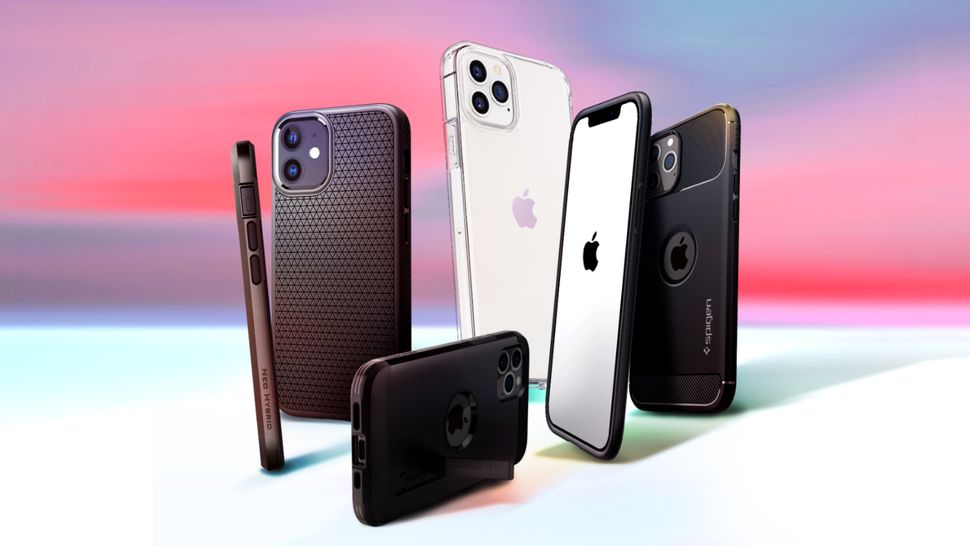 Want something even more low-profile? The Liquid Air iPhone 12 case is made entirely of flexible TPU. This is our top pick for a case you might take on and off regularly.
No rigid parts mean there's nothing to wear down as you do so. Don't be fooled into thinking this is just a simple silicone-style case, though. There's a contoured shock absorber layer inside and Spigen's brilliant Air Cushion Technology pockets in the corners, for protection to suit the truly butter-fingered.
Spigen Rugged Armor
Want an iPhone 12 case that combines a serious appearance with ease of use? That'll be the Spigen Rugged Armor.
It's a flexible case but has carbon fiber-style contoured panels and glossy accents around the camera housing and Apple logo.
Its look is inspired by performance cars. It's moody, don't you think? As you'd hope given the name, the Rugged Armor has Spigen's Air Cushion tech to let it shrug off drops and careless treatment.
Spigen Thin Fit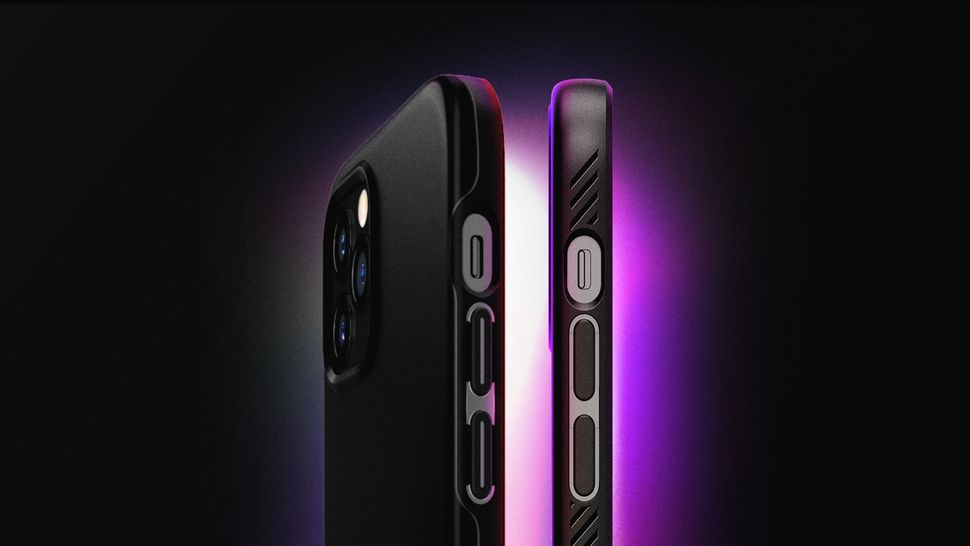 If only the slimmest, lightest, most stylish case will, do, check out the Spigen Thin Fit. This is the kind of cover that could make you think there's no case on your iPhone 12 at all.
It's made of fairly rigid polycarbonate rather than flexible polyurethane. This provides better grip than a glass back but doesn't have the rubbery feel you may want to avoid.
A Spigen Thin Fit will keep scratches off your iPhone. And while it may not quite have the same level of protection as a Spigen Tough Armor, this case keeps those contours closer to what Apple intended.
SteadiBoost PD USB Wall Charger and Ez-fit Screen Protector
Spigen doesn't just make cases, but all kinds of phone accessories. The SteadiBoost USB-C PD is a smart USB-C charger (opens in new tab) that will fast-charge your iPhone 12 and iPad thanks to its 27W power output.
It works perfect with a Nintendo Switch too. And don't forget your screen, where you'll notice a scratch every day.
Most screen protectors are just flimsy pieces of plastic with an adhesive layer. Spigen's Ez-fit range (opens in new tab) is made of ion reinforced glass with a 9H hardness rating, making it more scratch resistant than the glass used in most phones.
Spigen's screen protector kit also includes a mount accessory, removing all the bubble-filled headaches normally involved in installing a screen protector.