A week with the incredible GoPro Hero3
How much fun can you have in five days with GoPro's latest sports camera?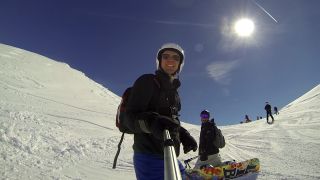 GoPro's puny but preposterously powerful Hero3 action and sports camera has been out since the end of last year. It's not news to home movie buffs or pro videographers.
They know all about the stupendous frame rates and resolutions, the new Wi-Fi and smartphone app functionality, including the ability to control as many as five GoPros with a single phone or tablet. Nice.
But for everyone else, understanding what the fuss is about this little camera, the incredible fun you can have with it and why it's popping up in cars, attached to helmets, on bikes and in boats – if you can think of it, there's probably a GoPro stuck to it – may not be obvious.
So we've decided to spend a week putting the Hero3 through its paces. We've reviewed the Hero3 already, of course. And a very handy guide to its objective features, capabilities and performance that is, too.
Before we get started, check out our footage from the week here:
Quality time
Wth a device a bit special like the GoPro Hero3, racking up some quality man-and-machine time gives you a handle on the subjectives – how will the Hero3 fit into and perhaps even change your life?
The twist here is that your erstwhile correspondent isn't a regular camera reviewer. Cars and tech are my occupational bag and the latter half doesn't typically involve camera technology. Nor would I rate myself as a serious camera or video buff in an amateur capacity. I dabble for work and play, but that's about it.
So the experiences I've had and the footage I captured is real-world stuff from my day-to-day life, albeit much of it from the slightly unreal world of journalism and product launches. Odds are you'll be able to do the same – and run up against the same little niggles, not all of them down the GoPro Hero3.
While we're at it, let's put the latest Hero3 model into its historical and technological context. The background to both camera and company, not to mention the immense leaps in technology it's made over generations, is intriguing little story in itself.
Start-up story
GoPro's is a classic start up story driven by a passion to do something better. For GoPro's founder Nick Woodman, that something was capturing surfing photos. A few years and lots of late nights later the first GoPro was born.
It was a 28mm film-based camera worn on a wrist strap. Woodman's next lightbulb moment was using the camera on mounts in racing cars. Thus began a cottage industry of mounts and harnesses that has exploded into a plethora of contraptions enabling you to stick a GoPro to anything that moves.
By 2010, GoPro had rolled out its first HD video camera. Today, less than 10 years after the launch of that first celluoid-toting stills effort, the top Hero3 Black Edition is capable full motion video at resolutions up 1,920 by 1,440 pixels and full-HD video at HFR rates of 60 frames per second.
Even by the standards of the tech industry, that's explosive development. The result is a camera that's smaller and lighter than ever and not only capable of staggering image quality but also remarkably idiot proof to use. This thing just works. Well, nearly all the time.
First-time user
If you're a first time user, you'll find the camera itself an unfamiliar but pretty unremarkable little thing, about the size and shape of a box of matches. Only the a lens redolent of Hal 9000's all-seeing eye gives the game away.
It's once you pop it into the clear plastic casing that it becomes recognisable as the device you increasingly see strapped to everything. Various options are available, some are water proof, others allow for better sound recording. Some even enable two Hero3's to run side by side for the creation of 3D video.
Sign up to receive daily breaking news, reviews, opinion, analysis, deals and more from the world of tech.
Contributor
Technology and cars. Increasingly the twain shall meet. Which is handy, because Jeremy (Twitter) is addicted to both. Long-time tech journalist, former editor of iCar magazine and incumbent car guru for T3 magazine, Jeremy reckons in-car technology is about to go thermonuclear. No, not exploding cars. That would be silly. And dangerous. But rather an explosive period of unprecedented innovation. Enjoy the ride.