Windows Phone 8 comes to Sprint this summer
Sprint's late to the party once again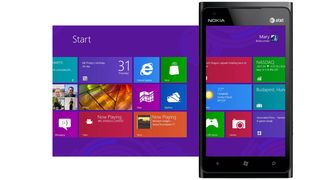 For those eagerly waiting for Windows Phone 8 to jump onto Sprint's network, the light is at the end of the tunnel.
Sprint announced Monday a partnership with Microsoft to bring two WP8 devices to the third place carrier this summer.
"These smartphones combine a robust new operating platform with the benefit of Sprint's unlimited data plans," Fared Adib, Sprint's senior vice president of product development and operations, said via press release.
"There is no doubt these phones will quickly become an extension of your PC experience right in the palm of your hand."
Sprinting ahead
Though Sprint seemed excited to announce the products, it didn't have too many details to share about the upcoming smartphones on the press release. The exact launch dates and prices were most notably absent.
What we do know is Samsung and HTC will each contribute a device, and both phones will have 3G and 4G LTE versions.
Sprint also promised each smartphone will have two cameras for video chatting, dual-core processors and expandable external memory.
None of those features are that new or earth shattering. Not even that earth jiggling. But Sprint said it will announce more features closer to launch.
Of course, both are Windows phones, so expect plenty of Live Tiles, SkyDrives and Microsoft integration that has earned the platform a lukewarm place in our hearts.
Though WP8 hasn't been a smash success since it released this fall, the new platform seems to be doing better than its predecessor.
It's selling better than Windows Phone 7, about four times better in November according to Microsoft. But the big M has yet to share any hard sales figures, so we don't really know how the new Windows Phone is actually fairing.
Waiting 'til summer
Sprint is the last carrier to receive the WP8, and it isn't the first time Sprint has come to the party later than fashion dictates.
It was reported that Sprint's roll out of WP7 didn't go as smoothly as the carrier would have liked. But maybe things will go a bit smoother for Sprint this time around with better 4G service in place to back up WP8.
We'll see when Sprint feels like sharing more details such as device specs, pricing and launch date when it gets closer to summer.
Sign up to receive daily breaking news, reviews, opinion, analysis, deals and more from the world of tech.