Interface and apps
These are the first Android 6.0 Marshmallow phones, although you wouldn't really know it since the latest form of TouchWiz occupies the interface. The good news? It's quite good.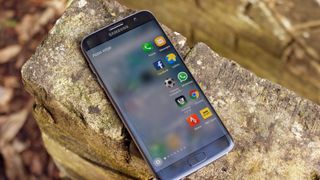 Samsung has cleaned up its operating system overlay so that it's no longer overbearing with so many options. It has friendlier colors, a simpler design scheme and an overall more inviting look.
The S7 and S7 Edge run an identical version of Android 6.0.1, but the software isn't exactly the same. Samsung uses the S7 Edge's curved side to add in a few extra menus and shortcuts.
Read more: Samsung Galaxy Note 9 review
Swiping open the Edge UX menu system from the right side first reveals Apps Edge, which is a panel of ten frequently used apps. A second swipe shifts the menu to Taks Edge, another ten shortcut buttons to specific functions like "Taking a selfie" or "Set the Stopwatch."
A third swipe from the right side reveals People Edge, which is a handy way to call, text or email your favorite contacts, though it's limited to five people.
Yahoo News and the weather are the remaining Edge UX menu defaults, although there are a bunch of panels like sports scores and a compass in the settings menu, and even more you can download later.
That said, I've never found the Edge UX - even with new panels available - to be groundbreaking. The interface between the two shouldn't sway your decision as much as the actual screen size.
Media
The thought of watching a movie or playing a game on a curved display seems unnatural, but the truth is that the Samsung Galaxy S7 Edge slopes ever-so-gently on the right and left sides.
Powering through an episode of House of Cards Season 4 on the 5.5-inch S7 Edge phone didn't bother me at all. In fact, I appreciated it more than when I watched it on the 5.1-inch S7.
I felt the same way when playing Real Racing 3, my go-to game for testing 3D performance. Taking sharp in-game turns on the more spacious display felt easier. Consider me a fan of the bigger screen.
What I didn't like about either phone is the single speaker grill on the bottom of the frame. I would have preferred stereo front-front speakers here.
Watching movies and listening to music doesn't sound any worse than any other smartphone with the mono speaker pointed in the wrong direction. I can crank up the volume just fine.
It's more of a problem when playing games. My hand often covers up the bottom frame of the phone, muffling the background music and racecar-motoring sound effects.
It's not surprising. Only a few HTC, Sony and Motorola phones have speakers on the front. It's just that Samsung makes a big deal about gaming with its Game Launcher container app, but it's not "all in" when it comes to providing an all-round multimedia experience.
Specs and performance
There are no differences between the S7 and S7 Edge when it comes to chip performance and specs. They have all of the same internals, starting with the brand new System-on-a-Chip.
You're either getting the Qualcomm Snapdragon 820 processor with an Adreno 530 GPU in the US, or Samsung's own Exynos 8890 chip with a Mali-T880 MP12 GPU everywhere else.
Samsung's Exynos chip actually did better in our benchmarking tests when compared to our US phones with the Qualcomm processor. But it makes little difference day-to-day. They're both record-breaking silicon and every variation of the phone contains 4GB of RAM.
What's more is that you're not going to be able to simply buy one over the other, unless you're on a shopping spree while globetrotting. It's a case of where you buy the handset due to the US edition needing CDMA (Verizon and Sprint) carrier bands. And, again, the S7 and S7 Edge are exactly the same here.