Lockhart: la Xbox Series X barata podría costar sólo $200
O la mitad de precio de la Xbox Series X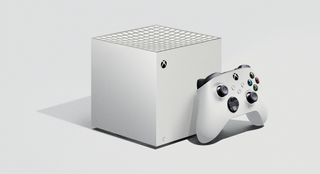 (Image credit: u/jiveduder)
Lockhart — el nombre en clave de la versión barata de la Xbox Series X — podría salir a la mitad de precio que la Xbox Series X normal.
La noticia nos viene del usuario eastmen en los foros Beyond3D, un filtrador de notica que, como apunta Wccftech, tiene una reputación de dar en el clavo con sus rumores.
Según eastman, Lockhart — alias Xbox Series S — costará la mitad que la Xbox Series X. No dice el precio exacto: "no estoy seguro de cuál será el precio final. Pienso que si Sony se mueve en los $500/$600 [para la PS5], Microsoft podría intentar $200 [para Lockhart] y $400/$500 [para la Xbox Series X] pero ya veremos". Él piensa que Microsoft está preparada para vender la Xbox Series X por $400, aunque no lo ha confirmado.
Según eastman, la consola tendría un tamaño más pequeño que la Xbox Series X y será completamente digital sin disco óptico de ningún tipo. Todos los juegos se descargarán por internet o se jugarán por streaming.
Un precio de $200 por la Xbox Series S/Lockhart suena a suicidio económico pero eastman dice que Microsoft compensaría los precios tan bajos haciendo que los usuarios se suscriban a sus servicios de videojuegos online y otras estrategias: "Microsoft enjugará sus pérdidas [en ventas de hardware] con un porcentaje mayor de las ventas de los juegos y más suscripciones [a GamePass]".
Pero quizás el precio final no sea tan bajo, dice eastman, si el precio de la PS5 es alto.
¿Qué es Project Lockhart?
Project Lockhart podría llamarse Xbox Series S y será la versión barata y compacta de la Xbox Series X. A cambio, tendrá menos potencia de fuego y no traerá unidad de disco óptico — como la Xbox One S All-Digital Edition.
Pero según fuentes fiables, será potente, con una CPU y GPU rápidas, y un disco de almacenamiento sólido de gran velocidad como la Xbox Series X. Los rumores apuntan a que Project Lockhart tendrá una resolución de 1440p a 60 fotogramas por segundo en vez de los 4K a 120 fotogramas por segundo de su hermana mayor.
En otras palabras, la consola barata de Microsoft para 2020 será también impresionante, aunque no tanto como la Xbox Series X.
Si el precio es realmente tan bajo, Microsoft tendrá un ganador en sus manos.
Sign up to receive daily breaking news, reviews, opinion, analysis, deals and more from the world of tech.