La Nintendo Switch 2 podría tener gráficos similares a la PS5 y la Xbox Series X
Según un rumor tendrá gráficos basados en RNDA2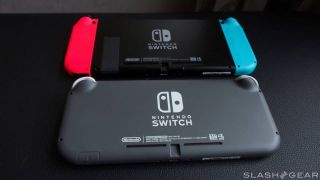 (Image credit: Slashgear)
Se ve que como la gente no encuentra las Nintendo Switch a la venta por ninguna parte, está todo el mundo ansioso por saber cómo será la siguiente generación — la Nintendo Switch 2.
Nuestra colega Vic Hood quiere que sea una Switch Lite con dos pantallas, algo quizás poco probable porque dividiría la Switch en dos plataformas (aunque por otra parte, ya sucedió con la GameBoy y la Nintendo DS). Pero aparte de buenos deseos y algunos rumores, no teníamos nada relevante — hasta ahora.
Por lo menos según overclock3D (vía Slasgear), que dice que Nintendo podría estar preparándose para abandonar Tegra — la anticuada arquitectura de procesador y gráficos de Nvidia — para adoptar algo moderno que convierta a la Nintendo Switch en una bestia de los gráficos 3D.
Según la especulación del blog, el gigante japonés podría preparar una Nintendo Switch 2 que utilice un procesador ARM de Samsung — de la familia Exynos — y una procesador gráfico de AMD — de la familia RNDA.
Sí, RDNA — la misma arquitectura que utiliza la PS5 y la Xbox Series X. Aunque lógicamente no sería el mismo chip gráfico de las grandes consolas — cuyo consumo de electricidad no es apto para una consola portátil como la Nintendo Switch — el aumento de proceso gráfico sería más que considerable.
El motivo de este cambio sería doble. El primero, que Nvidia parece que no ha hecho los deberes con Tegra, su CPU basada en la arquitectura ARM. El resultado es que se han quedado atrás.
El segundo es que AMD y Samsung anunciaron una misteriosa colaboración el año pasado donde integrarían Exynos y RDNA en algo nuevo. Desde luego, este algo nuevo no es el Galaxy S20. Pero podría ser la nueva consola de Nintendo.
Por supuesto, todo esto no es más que rumores y especulación sin confirmar. A Nvidia le conviene tener a Nintendo como cliente, que vende las Switch como si fueran palomitas a la entrada de una película de Marvel.
Sign up to receive daily breaking news, reviews, opinion, analysis, deals and more from the world of tech.