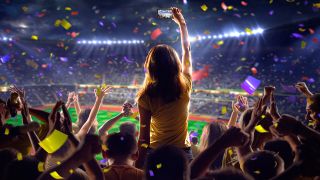 Imagine this: you set foot into the Minnesota Vikings' U.S. Bank Stadium to watch Super Bowl LII. It's your first time at any Super Bowl and because this is a once-in-a-lifetime opportunity, you don't want to miss a second.
Whether you're taking a bathroom break, heading over to the merchandise station or filling up on snacks and drinks, you never want to peel your eyes away from the game, so you try to log into the RedZone from your phone or access the Game Day app.
But then the Wi-Fi doesn't work properly – it won't connect you to the live video footage or play-by-play analysis. There are tens of thousands of people surrounding you each trying to use the Wi-Fi for a different purpose, whether it's a fan going on social media or a retailer checking what merchandise is still in stock.
This is an admittedly complicated problem to solve, but the NFL has been able to do so by partnering with Extreme Networks. Below, Extreme's Chief Marketing, Development and Product Operations Officer, Norman Rice, shares the inside scoop on how Extreme helps power the NFL fan experience during regular season games, along with Wi-Fi analytics at the Super Bowl for the 5th consecutive year.
Extreme Networks: An NFL Game-Changer
The partnership with the NFL began in 2014; to-date, Extreme Networks has delivered a seamless Wi-Fi experience to 10 NFL teams and Wi-Fi analytics to an additional 12 NFL teams.
Fans will notice a strong, high-speed connection as soon as they enter an Extreme Networks equipped stadium. Thanks to Extreme's implementation of Hotspot 2.0, their mobile devices seamlessly cross-over from cell to Wi-Fi without additional user sign-on and authentication. The hotspot allows for an agnostic approach to networking that lets anyone connect to an access point regardless of their carrier.
Of course, since anyone can connect to the network, one might wonder if one person can hoard all of the bandwidth at the Super Bowl for him or herself. The short answer is no. Because Extreme's solutions automatically prioritize certain content over others, you don't have to worry about the entire network slowing down because someone decided to download an iOS update or watch a YouTube video.
Instead, Extreme's solutions will throttle firmware updates, YouTube videos and other such unnecessary additives in favor of the Game Day app, an essential for anyone who doesn't want to miss a beat.In other words, the networks that Extreme deploys are heavily tailored to the audience of their respective venues in order to elevate the end-user's experience. Not only do they know that you can access the RedZone based on proximity to a football stadium, they also know not to interrupt you while you're ordering concessions via your mobile device. These "smart" capabilities are only part of what makes the connectivity at NFL games possible – automation is a key aspect as well.
Automation and the Future of In-Stadium Networks
Following recent acquisitions, Extreme Networks has put together one of the most powerful and prominent networking portfolios in the world, which includes automated solutions that are at the forefront of the industry. Through these automated network solutions, Extreme has not only simplified network management, but it has done so while improving the end-user experience.
Similar to how Extreme's solutions are able to prioritize certain uses of the network for fans on game day, automated networks can anticipate and analyze end-users' needs. Additionally, because automated networks have the ability to identify and fix issues on their own, fans have a seamless Wi-Fi experience and network administrators don't have to worry about constant oversight. This leads to reduced operation costs for businesses, another benefit for Extreme's customers.
So as BYOD becomes an increasingly popular trend in every industry, including sports and entertainment, Extreme continues to anticipate the needs of its customers and develop wired and wireless networking solutions that improve the end-users' experience as well as the network administrators'. Although technologies like virtual reality, augmented reality and the internet of things still seem like flashy buzzwords, Extreme's solutions, particularly its automated networking ones, are continuing to modernize and support the networks that will bring these technologies life.
Sign up to receive daily breaking news, reviews, opinion, analysis, deals and more from the world of tech.