BlackBerry 5G: why the anticipated neo-Blackberry phone will never release
It's confirmed to have been canceled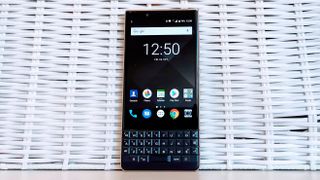 (Image credit: Future)
The Blackberry 5G remained one of the most anticipated smartphones we'd heard about, ever since it was first announced in mid-2020... up until the project was officially canceled in 2022.
This was a much-hyped revival for the nostalgia-riddled Blackberry brand, though one being pushed by a company other than Blackberry itself.
The company at the helm of this ill-fated project was security company OnwardMobility, which had evidently bought the rights to put out new Blackberry phones.
Companies putting out handsets under other names is nothing new - HMD Global makes Nokia phones, and before OnwardMobility, TCL was using the Blackberry name.
But this new project seemed different - OnwardMobility was rather new to the hardware game, and seemed motivated by an infectious passion for Blackberry phones which inspired fans of the brand.
Well, even the best-laid plans can fall apart, and in February 2022 OnwardMobility confirmed "no longer be proceeding with the development of an ultra-secure smartphone with a physical keyboard".
So what happened? And how did it happen? Well, let's follow along with the events.
BlackBerry 5G timeline
The Blackberry line hasn't exactly been dormant since original company Research In Motion, or Blackberry Limited, stopped making phones under the name in 2017. However the hey-day of QWERT keyboard-toting productivity phones was certainly in the rear-view mirror.
From 2016 to late 2020, Chinese tech firm TCL signed up to release phones under the Blackberry name, and we saw a small smattering of devices like the KeyOne. However it seems that TCL struggled with the same issue that Research In Motion did - in a world of fantastic touch-screen phones, physical keyboards had become a niche proposition.
That's not to say that there's no place for keyboard phones, and some users swear by them.
This kind of user got to come out in force in mid-2020 when a little-known Texan company called OnwardMobility purchased the rights to the Blackberry name.
You can see a video of the company's CEO, Peter Franklin, announcing the new Blackberry below.
Fans were excited: OnwardMobility promised a 5G phone with a QWERTY keyboard, lots of features and top-notch security. More, the website implied future Blackberry 5G products would be coming too.
OnwardMobility also promised that this device would be coming to consumer markets too, so anyone could buy it.
Understandably, there was a lot of excitement. Blackberry phones are coming back? And back with a bang? Take my money!
At the time, OnwardMobility pledged to release the device in 2021, and in an interview with Nikkei Asia in February of the year, Frankling said 'more details will be announced within the next few months.' At the time, we thought that could mean a product reveal as soon as May 2021.
Clearly that wasn't to be, though, as May sailed past with nary a word from the fruity company. And then so did June.
In July 2021, OnwardMobility opened up a waitlist for updates about the upcoming 5G BlackBerry phone. That suggested a release is nearing, but the terminology used also suggested that it may be a bit of a longer wait.
A longer wait was indeed in store, because 2021 limped onwards and, by the time it had collapsed in a pile and made way for 2022, we still hadn't heard anything about the Blackberry 5G. At all.
Some fans were upset, more were confused. Many had just forgotten about the device entirely.
The radio silence was finally broken in January 2022 when the company confirmed that the phone had faced delays but was still in the works. Well, that's not bad news, right? A delayed phone is better than no phone at all!
That is, until a report from a Blackberry fan site posted a report suggesting that the Blackberry 5G dream was, in fact dead. Well, that's not good.
Less than two weeks later, the report was confirmed - and not only was OnwardMobility shuttering the Blackberry project, but it was closing down itself.
In a post on its website the company confirmed "it is with great sadness that we announce that OnwardMobility will be shutting down", and said "we will no longer be proceeding with the development of an ultra-secure smartphone with a physical keyboard".
So dream of a new Blackberry 5G are dead... for now. But as we can see with TCL and OnwardMobility picking up the baton, tech companies won't let the Blackberry name rest, and perhaps in a few years, we'll see another brand try.
So what happened?
The Blackberry 5G from OnwardMobility isn't coming because the company shut down. But digging deeper, what happened to delay and then cancel the launch of this device?
Officially, there's not been any comment on this topic, and the message OnwardMobility posted on its website doesn't say anything. But that report from a Blackberry fan site we mentioned has some theories.
Apparently, the current CEO of Blackberry Limited (a company which still makes software and security tech) has been trying to distance the company from smartphones, as a recent sale in Blackberry's patents suggests. The theory is that the CEO soured on the idea of a new Blackberry smartphone.
Beyond that, it's very possible that OnwardMobility found it'd bitten off more than it could chew. We often see new companies try to make smartphones and give up after a few tries, and presumably it's a lot harder than it seems.
That's all speculation though, and unless someone breaks the silence, it's impossible to know for sure. Hopefully that'll happen, as we're sure it's a fascinating story.
Get daily insight, inspiration and deals in your inbox
Get the hottest deals available in your inbox plus news, reviews, opinion, analysis and more from the TechRadar team.
Michael Hicks began his freelance writing career with TechRadar in 2016, covering emerging tech like VR and self-driving cars. Nowadays, he works as a staff editor for Android Central, but still writes occasional TR reviews, how-tos and explainers on phones, tablets, smart home devices, and other tech.