Turtle Beach and Twitch put a ring on it as audio meets streaming
What's the point of streaming if you can't hear properly?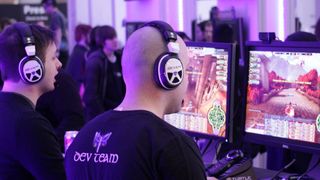 Streaming video games without proper sound is like eating pizza without cheese: you can stomach it, but why bother taking a bite?
Turtle Beach, maker of gaming headsets, and Twitch, a video platform and community for gamers with more than 34 million visitors a month, announced an exclusive partnership today to merge the spheres of audio and streamed play into one hunk of gaming goodness.
"This is mostly an affirmation of support for a particular community and a particular thing - streaming - that's growing in gaming," Jeff Burchett, community marketing manager at Turtle Beach told TechRadar about the deal.
"We're both forerunners in our separate spaces, and we're coming together and saying to gamers, 'We're here for you and what you do matters to us, and we're committed to help you do what you love.'"
Speak up
The multifaceted collaboration, which Burchett said was an organic, "put a ring on it" decision between the two, sees the integration of Turtle Beach products at Twitch's eSports and gaming events.
Twitch will use the Ear Force XP Seven and Z Seven gaming headsets along with the TM1 multi-channel tournament mixer at its gaming gatherings, while Turtle Beach also plans to stream Twitch broadcasts on its site for the community to tune into.
Burchett couldn't go into future product or service specifics, but said the companies will take a community-first approach for features down the road.
"It is very safe to say that any place that we can help support this streaming community, by evangelizing great audio and the integration of great audio in games, we'll be looking to do that," he said.
"I'm sure Twitch sees that as a value proposition as well."
Twitch streaming is built into the Call of Duty: Black Ops 2, and Burchett referred to the cross-over between the service, the game, Major League Gaming and now Turtle Beach's audio as a "partnership polygon...a love quad-rangle."
"It's the next step" for Turtle Beach, he explained, especially as the social side of gaming continues to grow in systems like the PS4 and (probably) the new Xbox.
"Streaming has been around for a while but it has definitely reached a critical mass in the last 12 months to 18 months," he said. "I can't speak to upcoming consoles, but I think the numbers show that people are really interested in it.
"As the technology that drives entertainment improves, it's safe to say you'll see a lot more of this and we look forward to facilitating communication, helping people hear games the way they're meant to be heard, making them fully immersive and having an incredible gaming experience."
Sign up to receive daily breaking news, reviews, opinion, analysis, deals and more from the world of tech.
Michelle was previously a news editor at TechRadar, leading consumer tech news and reviews. Michelle is now a Content Strategist at Facebook. A versatile, highly effective content writer and skilled editor with a keen eye for detail, Michelle is a collaborative problem solver and covered everything from smartwatches and microprocessors to VR and self-driving cars.