Manufacturer pros and cons
To conclude our guide to buying a television in today's increasingly complicated marketplace, we're exploring the differences between the TV world's main brands.
In this part we'll be drawing on what we know about the current products and past histories of Sony, LG, Panasonic, Philips and Samsung to give you an insight into the sort of things you might expect from their different price points and technologies.
Naturally, such a general overview can't take account of specific sets, some of which may potentially buck the trend. This is why the final part of your TV research should be keeping an eye on TechRadar's TV reviews! But knowing which brands excel at what, and at which price points, can certainly help you narrow the field down a bit, so here goes…
Sony
Having established itself as the king of the CRT TV age with its famous Trinitron sets, Sony's flat TV adventures have been a bit of a rollercoaster ride.
The brand has generally done pretty well at the very top end of its ranges, but struggled to maintain consistency with its more affordable models due to apparent issues with sourcing good-quality panels from third-party manufacturers (Sony doesn't currently make any of the LCD and, now, OLED panels at the heart of its TVs).
In recent years Sony has has been most successful with its X94 models – 75-inch 'home cinema' sets with direct backlighting that have done a great job of delivering quality home cinema-sized thrills for decently affordable prices. The brand also scored a major recent success with its ZD9 (Z9D in the US) TVs: ultra high-end models with direct LED backlighting and hundreds of individually controlled lighting zones that were our favourite TVs of 2016.
The brand has fared less well with its mid-range models, which have tended to be based on edge LED lighting systems that haven't offered the same degree of light controls achieved by the best rival brands.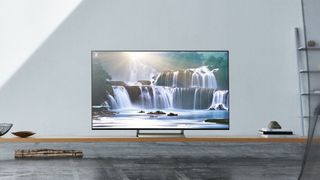 Sony has tried to tackle this problem in 2016 and 2017 with its Slim Backlight Drive TVs, which introduce an interesting dual light plate configuration to create more localized light control. But while the 2017 Slim Backlight Drive sets (the X94E series) are much better than 2016's debutantes, there are still 'light blocking' issues you need to be aware of.
Picking a decent set from Sony's entire set of mid-range models has been made doubly complicated in recent years by the brand's decision to use IPS LCD panel types in some models. IPS panels can't match the contrast levels of rival VA panels, which has become more important now that we have high dynamic range picture technology. So Sony's decision to not just include some IPS panels in its range, but mix VA and IPS panels at different sizes of the same series, has made picking a good mid-range Sony a little more tricky.
The good news is that Sony has listened to this criticism, and hasn't used any IPS panels in its 2017 models, making its mid-range sets potentially a much safer bet.
Sony has also proved that it's keen to offer something for everyone this year by adding to its range its first mid-range LCD sets with direct LED lighting (the X90E series) and its first OLED TVs, the stunningly designed A1E range. These OLED sets in particular prove that Sony is still very much a brand that's interested in innovation in the TV space.
While Sony has indicated that it's looking to focus on the relatively high end of the market, it's worth adding here that Sony has done pretty nicely over the past couple of years in the Full HD TV space, consistently delivering more features and picture quality than its rivals in a section of the market which most brands seem to have left behind with their newest features.
Samsung
Korean brand Samsung has been the biggest-selling TV brand in the world for years now, a position it reached initially on the back of cutting-edge design and aggressive pricing, but which it's consolidated by consistently delivering cutting-edge features and picture quality.
Perhaps even more importantly, Samsung has been the only brand for the past few years that's delivered good picture quality and features all the way across its range, from the flagship models down to its budget sets. This consistency has deservedly earned it high sales and strong brand awareness at the mass-market TV level.
It's worth noting, too, that one of the reasons for its consistency at different prices is that it makes its own VA-type of panels, and so has hardly ever used any IPS panels, even in its cheapest sets.
Its decision to focus exclusively on LCD technology rather than OLED has seen it come under pressure at the premium end of the market from its great rival and OLED maker LG in the past couple of years, and this pressure looks set to reach boiling point in 2017 as Samsung launches a new variation on LCD technology that's going to cost roughly the same as some of LG's OLED TVs.
Called QLED, this LCD technology uses a new type of metal alloy Quantum Dot that delivers more brightness, color and backlight control, as well as 'solving' the viewing angle limitations traditionally associated with VA LCD technology. We'll be reviewing the first QLED TVs soon, though for now it remains to be seen if Samsung's gamble on a high-end LCD technology capable of more HDR-friendly brightness than contrast-favouring OLED can manage will pay off.
Probably sensibly, Samsung has essentially added its QLED models into a new tier at the top of its 2017 range, leaving a cheaper MU series of sets offering similar levels of performance to last year's flagships.
Experience suggests that Samsung should still be a pretty safe bet in its mid-range and budget sets – though we should add a note of caution here, as there are rumours suggesting that a problem with one of its usual suppliers has forced Samsung to buy some panels from LG Display, panels which would almost certainly be IPS if the rumours are true.
Samsung may have to watch out for a growing feeling among media and consumers that it's becoming too caught up in trying to set the technology agenda too aggressively, rather than focussing on giving people what they actually want. But we don't see the brand losing its number one status any time soon.