The Eufy Clean X9 Pro is a solid robot vacuum that's easy to use and does an excellent job traversing your space, avoiding most obstacles. Its rotating mops are excellent at removing spills and spots on your floor, while the base station's auto-cleaning feature takes care of washing out the mops for you. As for vacuuming, it's slightly less impressive; but it can handle cleaning up lighter debris – although there's no auto-emptying of the dust box. The Eufy Clean X9 Pro is supported by an intuitive app that creates an intelligent map and makes it simple to adjust various vacuum settings.
Pros
+

Impressive mopping ability

+

Base station cleans the mops

+

Easy-to-use app with intelligent mapping
Cons
-

Expensive

-

No self-emptying dust box

-

Mediocre pick-up of larger messes
Why you can trust TechRadar We spend hours testing every product or service we review, so you can be sure you're buying the best. Find out more about how we test.
Two-minute review
The Eufy X9 Pro is designed to handle everything from mopping and vacuuming your floors to self-cleaning and intelligent home mapping. Accompanying all those features is a rather high price tag – and the question is, is it worth it? The answer to that really depends on what you're looking for from this robot vacuum.
Eufy is a smart home device and appliance brand owned by Anker. It's known for creating some of the best home security cameras, best video doorbells, and more. There's also a "Clean" branch with a focus on creating the best robot vacuums. The X9 Pro is the brand's new, top-of-the-line robot vacuum, and the only one featuring an auto-cleaning base station. Eufy has other more economical vacuums, such as the L35 Hybrid+ with a mop feature or the RoboVac G20, which only vacuums.
Following use of the Eufy Clean X9 Pro over the past few weeks, I've been impressed by its ability to travel around my two-bedroom, two-bathroom apartment with ease, vacuuming and mopping simultaneously. The device has rarely become stuck and has managed to avoid almost all obstacles thanks to an AI camera and sensors. I've even been able to hear the suction on the vacuum increase and see the mops lift every time it has made contact with a rug. The device uses an app that successfully created an intelligent map of my space and has made it relatively simple to adjust the robot vacuum's settings.
The vacuum feature of the Eufy Clean X9 Pro did a decent job of picking up lighter debris, but larger messes – especially on rugs – proved too big a task for it. Note that there's no auto-emptying dust box here, something you'll often find on robovacs in a similar price category.
Nevertheless, the Eufy Clean X9 Pro shines where mopping is concerned. Its two rotating, plush mopping cloths apply just enough pressure to clean almost every spot on the floor, including sticky syrup, coffee drips, and muddy footprints. The base even washes the mopping cloths during and after each clean, along with refilling the vacuum's water tank and drying the mops to prevent smells. Its mopping ability is a big step above the vibrating mops I've seen on the majority of other robot vacuums on the market.
Anyone who wants a more hands-off cleaning experience could benefit from the Eufy Clean X9 Pro. It will have no problem handling your lighter vacuuming needs and is more than ready to tackle those bigger stains on your floors with its mops. You'll appreciate being able to hand off some of the household chores to this device.
Eufy X9 Pro: Price and availability
List price: $899.99 / £899.99 / AU$1,499.95
Where is it available: Available in the US, UK and Australia
The Eufy Clean X9 Pro is available direct from Eufy Clean's US, UK, and Australian websites. You can also find it on Amazon in the US and Amazon UK.
This vacuum is Eufy's top-of-the-line model, and the price reflects that; but for the money you get impressive dual rotating mops, an auto-cleaning base station, AI mapping, and 5,500Pa suction. However, the mopping features come at the cost of a self-emptying dust box, something that many robovacs in a similar price category include.
You'll also have to consider upkeep costs. The mops will need to be changed most often, and a single replacement for the two cloths will set you back $29. Other accessories such as brushes and filters come in around the $15-39 mark, but won't need to be switched out as often.
Eufy Clean X9 Pro: Specifications
Swipe to scroll horizontally
| | | |
| --- | --- | --- |
| Total weight: | 31.7lbs/14.4kg | Row 0 - Cell 2 |
| Vacuum dimensions: | 13.9 x 12.8 x 3.7in/35.2 x 32.6 x 9.4cm | Row 1 - Cell 2 |
| Base station dimensions: | 17.4 x 16.6.2 x 16.4in/44.3 x 42.2 x 41.6cm | Row 2 - Cell 2 |
| Dust box capacity: | 13.9oz/410ml | Row 3 - Cell 2 |
| Dock clean water tank capacity: | 1.1gallons/4.1L | Row 4 - Cell 2 |
| Dock dirty water tank capacity: | 0.95gallons/3.6L | Row 5 - Cell 2 |
| Vacuum highest noise level: | 65dB | Row 6 - Cell 2 |
| Base station noise level: | 50dB | Row 7 - Cell 2 |
| Maximum suction: | 5,500Pa | Row 8 - Cell 2 |
| Maximum runtime: | 150 min (standard vacuum/mop setting) | Row 9 - Cell 2 |
| Recharge time: | 4 hours | Row 10 - Cell 2 |
Eufy Clean X9 Pro: Design
Sleek but large base station with mop auto cleaning
13.9oz/410ml dust bin with no auto-empty feature
Liftable thick, plush mopping cloths
The Eufy Clean X9 Pro arrived in a large, hefty box and was almost completely put together. All I needed to do was remove some tape, fill the clean water reservoir, and plug it in. Next, I downloaded the app, which offers guidance on connecting the robot vacuum to your Wi-Fi. In total, setup took about 10 minutes, and after a full charge, the vac was ready to set out on the first clean.
The base station features nicely rounded edges, making it a bit more attractive than other vacuums I've tested, and the robot vacuum tucks neatly into it for charging and mop washing. However, it's rather chunky, measuring 17.4 x 16.6.2 x 16.4in/44.3 x 42.2 x 41.6cm. As such, those with smaller spaces might want to consider a more compact option.
That larger form factor is necessary to house the clean and dirty water reservoirs, both of which hold about a gallon of water. Those reservoirs are made of sturdy plastic with a locking hinge to hold them closed and a built-in handle for carrying. There's also a built-in heated drying mechanism to prevent the mop from becoming moldy and smelly; and I can attest that following a few weeks of use, there's no smell.
I particularly like the sleek, all-black color scheme of the base station and vacuum. Both components are mainly matte, helping prevent handprints and other smudges, with much of it built of a durable plastic.
As for the actual robot vacuum, it's of a similar size to most other robot vacuums. However, it branches away from the traditional circular design for a more squarish look with rounded edges. There are various sensors on the machine for obstacle avoidance and carpet detection, which add to its height, and which also mean it might struggle to clean under lower furniture. There are only a few buttons on the vacuum itself, since much of the control is via the app. A recharge button sends the vacuum back to the base station, a spot cleaning mode button cleans a 4.9 x 4.9ft/1.5 x 1.5m area, and a start/pause button is self-explanatory.
Open up the hinged lid of the vacuum and you'll find a good-sized dust box with a 13.9oz/410ml capacity, with a spare filter included in the box. Eufy claims this dust box should be emptied following every 10 hours of use, but whether or not you'll have to do so will depend on how dirty your space is. I found it needed to be emptied more frequently. Luckily, the dust box is easy enough to remove – although even better would have been the inclusion of an auto-emptying feature on the base station. At least you won't need to worry about purchasing extra dust bags down the road, keeping costs lower.
Flip over the vacuum and you'll find one side brush, a roller brush, and two heavy-duty rotating mopping cloths. I have to say the mopping cloths are much thicker and plusher than the pads on other machines, giving this vacuum an edge when it comes to mopping performance. Those cloths also auto-lift when the vacuum comes into contact with carpet.
Eufy X9 Pro: Performance
Excellent mopping ability
Vacuum picks up lighter debris, but fails to clean larger messes
Decent navigation and object detection
The Eufy Clean X9 Pro was simple to get started. You can send it out on the first clean without even having to create a map. However, for mapping, Eufy recommends that you tidy up your space for greater accuracy, which includes picking up tassel rugs and getting any loose wires out of the way. That took less than a minute, and I was ready to send it out.
The standard setting of the robovac on the first clean included vacuuming and mopping simultaneously. The water reservoir on the base station will fill up the vacuum with water, which is a quiet process hitting about 50db, and then the device will announce it's heading out on a clean. It will also make you aware if it becomes stuck, and when it's heading back to the base station.
While roaming my two-bedroom, two-bathroom apartment, it did a great job of getting as close to my walls as possible and skirting around furniture. Although the AI sensors on the vacuum did misjudge my record stand; it wedged itself under it and needed rescuing. During other cleans, the X9 Pro continued to become stuck, eventually freeing itself. Unfortunately, that sensor on top – when working properly – prevented the vacuum from fitting under a good deal of my shelving. I'd occasionally place objects in its path, and the device would usually lightly tap the object and go around it, so no complaints there.
I found the robot vacuum would struggle with some of my rugs, but never actually got stuck. The machine also did this strange little dance around the edges of the rugs. When fully on a rug, the mopping cloths lifted every time without fail, lowering as soon as the vacuum hit a hard floor – none of the rugs in my home were left damp by the mops.
Overall, the Eufy Clean X9 Pro did a decent job of picking up smaller debris in its path, and did so quietly at around 60-65db, depending on the flooring it was on. The sound wasn't too distracting, with a consistent noise that matched a sound level similar to my window air conditioner.
As I mentioned, the mop has been my favorite feature of this robot vacuum. It uses two plush mopping cloths that apply 2lbs/1kg of pressure, rotating three times per second, which is different to the typical vibrating pad. In my opinion, they do a much better job of lifting dirt off the floors. The mops picked up all the coffee stains, food spills, and footprints on my floor without problem. I even spread yogurt and syrup on the floor to test the mop, and the mess was gone following just a single pass-through. I was blown away. Note that you can also adjust the level of water it uses, with noticeably more water on the floor at the higher setting.
Before every clean that includes mopping, the X9 Pro will take about 3 minutes to get the mop ready. Then during the cleaning, every 10 minutes, the device will head back to the base station to wash the mops, taking another 3 minutes to clean. It is possible to adjust the time between washing via the app. I found that I'd go through almost the entire clean water reservoir with each full clean of my apartment, which is a good deal of water. However, I know the mops were doing a great job judging by the nasty water in the dirty water reservoir. Luckily, you'll get a notification on when to change those reservoirs.
As much as I love the mopping feature, I can't say as much for vacuuming. It's mediocre at best, and it doesn't help that there's no self-emptying dust box, which you'll find in most other vacuums at this price point. The X9 Pro did a decent job of picking up lighter debris, but when I tested its ability using a more concentrated mess of oats and flour on hard floors, the side brush would end up spreading oats around while picking up most. It performed the same at all suction levels, including max.
On my rug, performance was even more pathetic, leaving almost the entirety of the flour and oats behind. Several whole home cleanings later, the mess on my rug is still there. I wouldn't rely on this vacuum to clean up any bigger, concentrated messes. A standup vacuum or broom would be better in these situations.
As far as cleaning and maintenance is concerned, the X9 Pro offers easy upkeep. You'll have to wipe down the sensors and empty the dust box occasionally, the clean water reservoir will need to be filled and the dirty water reservoir emptied; but both come out easily and latch shut, so you don't need to worry about spilling everywhere. The mopping cloths are washed and dried by the base station, so you'll just need to replace them once they look worn out, which is likely to be every couple of months or so. Beyond that, the app keeps track of when you'll need to replace different components such as the brushes and filters. Luckily, these parts should be good to go for 100+ hours.
Eufy X9 Pro: App
Creates an accurate map of your space
Easy to adjust vacuum/mopping settings
Voice assistant support
As soon as you download the Eufy Clean app and open it, you'll be prompted to create or log in to your profile. After that super simple process, it will guide you through the rest of the setup of the Eufy X9 Pro, including connecting it to Wi-Fi. All in all, the process took about five minutes. From there, navigating the app is on a par with other robot vacuum apps I've used. When you open the app, your home screen will display your connected devices, and simply tapping on the Eufy X9 Pro will bring you to all the settings for the vacuum.
A map of your space is created following the first clean, and it even sections off rooms, making notes of obstacles. I found the results mostly accurate, with every room in my two-bedroom, two-bathroom apartment included.
There were a few slight adjustments to the map needed, but this is easy through the app; you can change the room names, room cleaning sequence, and create no-go zones – which was handy for my pesky tassel rugs, and is also great for homes with stairs or other hazards. However, unlike some maps on other robot vacuums I've used, this one only differentiates floor types and notes certain obstacles when in use, making it more difficult to determine which areas to block off.
For cleaning, the app has an auto whole-home cleaning option, alongside the ability to select specific rooms or create zones for certain spots you may want to clean. It's also possible to change the mode of cleaning from mopping and vacuuming to just one or the other. You can adjust the suction level of the vacuum and the water level of the mop. All these changes are achieved by selecting the mode button on the corner button of the map page.
Further setting options can be found by selecting the icon in the top-right corner. There you can set schedules, including days of the week and times of cleans, and check when different components such as brushes need to be washed or cleaned. There's even a remote control for moving the vacuum, similar to a remote-control car. However, when you move the vacuum this way, the map of your space disappears, and you'll need to go back to your settings and reload your saved map – a slight inconvenience but nothing major.
Beyond settings for the vacuum, in the profile section on the main homepage of the app, it's possible to set up voice control via Amazon Alexa or Google Assistant. Amazon Alexa is slightly easier to connect than Google Assistant, but both work similarly. After setup, you can ask the vacuum to perform more basic functions like "clean" or "go home."
Overall, there are no standout settings on the Eufy X9 Pro's app, but neither is it missing any important features. Most should be able to navigate the app with relative ease having used it a few times.
Eufy X9 Pro: Battery life
Battery lasted 150 minutes at the standard vacuum/mopping setting
Recharging in the base station takes four hours
Automatically goes out to complete cleaning task when the battery hits 75%
When testing the battery, I sent the Eufy Clean X9 Pro out on a typical clean, which involved vacuuming at the standard setting and mopping at a medium water level. The vacuum would also go back to refill the mop every 10 minutes. It finished cleaning my space in just over 2 hours with 20% battery life remaining. I sent it back out on the same cleaning route, and after another 20 minutes of cleaning, the vacuum hit 9% battery life, automatically heading back to the base station.
In total, the battery lasted about 150 minutes – a very acceptable amount of time. Of course, this number will fluctuate depending on the robot vacuum's cleaning settings. I couldn't find the manufacturer's battery life claims.
Recharging from 9% back to 100% took four hours, but when the battery hits 75%, the vacuum will go out and complete any cleaning task that it didn't finish – unless you turn off this feature in the app. I didn't encounter any issues while charging the battery. Every time a clean was complete, the Eufy X9 Pro would head back to the base and begin charging.
Battery life score: 4.5 / 5
Should I buy the Eufy X9 Pro?
Swipe to scroll horizontally
Score card

| Attributes | Notes | Score |
| --- | --- | --- |
| Price | Great availability in US, UK, and Aus; expensive but full of handy features | 4/5 |
| Design | Simple setup, sleek vacuum with impressive liftable mop cloths, and large base station | 4/5 |
| Performance | Impressive mopping ability with a handy auto-cleaning station; mediocre vacuuming that works for lighter debris | 4/5 |
| App | Easy to use and adjust vacuum settings; creates an accurate intelligent map of space | 4/5 |
| Battery life | On a par with other robot vacuums lasting about 2.5 hours and recharging in 4 hours | 4.5/5 |
Buy it if...
You want well-mopped floors
The dual, rotating mopping cloths put this robot vacuum on another level.
You want a map of your space
The Eufy app creates an accurate, intelligent map of your home, letting you send the vacuum to different rooms and zones to clean with ease.
You want self-cleaning mops
You'll save a ton of time and get extra clean floors thanks to an auto-cleaning base station that will wash your mops during and after a clean. It dries them, too, to prevent mold and smells.
Don't buy if...
You expect big messes to get picked up
This device struggles to vacuum larger, more concentrated debris, especially on rugs.
You don't have hard floors in your home
The standout feature of this vacuum is the mops, and you can save money by grabbing a different robot vacuum if you don't have floors that require mopping.
You want an auto-emptying dust box
You'll have to manually empty the dust box on this vacuum.
Eufy X9 Pro: Also consider
If a robot vacuum isn't for you, why not consider these other vacuum options?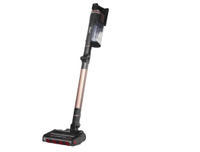 Shark Stratos Cordless with Clean Sense IQ IZ862H
Part of the Stratos range, this cordless stick has a flexible head and wand that allows you to vacuum at 90-degree angles and beneath furniture without bending down. And something that the upright vacuum doesn't have is Clean Sense IQ tech, which senses how much dirt is on a floor and adjusts the suction power accordingly.
Read our full Shark Stratos Cordless with Clean Sense IQ IZ862H review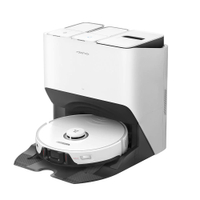 Roborock S8 Pro Ultra
An impressive but expensive robot vacuum, this option offers both vacuuming and mopping abilities, and has a self-cleaning, auto-emptying docking station to give you a mostly hands-off cleaning experience. The intuitive app offers intelligent mapping as well as easy adjustment of settings.
Read our full Roborock S8 Pro Ultra review
How I tested Eufy X9 Pro
Used over the course of three weeks to test the majority of settings.
Flooring consists of hard floors and rugs
I tested the Eufy Clean X9 Pro in my two-bedroom, two-bathroom over three weeks. I would send it out to perform cleans many times throughout the week, using almost all the different settings on the robot vacuum. I placed it in the center of my main living space for easier access to all the rooms. The flooring in my home consists of a hard laminate throughout, with a few rugs, including some tassel options scattered about. Unfortunately, I don't have any carpets to test on.
Before using the robot vacuum, I ensured my floors were free of clothes and other possible obstructions, just as I would when vacuuming with an upright vacuum. I picked up smaller tassel rugs and cables. In total, I may have spent one minute of my time doing this before each clean, but that tiny bit of effort was worth it for optimal results.
First reviewed September 2023
Danielle Abraham is a freelance writer based in Los Angeles who spends most of her time covering all things tech. When she's not writing, you'll probably find her obsessively reading, watching documentaries, listening to podcasts, or scouring the web for anything related to music history.