Two-minute review
The Roborock S8 Pro Ultra offers a wealth of features, from vacuuming and mopping to auto-emptying, self-cleaning, and 3D obstacle avoidance. All that functionality comes at a high price, which brings expectations of near perfection. So does it succeed in that regard? No – but it remains a solid option that will leave your floors cleaner than ever.
Roborock deals exclusively in vacuums, with its main focus on those of the robot variety, so you know it's throwing most of its efforts into furthering this technology. The top-of-the-line S8 Pro Ultra is the part of the brand's S8 lineup of vacuums, and the most recent release. A less expensive model from Roborock, such as the Q5+, lacks the mopping and self-cleaning ability but still comes with an auto-emptying base for less than a third of the price.
When it came time to get cleaning, setting up the Roborock S8 Pro Ultra and sending it out was simple and painless, thanks to the easy-to-use companion app. The app created a highly accurate map of my home, allowing me to pick rooms and zones to clean based on preferences. You can also set up schedules, create routines, and change the vacuum settings, among many other things. The app will even send you alerts when cleaning is complete, or if there are issues during the cleaning.
Other than the occasional need to free the Roborock S8 Pro Ultra from the clutches of an evil rug or cord, it had no problem traversing my two-bedroom/two-bathroom apartment. The robot vacuum managed to avoid most obstacles, picking up the majority of the debris or crumbs in its path. However, it didn't fare as well with larger, so you may have to do more manual cleanup in those cases.
Of course, it also mops simultaneously or separately, depending on the settings you choose. Water automatically fills from the docking station, so that all you truly need to do is start a clean via the app. The vibrating mop head pulses against your floor, cleaning smaller smudges and dust with ease, and the head intelligently lifts on carpets and rugs. However, similar to the vacuuming feature, you won't want to use this robot vac for larger spills, since it will just spread that mess around.
However, the real star of the show is the docking station referred to as the RockDock Ultra. It delivers on all its claims, and leaves you with little to worry about in terms of robot vacuum maintenance. The self-cleaning and hot-air drying has kept the mop pad looking almost new and virtually dirt-free, even following two weeks of use. The auto-emptying feature means you never need to worry about emptying the dustbin yourself. Simply discard the dirty water, refill the clean water tank, and replace the dust bag every few months.
The Roborock S8 Pro Ultra is expensive, but if you want one of the best robot vacuums, which allows you to clean while being as hands-off as possible, this is it. Your floors will be left sparkling, and you can eliminate two chores from your to-do list with the literal push of a button. That might be reason enough to splurge.
Roborock S8 Pro Ultra review: Price and availability
List price: $1,599 / AU$2,699
No plans to launch in the UK
The Roborock S8 Pro Ultra is available in the US and Australia, with plans to release it in countries such as Germany and France soon. However, there are no plans to launch it in the UK for now.
You can purchase the robot vacuum directly from the US and Australian Roborock websites. When buying in Australia, a current promotion includes a AU$149.90 accessory kit with additional brushes and mopping pad replacements. The Roborock S8 Pro Ultra is also available on Amazon in the US.
Now, $1,599.99 US / AU$2,699 may seem shocking to some; however, when you consider the highly intelligent vacuuming, limited maintenance, and self-cleaning/self-emptying dock on Roborock's top-of-the-line model, it's easier to digest. The Dreametech L10s Ultra offers a similar feature set for not much less, coming in at $1,299 in the US and £1,099 in the UK. A model such as the Ecovacs Deebot T9+ costs $799 in the US, £899 in the UK and AU$1,299 in Australia. It offers similar functionality, although you lose out on the self-cleaning and auto-refilling mop.
Of course, there are upkeep costs to consider. Most components should last months, if not years, depending on use. However, dust bags and mopping cloths may need to be replaced more frequently. A set of two replacement mopping cloths will set you back $25.99 in the US, so these accessories don't come cheap.
Value score: 4/5
Roborock S8 Pro Ultra review: Specs
The Roborock S8 Pro Ultra comes with a robot vacuum and base station.
Swipe to scroll horizontally
The specs of our Roborock S8 Pro Ultra review unit

| | Robot Vacuum | Base station |
| --- | --- | --- |
| Dimensions | 13.8 x 13.8 x 3.8in (35 x 35 x 9.6cm) | 16.7 x 20.2 x 17.7in (42.4 x 51.3 x 45cm) |
| Weight | 10lbs | x |
| Dust box / bag volume | 11.8oz/350ml | 0.66 gallons/2.5l |
| Water tank volume | 6.8oz/200ml | 0.92gallons/3.5l |
| Used water tank | N/A | 0.77gallons/2.9l |
| Highest noise level | 69dB | 77dB |
| Maximum runtime | 180 min (quiet mode) | N/A |
| Recharge time | 4 hours | N/A |
| Suction | 6000Pa | N/A |
Roborock S8 Pro Ultra review: Design
350ml dustbin/ 200ml water tank on vacuum
Large docking station
Liftable main brush/mopping component
The Roborock S8 Pro Ultra arrives in a massive, extremely heavy box. Living on the second floor of my apartment building with no elevator, I was happy the delivery person brought the box up the stairs, as I struggled just to get it inside my apartment. Once you open it up, you'll find a big sheet of instructions, the robot vacuum fully assembled, and the massive base station – the Rockdock Ultra.
The robot vacuum itself isn't petite by any means, either, weighing 10lbs while measuring 13.8 inches in diameter and 3.8 inches tall. Some of that height is a result of the LiDAR sensor that rests on top for navigation and obstacle avoidance. You don't get the security cameras seen in some other high-end robot vacuums, including Roborock's S7 MaxV Ultra, which means you can't send out the vacuum to check on your pets, but the extra privacy is nice.
Despite the size, the S8 Pro Ultra still looks sleek and comes in two colors: either a clean white or bold black, with a matching RockDock Ultra. The vacuum's suction options are selected on the app, and you can choose from Quiet, Balanced, Turbo, Max, and Max+(only available when just vacuuming). The sound level definitely increased with each move up the settings. Similar to vacuuming, the VibraRise mopping feature offers scrubbing intensity levels from mild to intense, and it isn't possible to change the water flow levels. Honestly, I couldn't tell the difference visibly or in the performance of the different vibration levels.
Taking a closer look at the top side of the robot vacuum, you'll find three buttons: a power button that's also used to resume cleaning; a mop-only button that doubles as a child lock; and a home button to send the vacuum back to the dock. Lifting the hinged lid reveals the Wi-Fi indicator and removable 350ml dust bin. But since this vacuum is self-emptying, you'll rarely have to worry about taking it out – except for the occasional filter washing. There's also a 200ml water tank here, although you can't access that.
Flip over the vacuum and you'll find the wheels, mop and brushes. Unfortunately, the VibraRise mop component isn't removable, although it intelligently lifts itself over rugs and carpets. If you're exclusively cleaning a space covered in more plush carpeting, you may want to grab a different vacuum.
The dual main brushes are also very different from your typical vacuum. There are no long bristles here; instead you'll find a dual rubber roller brush similar to that found in many iRobot vacuums. I've found these prevent hair and other debris from becoming tangled, making them much easier to maintain. The dual brushes also lift up and out of the way, depending on the floor and the cleaning mode you're using. A single side brush takes care of edge cleaning.
The docking station, the RockDock Ultra, makes the Roborock S8 Pro Ultra extra special; but it's also huge, measuring 16.7 x 20.2 x 17.7 inches. Therefore, if you don't have a big space to position it, you may find it a bit of an eyesore. You'll also need to leave 2.3ft/0 .7m in front of it for the vacuum to dock, as well as 1.6ft/.05m above to refill and empty water tanks.
At least the setup is simple enough; a 2.5-liter dust bag is pre-installed, so you just need to fill the clean water tank with water and mopping solution(optional). Both the dirty and clean water tanks come with handles to make filling and emptying a breeze, and you'll be vocally informed by the vacuum and alerted on the app when that needs to happen.
However, those aren't the only abilities of the dock; it lets the vacuum be relatively autonomous with a self-cleaning feature. When your vacuum returns to the dock after or during a clean, it will wash the mop. Then it will turn itself around to empty the dust bin and charge. While the robot vacuum is charging, it will dry the mop with hot air to prevent smells and mold. All this capability helps to explain why the dock is so big.
The price of the Roborock S8 Pro Ultra means that I would have liked to see it come with some replacement accessories or maybe a mopping solution. Of course, Roborock recommends you only use its mopping solution – at an additional $18.99. But the only extra you'll find in the box is a dust bag replacement. Luckily, many components don't need to be replaced often, and the app should inform you when it's time to do so.
Design score: 4.5/ 5
Roborock S8 Pro Ultra review: Performance
Excellent auto-emptying and self-cleaning
Mediocre clean up of larger messes/spills, best for light debris
Easily detects different floor types
Getting started with the Roborock S8 Pro Ultra is easy enough. Having read the instruction sheet, I removed the fully assembled robot vac and docking station, and filled the clean water reservoir with water. I let the vacuum charge while I downloaded the app and connected the device to Wi-Fi. All in all, it took less than 10 minutes of my time to get it ready for the first clean.
After charging the Roborock S8 Pro Ultra to 100% battery, I sent it out on its first clean on all the standard settings, which meant that both vacuuming and mopping are enabled. You don't need to create a map or anything beforehand, so a simple tap of the "full cleaning" button on my app sent it out on its merry way.
The device traversed my two-bedroom/two-bathroom apartment with relative ease. It hugged the walls and wrapped around tables and chairs. Looser tassel rugs proved more challenging, since it got stuck several times. You could see that my laminate floors were left slightly damp and crumb-free as manoeuvred by. And each time the vacuum hit a rug, the VibraRise mop would lift, and you could hear suctioning power increase. Every 40 minutes, it would go back to the RockDock Ultra to clean the mop and head back out.
When it had covered my entire home, the robot vacuum vocally informed me of the fact and went back to the dock. The mop was cleaned first, and then the vacuum spun itself around to empty the dust bin and begin charging. It was actually pretty impressive to watch. An accurate map of my home was created; but for some reason, it didn't save, so I sent it out using a quick mapping feature. This time an accurate map was saved, and each clean added to the intelligence of the map.
Speaking of the map, while it would make notes of obstacles, it did nothing to deter the device from going back to those spaces to clean. There was a clear note on my map about cables, but the vacuum still went to that area and managed to suck up my phone's charging cable on several occasions. It did this with other obstacles – rugs, for example – as well. Luckily, it's very simple to disassemble the two main brushes and put them back together. But, the number of times I received app notifications, as well as the robot alerting me vocally about being trapped or the main brushes being jammed, was a little disheartening – especially given the price and the obstacle avoidance features that Roborock advertises.
More obvious obstacles such as clothes thrown about my bedroom floor, or me physically standing in its way, were a different story. The Roborock S8 Pro Ultra would just skirt right around such obstructions, occasionally lightly tapping them to see if they move. I guess the moral of the story is to pick up your cables and rag rugs before sending the vacuum out to clean.
Jumping into the vacuuming ability of the Roborock S8 Pro Ultra, it did a solid job of picking up light debris and dust. It failed to clean up crumbs right up against the wall in my kitchen, due to the vacuum's height hindering it from fitting under my cabinets.
I did further testing using flour and oats. Starting on my hard laminate floors with the normal, vacuum-only setting activated, the S8 Pro Ultra did a good job at picking up most of the oats; but it left the flour smeared across the floor. Using the highest suction level yielded similar results, although adding the mopping setting led to more flour being picked up. As for the testing on my rug, it performed similarly to the hard floor, only with even more flour left behind. In fact, after several more cleans, the flour is still embedded in my rug. So, for larger, concentrated messes, this robot vacuum isn't a great option.
Of course, this robot vacuum also mops – and you have to do very little to start mopping. The docking station fills the water tank in the vacuum from a clean water reservoir, and then off it goes. So, the only part you're involved in is refilling the water reservoir, which for me was about every two or three full cleans of my home.
Upon inspection of my floors after a whole home clean, my dirty footprints and random drink spills were gone. No complaints there. However, I did some tests with yogurt and honey with some less-than-stellar results. Even on the highest vibration level of the mop and using a special route setting, all it did was smear everything across my floor. And every time it completed a cleaning task that maybe lasted 5 minutes, it would always go back to clean the mop in the docking station, which seemed to be a bit of overkill.
There's very little robot vacuum maintenance, thanks to the RockDock Ultra. Although a bit clunky, it has worked flawlessly since I began testing. Every time the robot vacuum completes a mop, it trundles back to the dock to get cleaned. Using brushes attached to the dock and clean water, you can hear the mop getting washed. Inspecting the mop pad thereafter revealed that most of the stains were gone. Then, as the robot vacuum is charging, you can hear a very quiet hum, which is hot air drying the mop to prevent smells and mold. After two weeks of use, the mop pad remains free of odor and looks almost good as new.
The RockDock Ultra also automatically empties the robot vacuum's dust bin. Even the most caked-together dirt and debris seemed to be out of the bin having been auto-emptied. The only time you'll need to worry about doing anything is changing the dust bag on the dock every few months.
Of course, brushes, filters and mop pads will require replacing eventually. Luckily, this shouldn't be too often, and the app will give you an approximate indication of when that needs to happen. Just keep an eye on the brushes and remove hair or other debris that could be hindering the vacuum's performance.
As for sound, the Roborock S8 Pro Ultra is on the same level as other robot vacuums. When on the normal mop/vacuum settings, you'll hear a hum that's slightly louder than a window air conditioner, hitting about 61dB. It's noticeable, but not overly distracting. The suction power increases on rugs, with noise levels of 69dB, which may be a bit harder to ignore. However, when the RockDock Ultra empties the robot vacuum dust bin, the 77dB sound may startle those who aren't prepared.
Performance score: 4/5
Roborock S8 Pro Ultra review: App
Simple to install and use
Easily adjusts cleaning settings
Intelligent map
Difficult to get smart assistants/voice control to work
The Roborock app offers a painless install. You just scan the QR code provided on the packaging, create a profile with an email and password, and then a step-by-step process lets you connect the robot vacuum to Wi-Fi. From there, you'll get to the fairly simple Homepage that displays battery life, provides access to notifications, lets you start cleaning or turns off the device, and allows you to swap to the shopping or profile pages. But the button you'll be pressing most frequently is "Enter".
This brings you to the map and vacuum settings. There's an option to send the robot around to do a quick map of your home; I found an accurate map of my two-bed, two-bath apartment was created in about 8 minutes. You can also have the vacuum map your space during the first clean, but it failed to successfully save when I did that. However, on the second clean, more specifics were added to the map, with notes of obstacles and loose rugs. But, weirdly, this didn't deter the vacuum from going to those spaces in later cleanings.
Once a map has been created, you can rename rooms, set up boundaries, and even add furniture to the map. It's also possible to note different floor types, but the robot vac seemed to distinguish my rugs and laminate floor on its own. You aren't limited to a 2D map, either; there's a 3D option for those who prefer that view. A matrix map is also available, although it just made my space into an indistinguishable blob.
Similar to other robot vacs, you can select certain rooms or zones to clean. From the bottom corner of the map, you can adjust the suction power of the vacuum and scrubbing intensity of the mop. Admittedly, I had a hard time finding this button at first – and, unfortunately, you can't adjust the water flow level of the mop.
If you're looking to change other settings to both the vacuum and the dock, this is done by selecting the three dots in the top corner of the map page. You'll also be able to set schedules from there and check on component maintenance. One unique feature you'll find is a remote control, letting you move the robot vacuum as you would an RC car. It takes a minute to get used to the button or "joystick" control, but once you do, it's great for cleaning up smaller areas or spots that may have been missed in the initial cleaning.
As for smart assistants and voice control, the Roborock S8 Pro Ultra supports Google Home, Google Assistant, Amazon Alexa and Siri. Instructions on how to add this functionality are found in the profile section of the app. However, this is easier said than done, and you'll have to jump through several hoops, including downloading an additional app called Mi Home, to get any of these smart assistants to work with this vacuum. A far cry from the Ecovacs Deebot T9+ I tested a few weeks ago, which connected with ease.
App score: 4/ 5
Roborock S8 Pro Ultra review: Battery life
130-minute runtime at normal settings, 180 minutes in quiet mode
Automatically returns to base at 20% battery level to charge
3-hour recharge from 20% battery level
The Roborock S8 Pro Ultra has a 5,200mAh lithium-ion battery. When leaving it on its normal settings, with both vacuuming and mopping enabled, it lasted around 130 minutes. Right when the battery level hit 20%, it would head back to clean the mop and charge. That somehow managed to be just enough time for it to clean my entire apartment once over. Roborock claims the battery lasts 180 minutes on the quietest setting, so just over 2 hours of use in standard mode is on par with similar robot vacuums. Given the price point, it would have been nice if it lasted a bit longer.
However, I did test it using the "vac followed by mop" setting, and it lasted significantly longer, clocking in at just under 3 hours before it hit 20% and had to recharge. So, battery life is truly dependent on the settings enabled.
Recharging the battery is simple: the vacuum just docks itself right into the RockDock Ultra and begins charging. If it didn't complete a cleaning task, it will go back out to finish the job once it has enough juice. Through my testing period, recharging to 100% from 20% took about 3 hours. The manufacturer claims it takes approximately 4 hours, so if the battery had depleted down to 0%, that'd be right on the money.

Battery life score: 4 / 5
Should you buy the Roborock S8 Pro Ultra?
Swipe to scroll horizontally
Roborock S8 Pro Ultra score card

| Attributes | Notes | Rating |
| --- | --- | --- |
| Price | Available in US/AU, expensive | 4/5 |
| Design | Easy setup and maintenance, large docking station | 4.5/5 |
| Performance | Excellent self-cleaning and auto-emptying, vacuuming and mopping simultaneously, great for light messes and spills | 4/5 |
| App | Easy to use and adjust settings, accurate intelligent mapping, smart assistants hard to connect | 4/5 |
| Battery | Decent runtime, relatively quick recharge | 4/5 |
Buy it if...
You want an almost autonomous robot vacuum
With auto-emptying, self-cleaning, and self-filling, there's little you need to do before sending the Roborock S8 Pro Ultra out to do a clean.
You want multifunctionality
There's mopping and vacuuming functionality available here, both of which can be done simultaneously and work great.
You want an intuitive app
Use the app to set up schedules, create routines, and adjust settings. It will also create an accurate map of your home.
Don't buy it if...
You want to send it to self-clean
The app can do many things but sending it to self clean or, indeed, self-empty it can not.
You have a smaller home
The docking station is massive and could prove to be an eyesore when space is limited.
You want it to pick up larger messes or spills
This robot vacuum, similar to others, doesn't perform great with bigger, more concentrated debris. In fact, it may make more of a mess.
Dreametech L10s Ultra review: Also consider
Swipe to scroll horizontally
| | Dreametech L10s Ultra | Ecovacs Deebot T9+ | Roborock S7 MaxV Ultra |
| --- | --- | --- | --- |
| Price | $1,299.99 / £1,099.99 | $799.99 US/£899 UK/ AU$1,299 | $1,399 / AU$2,699 |
| Run time | Up to 210 mins | Up to 175 min | Up to 180 mins |
| Bin size | 11.8oz/350ml | 14.2oz/420ml | 13.4oz/400ml |
| Self emptying (Y/N) | Y | Y | Y |
| Self cleaning (Y/N) | Y | N | Y |
| Control methods | App, Amazon Alexa, Google Home, Siri | App, Amazon Alexa, Google Home, Siri | App, Amazon Alexa, Google Home |
| Dimensions | 13 x 13 x 3in/35 x 35 x 9.7cm | 13.9 x 13.9 x 3.75in/35.3 x 35.3 x 9.36cm | 13.9 x 13.8 x 3.8in/ 35.3 x 35 x 9.6cm |
If a robot vacuum isn't for you, why not consider a cordless vacuum? There's no automation, but you retain freedom from cables.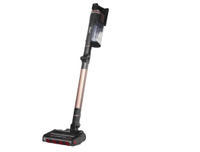 Shark Stratos Cordless with Clean Sense IQ IZ862H
Part of the Stratos range, this cordless stick has a flexible head and wand that allows you to vacuum at 90-degree angles and beneath furniture without bending down. And something that the upright vacuum doesn't have is Clean Sense IQ tech, which senses how much dirt is on a floor and adjusts the suction power accordingly.
Read our full Shark Stratos Cordless with Clean Sense IQ IZ862H review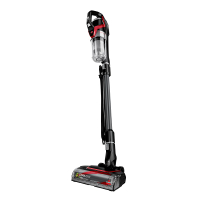 Bissell CleanView Pet Slim Cordless Stick Vacuum
If you're more in the market for a stick vacuum that can suck up all that pet dander, then consider the Bissell CleanView Pet Slim Cordless Stick Vacuum. It offers great suction, is affordable, and can transform into a handheld cleaner – although it is on the bulky side.
Read our full Bissell CleanView Pet Slim Cordless Stick Vacuum review
How I tested Roborock S8 Pro Ultra
Tested at home for two weeks
Used on hard flooring and rugs
The Roborock S8 Pro Ultra has been set up in the main living space of my home for the past two weeks. This central location provided easy access to my two-bedroom, two-bathroom home. As for flooring, my entire home has the same hard laminate throughout, with a few rugs scattered about. Unfortunately, I don't have any carpets to test on.
When testing the robot vacuum, I made sure most of the floor space was clear of clothes and other possible obstructions, just as I would when vacuuming with a normal upright cleaner. I picked up rag rugs and cables as well, since the S8 Pro Ultra didn't do well with them in its path. In total, I may have spent one minute doing this before each clean, but that tiny bit of effort was worth it for optimal results.
Read more about how we test
First reviewed April 2023