EOFY 2023 coffee machine deals in Australia: save on this office productivity purchase
Save up to 50% on coffee machines from Breville, DeLonghi and more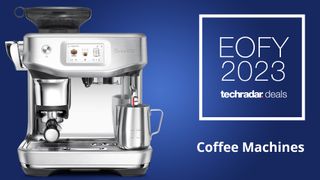 (Image credit: Future)
Australians love their coffee and it's one of a handful of things that can really help you boost productivity, so it's a sensible thing to consider during EOFY sales. If you don't have a good quality coffee machine in the office kitchen, you're missing out on all the time-saving potential of employees making coffee on site rather than taking a walk to the nearest coffee shop.
There's coffee machines that cater to any employee's skill level and if you're happy to invest a little more you can get automatic machines that'll make coffee as good as the corner cafe without anyone needing to know much about coffee at all. This list includes some of Australia's best coffee machines and some other great deals on devices that might've been a bit expensive to make the cut here.
It doesn't matter if you're after a quick and easy capsule machine or a professional-level manual machine to make perfect piccolo lates, this list will have a machine to fit your needs (and budget) before you submit your 2022 tax return. And they're all good for the home too.
Retailers EOFY coffee machine discounts and bonus offers
Below is a list of the main brands and retailers with EOFY coffee machine discounts to check out in case you don't find what you're looking for in our selection of hand-picked offers:
EOFY 2023 coffee machine deals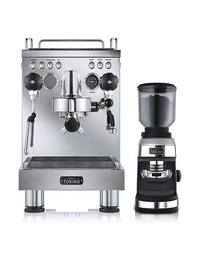 Sunbeam PU8000 Torino Coffee Machine & Grinder | AU$2,199 AU$1,195 at David jones (save AU$1004)
The Sunbeam PU8000 Torino Coffee Machine and Grinder is an impressive full manual coffee machine setup that is available at a bargain right now. A full size 58mm group head is fed by a triple thermoblock heating system for quick pressure and the machine offers a digital shot clock, pressure gauge and steam wand to have you making great coffee in no time.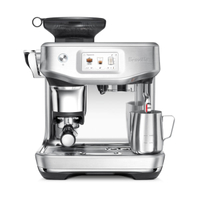 Breville the Barista Touch Impress | AU$2,299 AU$1,949 at The Good Guys (save AU$350)
The Barista Touch Impress is TechRadar's best coffee machine right now and many retailers are continuing to sell it at full RRP because it is still very new. This AU$350 saving is an awesome offering for a machine that will make café level coffee for you using whole beans and any kind of milk you're after.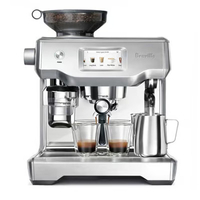 Breville the Barista Touch | AU$1,899 AU$1,299 at The Good Guys (save AU$600)
The Barista Touch is one of two predecessors to TechRadar's current favourite coffee machine. The Barista Touch is perfect for anyone not overly confident at using manual machines. It doesn't have the integrated tamping features of the Barista Touch Impress, but it'll still froth normal cows milk and allows you to make coffee via intuitive touchscreen. An impressive feature set for under AU$1,500.
More discounts: Breville: AU$1,699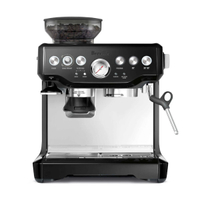 Breville the Barista Express | AU$999 AU$599 at The Good Guys (save AU$400)
The original compact bean-to-cup coffee machine that made caffe level coffee at home affordable and achievable. This machine still has everything you'll need to make great coffee using just beans, water and milk. The adjustable grinder can go fine enough to produce perfect pressure in the 54mm portafilter, and the milk wand folds great milk with a bit of patience and know-how.
More discounts: Breville: AU$749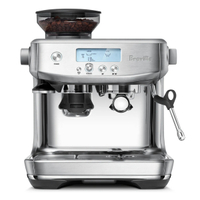 Breville the Barista Pro | AU$1,399 AU$919 at Amazon (save AU$480)
The Barista Pro is an iterative update to the Barista Express that brings faster steam engagement and a more consistent water temperature. It also offers a slightly more user-friendly digital interface that'll give you tips on grind size rather than just show you a pressure dial. The steam wand also offers a bulbed head for slightly better milk folding capabilities.
More discounts: The Good Guys: AU$999 | Breville: AU$1,149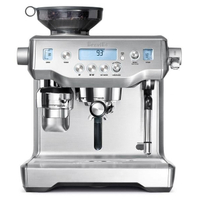 Breville the Oracle | AU$3,199 AU$1,899 at The Good Guys (save $1,300)
The Oracle is Breville's step up from the dual boiler, so it basically adds a round of automation technology to the best fully manual machine the company offers. Despite offering a simple visual display the Oracle is actually fitted out with Breville's first generation automatic MilQ technology so it'll heat and froth cows milk to a high standard on its own. It also offers a built-in grinder with an automatic dosing and tamping head to eliminate some of the other pain points for those unfamiliar with professional coffee processes.
More discounts: Breville: AU$2,799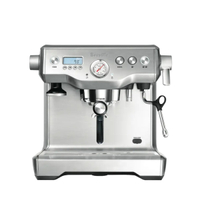 Breville the Dual Boiler | AU$2,499 AU$999 at Bing Lee (save $1,499)
Breville's top fully manual machine is the Dual Boiler. Often sold alongside Breville's stand-alone Smart Grinder Pro, since it is one of the few that doesn't offer an in-built grinder. You'll need a bit of coffee know-how to operate this one, but you can make coffee as good as any home coffee machine, which at under a grand is an amazing offering. Full size 58mm portafilter and a second boiler for simultaneous steam production make this the perfect full manual machine for those who can do without the expensive automation technology.
More discounts: Breville: AU$2,199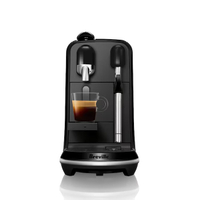 Breville Nespresso Creatista Uno | AU$699 AU$549 at Amazon (save $170)
An excellent, compact Nespresso pod machine that comes with a steam wand capable of automatically frothing milk in a jug. This device offers the ultimate convenience and takes up even less bench space and power sockets than pod machines with stand alone milk solutions. This is a great deal on an excellent pod machine.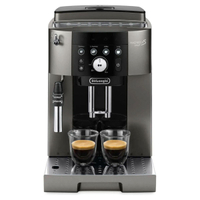 De'Longhi Magnifica S | AU$1,299 AU$750 on Amazon (save AU$549)
A whopping 58% discount makes this automatic coffee machine a right steal. Where most automated options miss out on the milk frother, this De'Longhi doesn't skimp there. A grinder, frother, temperature control and more features promise the perfect cuppa each time. And that discount...! Note that it's only on the black colour option.
---
How to find the best coffee machine deal during EOFY 2023
Obviously the easiest way is to just keep an eye out on this best EOFY coffee machine feature, which will be updated frequently right up until July. Apart from that you can check out our best coffee machines buying guide which contains links to great prices on the best machines.
How to pick a coffee machine for your office
If you're not sure what machine would be best for your office, it's probably worth doing a poll first. Some people are happy to learn a bit in order to get a great coffee for less and some may have even been a barista in their earlier career, but many will be looking for an easy and tasty quick hit of energy. Ask the office and see whether people would be confident using a manual machine or if they would need a fully automatic coffee machine in order to use it frequently.
If you have a few that are ok to experiment and teach others then a manual machine will offer the most bang for your buck. If you have a majority that really don't know much about coffee other than the exact one they have, but you're happy to spend a bit more to boost productivity, then an automatic bean to cup machine will be a great option.

If on the other hand your office is full of people who would rather drink instant coffee than spend valuable minutes making a better coffee than the pod machine is your answer. Keep the pods stocked and you'll have employees that are back at their desk before you've even noticed they've left.
Sign up to receive daily breaking news, reviews, opinion, analysis, deals and more from the world of tech.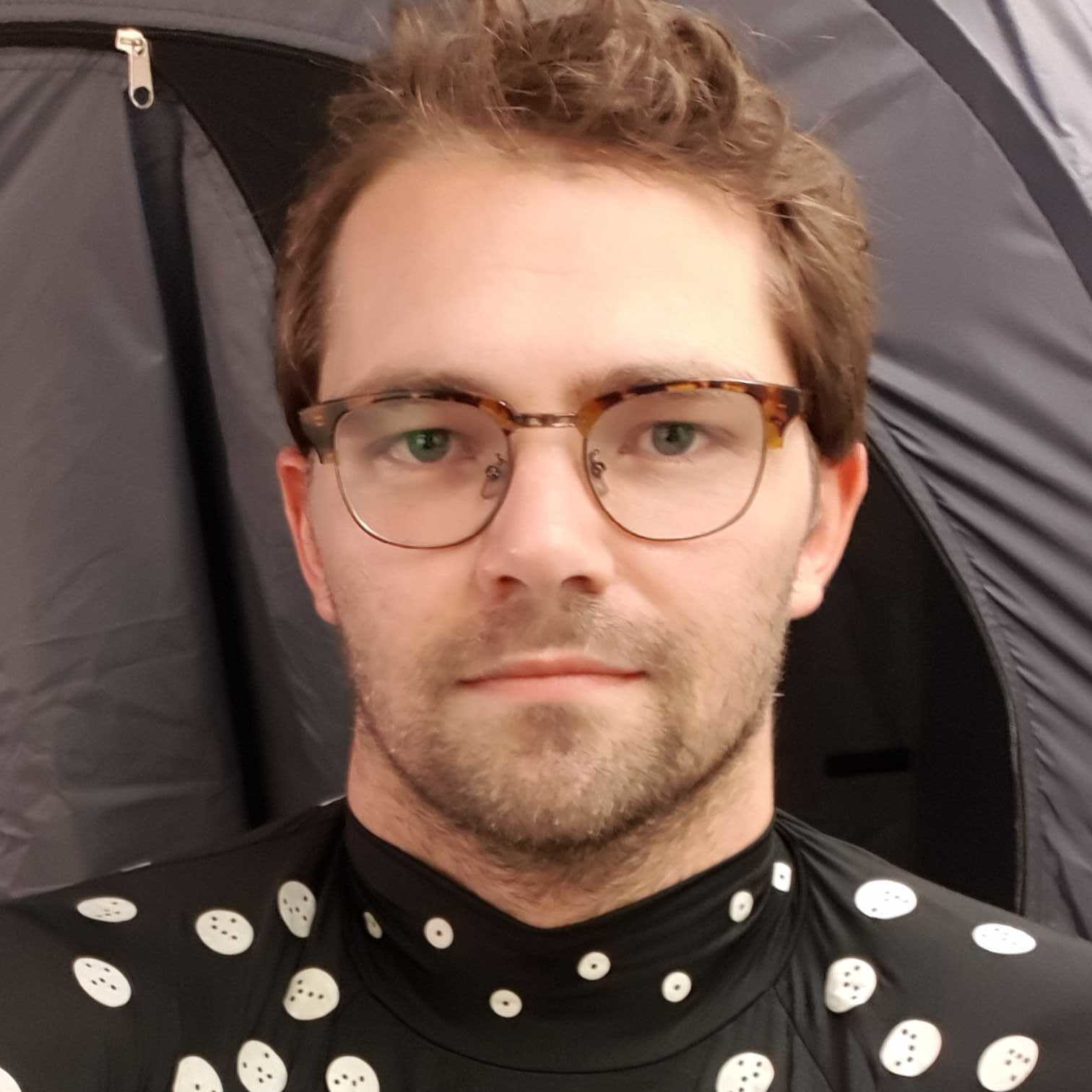 Joel has been the in-house benchmark monkey for the Australian TechRadar team and Australia's two biggest tech magazines (APC and TechLife) since 2014.